Bruce Christie
2 weeks ago
Could not be happier with the service and quality from Extreme Marquees. They were very patient with my questions on several occasions and when I finally confirmed my purchase, the marquee arrived two days later. Looks great in our backyard.
Craig Bachmann
a month ago
Hi I'm Craig Bachmann and I sell my rural landscape photography at around 80 outdoor markets each year. 3 years ago after much research, I purchased my first Extreme Marquee and have been very happy with its build and the professional look it gives my business. I am always receiving compliments about it from my customers and being approached by other stall holders wanting to know which business made it so they can order one as well. I recently decided to replace the roof and walls and Extreme Marquees helped me design a bit of a fresh look by adding graphics to the roof as well. I'd like to thank Georgia and Monique from Extreme Marquees for all their help. I look forward to doing more business with you in the future!
Wayne Booth
a month ago
Extreme Marquees excellent marquees.. Strong & Affordable.. Just replaced a 6m x 3m Classic frame.. Very happy with the service.. Regards The Lennox Longboarders Club.
Maria Soukkar
a month ago
Been standing for 4 years and still going Really good service and quality marquees I have purchased a few 8/4 8/8 10/10 And also the banners and teardrop banners Really professional service and competitive prices This one has been 4 years now and still perfect it's the 4/8 Easily seats up to 30 people Wouldn't go anywhere else
lisa bluhm
2 weeks ago
Friendly and helpful staff. Coordination between the different departments was great. Very fast delivery. Cannot fault them for their service. Delivery staff were helpful as well, even though they are a delivery company separate to Extreme Marquees. All steps of the customer service process has been handled really well by Extreme Marquees!!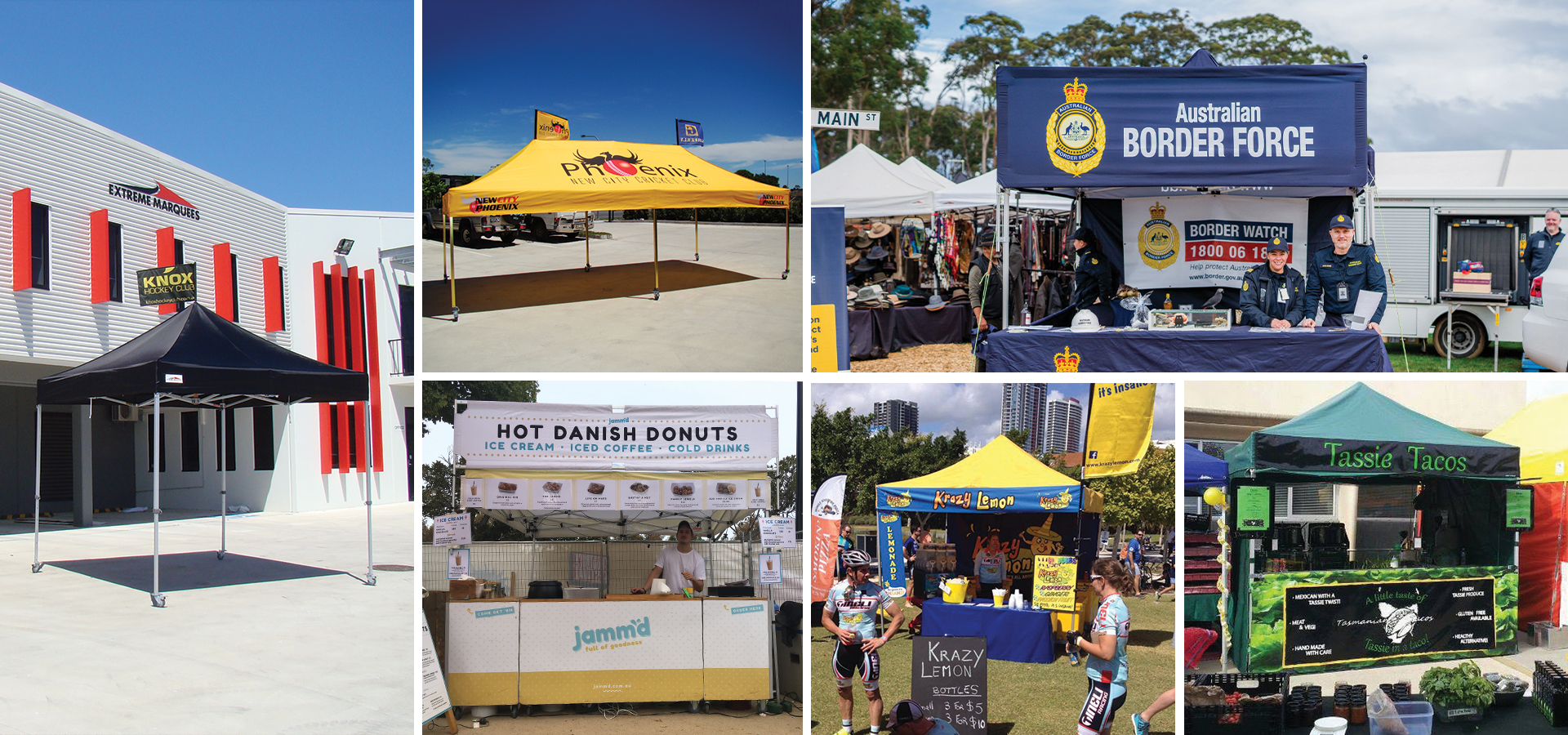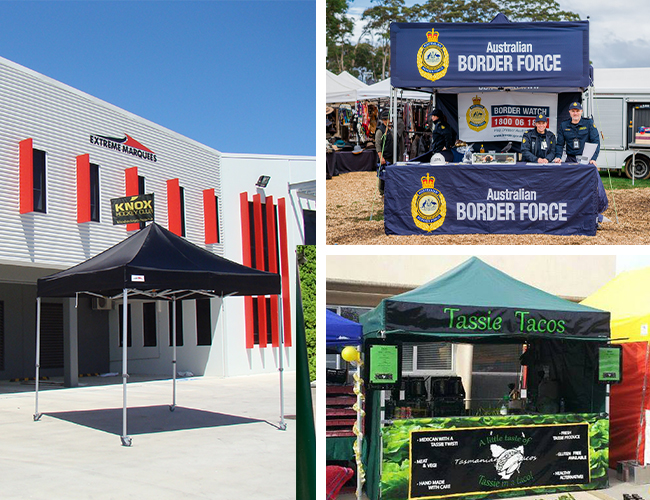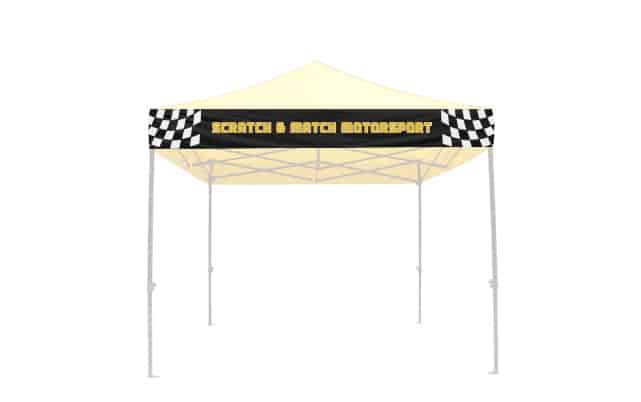 Detachable Valance
Detachable printed valance panels attach to our X5 True Blue Marquees roofs as standard. We also have the option to add them to any of our marquee roofs when a Velcro strip is applied.
Specifications:
Sizes: 2.4m, 3m, 4m, 4.5m, 6m
Type: Printed Banner
Printing: Single Sided
Banner Sleeve: Printed
Features: Velcro to attach the X5 True Blue Roof
Fabric: 500D PVC Coated Polyester
Resources:
3m X5 Detachable Valance Panel
6m X5 Detachable Valance Panel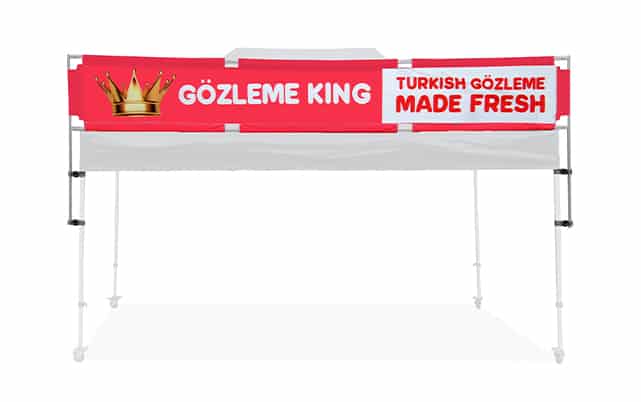 Frame Banner
The Frame Banner is a versatile option for adding branding to a marquee without the need for upgrading to a custom printed roof. The frame work attaches to the legs of the marquee.
Specifications:
Printing: Single Sided
Frame & Connectors: Aluminium
Fabric: 600D PVC Coated Polyester
Size 3m: 3000mm x 650mm
Size 4.5m: 4500mm x 650mm
Resources:
Instructions PDF
Instructions Video
3m Artwork Template
4.5m Artwork Template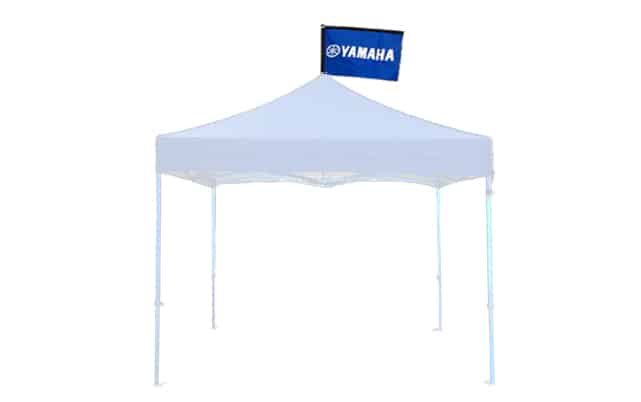 Peak Flag
Peak Flags are a simple custom printed pinnacle flag designed to add presence to a folding marquee or gazebo. These flags sit in the central pole of all our marquees.
Specifications:
Artwork Size: 750mm x 520mm
Weight: 2Kg
Printing: Single or Double Sided
Banner Sleeve: Black / White
Banner Pole: Poly Fibre
Resources:
Peak Flag Artwork Template

REMOVABLE MARQUEE CUSTOM PRINTED SIGNAGE
PEAK FLAGS – EFFECTIVE, AFFORDABLE, & CAPTIVATING BRANDING SOLUTIONS
When participating in a networking event, how do you guide potential customers towards your stall from a sea of competitor's exhibits? Simple – with a beautifully printed pinnacle flag that's visible from a distance! A marquee banner is a fun accessory that adds an extra dimension and charm to an otherwise solemn event tent. It also provides you the added bonus of advertising your business in a memorable and light-hearted fashion. Peak flags are truly the best facilitators in completing your entire branding experience.
TURN YOUR MARQUEE INTO A STUNNING BEAUTY WITH A MARQUEE BANNER
Extreme Marquees offers a wide range of options for printing a frame or marquee banner that will accentuate any custom marquee. They are versatile and can be utilized for custom branding your marquee without upgrading its roof. A frame banner can be attached seamlessly to the leg of your marquee's frame and easily interchanged as and when required. Extreme Marquees has one of the widest and best value range of promotional products in the Australian market today.
BESPOKE BANNER DISPLAY FRAMES – TAILORMADE TO YOUR EVENT'S REQUIREMENTS
Our experts can recreate any design that you want printed on your aluminium banner frame. Whether you just require your brand's logo and business name, or want complete artwork printed, we can create dynamic designs in virtually any colour and format to keep it truest to your branding. Simply share your artwork with us to get started.
Some salient features of our printing process are as follows:
- Premium quality printing through sophisticated, state-of-the-art printing machines on imported fabrics.
- Long lasting and fade resistant ultraviolet printing, up to three times more durable than sublimation printing.
- VIP Express priority production and delivery for clients with a tight deadline.
LARGEST RANGE OF OUTDOOR BRANDING SOLUTIONS – CORPORATE ALUMINIUM BANNER FRAME RANGE
Our professional printing is recognized across the globe with on-sellers in more than 20 countries who purchase our custom marquees, printed peak flags, and other promotional collateral.
Thanks to our 6-color digital printing capabilities, we can custom print your logos, words, or pictures onto your printed pinnacle flag to create the ultimate branding solutions.
Select the right frame banner and peak flags for your marquee and gazebo. Place your order at our online store or get in touch with our experts on 1300 986 862 to discuss custom printing options.
Scroll To Top