A Guide to Using Advertising Flags and Banners Australia-Wide
Everybody needs branding – whether they're a conglomerate or a small business. The only difference is, successful businesses brand themselves with clever and skilfully planned marketing strategies – and not just online, but on ground as well. And they do it with advertising flags and banners.
Marketing veterans swear by this tried and tested technique to grab the attention of people. There are several reasons behind this – promotional banners are attractive, they sway rhythmically to attract attention, and enhance brand visibility like no other collateral.
Banners and flags are great for advertising of all kinds. For instance, you can get printed banners and flags for your local marathon, product launch, city fundraiser, deals and discounts, open for business announcements, and just about everything else.
Advertising flags and banners in Australia are available in several sizes and shapes, so you can choose from a wide assortment of options. They look as good indoors as they do outside. You can get them printed on just one side, or opt for double sided printing, depending on how and where you want to place them.
Some of the popular styles include: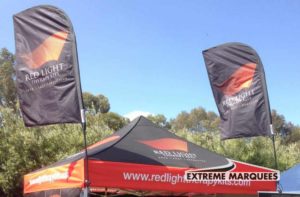 These are also known as Bali flags. Wave banners are a popular style, and you can often find them near car and real-estate dealerships. These flags sway with wind, and look extremely inviting when placed next to entrances. They offer maximum surface area for printing and branding.
Teardrop flags are the most common style, and you can find them at nearly every indoor and outdoor promotional event. The basic design is wind-resilient, because of which they are quite effective for outdoor promotions, even on a windy day.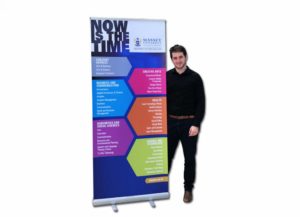 Also known as retractable banners, roll-up banners are extremely handy and convenient. They have a central vertical sheet that's made up of polyester, PVC polyester, or PVC vinyl, and an exterior shell made of plastic or aluminium. Installation is quite easy. All you have to do is place the entire structure on the ground, and pull the top outwards to open.
Why Are Advertising Flags and Banners In Australia So Effective?
Ever wonder why loud noises, bright flashes, someone hiding with a portion of their clothes stuck out, or large, colourful banners jutting out of booths grab attention? That's because such things play on our psychology.
Promotional banners target passive attention in humans – an involuntary process that makes the brain register things that stand out from their surroundings. This inherent trait ensures that we at least cast a cursory glance in the direction of any such thing, in this case, advertising flags. Passive attention helped our ancestors survive, now it's helping the marketers thrive.
Enough with the science behind it.
Let's Now Look At What Makes These Advertising Flags In Sydney So Versatile:
Act As A Natural Extension Of Your Booth
You don't need additional space or setup equipment to use these flags. They can be installed as an extension to your booth at no additional cost, increasing your brand's awareness.
Inexpensive
Advertising flags are long-term investments. You just have to get them printed once, and they will serve your business for the next several years. As compared to online banners that need a fresh copy every time you launch a new campaign, flags and banners have a great ROI.
Portable And Easy To Store
Since they can be carried in hand, you don't need additional equipment to transport them to and from the event site. Plus, they can be set up, literally anywhere – next to your booth, near the entrance, around the event site, in the food court, etc. The best part? When the day ends, just place them inside their cases and get going.
Branding Tips From Experts – Get the most out of your advertising flags and banners in Australia
Don't overbrand – Include your logo, business details, and products or service, but don't stress out readers. Too much content is off-putting and distracting. Go for more images than text.
Location matters – Place your banners where there is a probability of maximum footfall: registration kiosks, entrance gates, refreshment counters, for instance.
Font and colour – Choose the right colours and fonts. Use your brand's colour scheme to increase awareness. Add fonts that are easy to read, instead of being fancy and indecipherable.
Take down your banner – Remember to take down your banners after the event. You require permits to set up booths and advertising flags, banners in Don't violate the stipulated time allotted to you.
Use space wisely – You can only use 20% space for commercial content and sponsorship details – plan wisely.
If you feel stuck or want to buy new advertising flags, get in touch with the experts here at Extreme Marquees. We are Australia's biggest manufacturers and suppliers of wave banners, flare banners, teardrop banners, pull-up banners, pop banners, printed table covers, frame banners, superboards, printed fence wraps, and peak flag banners. Browse our collection online or call on 1300 850 832 to place your order.
Scroll To Top