Customer Success Story: How the X6 Pop-up Gazebo Braved a Storm!
The X6 commercial heavy duty pop-up gazebo by Extreme Marquees beats inclement weather perfectly!
Hard to believe?
We thought so too, until Alan showed it to us.
Alan is the owner of SunSafeTraders; a custom hats, caps, visor beanies, and accessories business, and he bought an X6 3m x 6m folding outdoor gazebo marquee from us to participate in the Sunshine Coast Home Show & Caravan, Camping & Boating Expo. This annual event is the largest home and lifestyle show in the region. This year, the Expo took place from 27th to 29th September at the Sunshine Coast Stadium.
Alan is a patron, having requested the services of Extreme Marquees time and again. "We have always used Extreme Marquees for our market business. We believe they are a quality brand and a great value for money."
On 29th, the Expo was hit by a severe storm, rightly predicted by the Bureau of Meteorology, to be heading north-east near Mount Dee, Wamuran, and Sunshine Coast. Nearly all tents, marquees, and stall setups at the Expo were completely dismantled; some even flew away with strong gusts of wind, which were reported to be around 80-100 kmph, at least.
Alan had setup his stall at 0A310B and was using our X6 heavy duty waterproof pop up gazebo with sides. The X6 Velocity is one of our finest heavy-duty gazebo ranges. The 45mm hexagonal aluminium frame profile is robust, rigid, compact, and light-weight with reinforced truss bars and a solid 600D, UV 50+ PVC coated polyester canopy roof.
He remarks, "There are many cheaper brands available, but we carry thousands of dollars' worth of stock, and we can't afford for our tent to collapse when the weather gets rough. But it wasn't until a week ago when we were at Sunshine Coast Expo and a severe thunderstorm hit, that we realised just how good Extreme Marquees' products were!"
Fascinatingly, our X6 commercial heavy-duty pop-up gazebo remained unscathed – pegged and weighted down, standing upright while the other marquees were either blown away or completely destroyed.
Here's Alan's own narrative of the damage wrecked by the thunderstorm, hail, and torrential downpour.
"The storm gave little warning, so we were thankful we had the tent weighted and pegged in properly. We dropped the sides and zipped them up, taking refuge inside. Very scary as the storm hit, the winds were about 140km per hour with hail and heavy rain!!! About 20 minutes later, the storm had passed and as we surveyed the damage, we couldn't believe our tent was completely intact!
Amazing, as the security fence behind us (weighted down with concrete blocks) was blown over, and the marquee next to us had lifted and blown away. As we continued to survey the area, we saw one disaster after another. Marquees that were covering thousands of dollars in stock, were completely mangled or blown away entirely, and the stock was left severely water and wind damaged!"
Take a look at the destruction caused by the thunderstorm.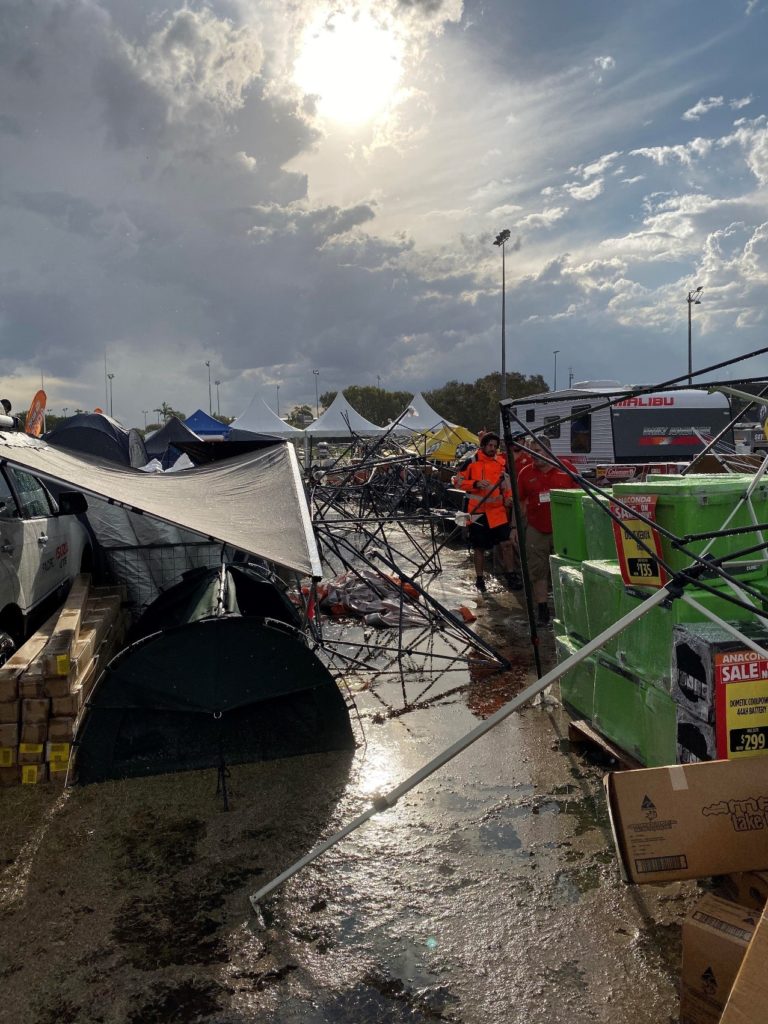 "Anaconda were there with a large site and had about 6 of their Oz Trail marquees up. We had our Extreme set up, pegged, and weighted. We dropped all the sides and zipped up just as the storm hit! These are the pictures of the Anaconda site and ours (white tent) after the storm passed. Wind gusts felt like at least 100kph. The black tent on the right of ours is also an Extreme but they didn't weight it down….and it blew about 50 meters away! But it was fine, we just carried it back and put it in place! So this picture is after we put theirs back! Great marquees!"
Australia has an unpredictable weather that can pose grave threat to ongoing events where there are valuable products being displayed, or wares being sold. But thanks to our robust X6 marquees, there's nothing to worry about. Alan feels the same way, "We are thankful our Extreme kept us safe, and protected our livelihood. We continued to trade as normal the next day."
We always recommend our clients to peg their marquee and weigh it down with steel pins, sandbags, water weights, or heavy-duty steel weight plates to secure the marquees in their place in case of rough weather.
Alan advises to always rely on the best and most reliable marquee suppliers, "My advice is to pay the difference now and buy the best…or you will certainly pay much, much more later!"
We're thankful no one got hurt during the storm and hope to continue serving Alan and other customers all across Australia in the future.
If you're looking to buy a commercial heavy-duty pop-up gazebo, you're at the right place. Just reach out to our customer care team today at 1300 850 832 and become one of our several satisfied customers!