Inflatable Marquee Buying Guide: What to Look For ?
So you have decided the venue for your next outdoor event and now you are looking for the best options to make it look fabulous. Great! How about a nice, heavy-duty marquee to start with? When it comes to outdoor events, it becomes extremely important for the hosts to ensure that their guests are comfortable and protected against the elements, like heat, especially in Australia where the weather can turn really hot during summers. Inflatable marquee or blow up gazebos are a fantastic way to give a wonderful look to your venue while also making sure that the guests are protected against harmful UV rays. Here's why:
They Look Great – Inflatable gazebos come in various unique shapes and attractive designs, which instantly grab people's attention. If used smartly, they can be a powerful brand marketing tool and help you stand out in your events or shows. You can also add colourful lights to the inflatable arch tent in order to make it look even more beautiful.
Easy to Pitch & Take Down – Inflatable marquees are not like your traditional pole tents that require poles/frames and a solid foundation to be able to stand in place. These tents come with inflatable tubes/beams and an electric pump that allows you to inflate the gazebo in order to set it up. The process takes no time whatsoever. When you need to take down the tent, you can simply deflate it and you are good to go. A really convenient option to say the least!
Things to Look for When Buying an Inflatable Gazebo
Whether it's a business event, trade show or a private party, there are inflatable dome tents available to suit every requirement. And although having multiple options to choose from is a good thing, they can sometimes confuse you, making it difficult for you to figure out what best fits your need. Don't worry! Here are a few basic things you should consider when looking to buy inflatable arch tent for your next event:
Size –Knowing the right size is important for various reasons, but majorly, to ensure that your gazebo offers enough shade and coverage. Depending on the number of people you are looking to fit inside your inflatable marquee, the choice of size would vary. For example, for an event where you need to set a small booth, a standard 2.4 X 2.4 or 3 X 3 tent might do the job. However, for large events where you need to accommodate more people, you would want to consider a big-size, say a 6×6 tent. If you are not able to figure out the right size for your tent, contact the manufacturer. The tents can also be custom-designed to best suit your requirement.
Air Pressure – Air pressure is an important thing to consider when you are shopping for an inflatable marquee. Know whether you want a low or high-pressure gazebo. In case you are looking for features, such as fast deployment, high-pressure tents are more likely to serve your purpose better. In addition to fast deployment, a general advantage of high pressure tents is they are more resistant to temperature fluctuations so there is no need for permanent pressure control or multiple air refills.
Design – Inflatable gazebos come in all sorts of shapes and designs, from creative and fun to professional and practical. Know what will work best for your event. If you want your tent to be attractive and noticeable—even from a distance, you can opt for a tent with a slightly fancier design. If you are buying an inflatable tent for a corporate event, you can go for a more professional look.
Fabric – Another key aspect to look for when shopping for an inflatable marquee is the fabric material it is made of. The fabric should be heavy-duty and durable but also lightweight so the tents can be carried along easily. Avoid cheap quality tents as they are more likely to sway away or tear when put to test in harsh weather conditions.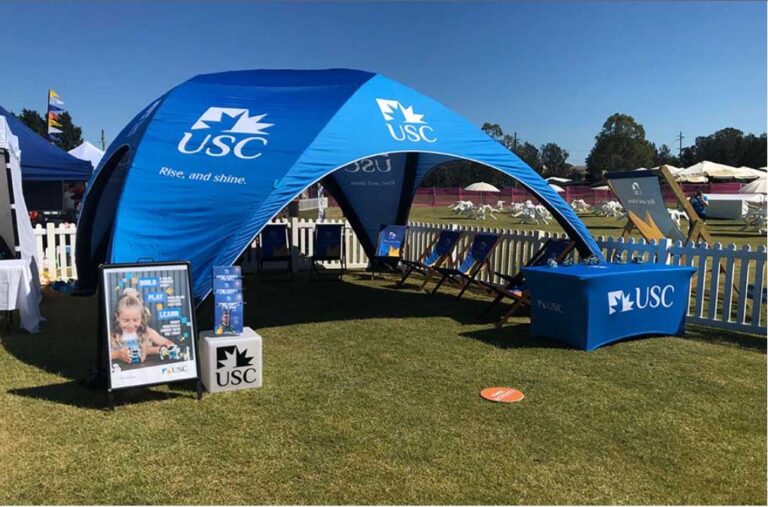 Get Top-Quality Inflatable Gazebos from Extreme Marquees
Extreme Marquees is your most reliable source for top-quality inflatable gazebos in Australia. We are a premier supplier of heavy-duty marquees with more than 18 years of experience in the industry. Whether you are looking for a stylish blow up gazebo for a promotional event or a large-size, heavy-duty event tent for outdoor parties, we have you covered! Explore our extensive range of products today and get the best shading solutions to rock your events.
Explore Extreme Marquees' Wide Range of Custom Printed Tents
Why shop from Extreme Marquees? We are a reputable marquee supplier in Australia and offer our products in various colour, size, fabric and print options to suit all requirements. We provide feature-loaded, heavy-duty pop up tents that, in addition to providing you the much needed protection against outside elements, make your brand stand out in business events.
In addition to inflatable shelters for sale, we also offer a variety of products which include but are not limited to:
Folding Gazebo Tents
Custom Printed Gazebo Tents
School Tents
Medical Gazebo Tents
Outdoor Dining Tents
Wedding Tents
Commercial Tents
Cantilever Umbrellas
Star Shade Tents
Pull Up Banners and Display Boards
We use cutting-edge print technology and top-quality materials to create outdoor shading products that are waterproof, UV protected, and fire retardant. To know more about our offerings, give us a call today.
We also accept bulk orders! So, in case you want to shop multiple gazebo tents for your upcoming event, go ahead and place your order. You can reach out to our experts for both plain and custom-printed pop-up gazebo tents in Australia. For custom printed marquees, you can either choose from our existing templates and designs or provide your own artwork to be printed on the gazebo.
We also offer various accessories with our marquees. Contact us today to let us know what you are looking for and the chances are, we would already have it!
Scroll To Top