CREATE OFFBEAT EVENT SPACES WITH STAR SHADE TENTS
If you're fed up of seeing the same tents every time, we've got the perfect substitute for you – star shade tents !
Our star tents are portable, lightweight, and compact. With their unique design and functionality, they provide an elegant mix of aesthetics and performance.
This product is available in a selection of sizes starting from 6m span up to a 16m shaded area. This style of promotional display is ideal for maximum brand exposure. These star shade tents come in a selection of colours and fabric type. The fabric can also be custom printed to include any graphics or colours. This range of tents is fast to set up and dismantle and ideally suited for use at club meetings, school fairs and sporting events.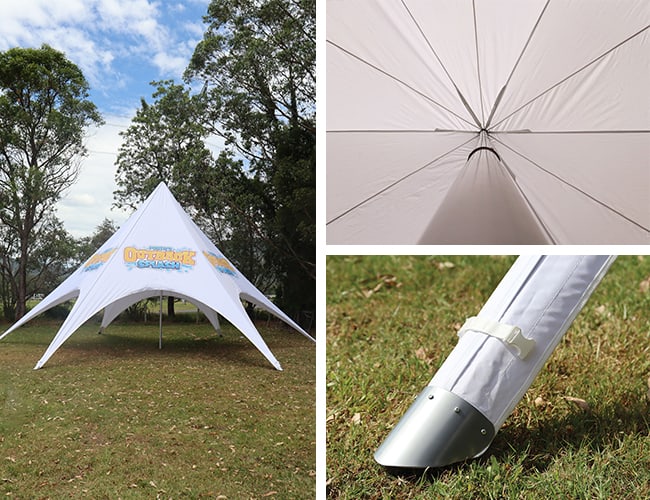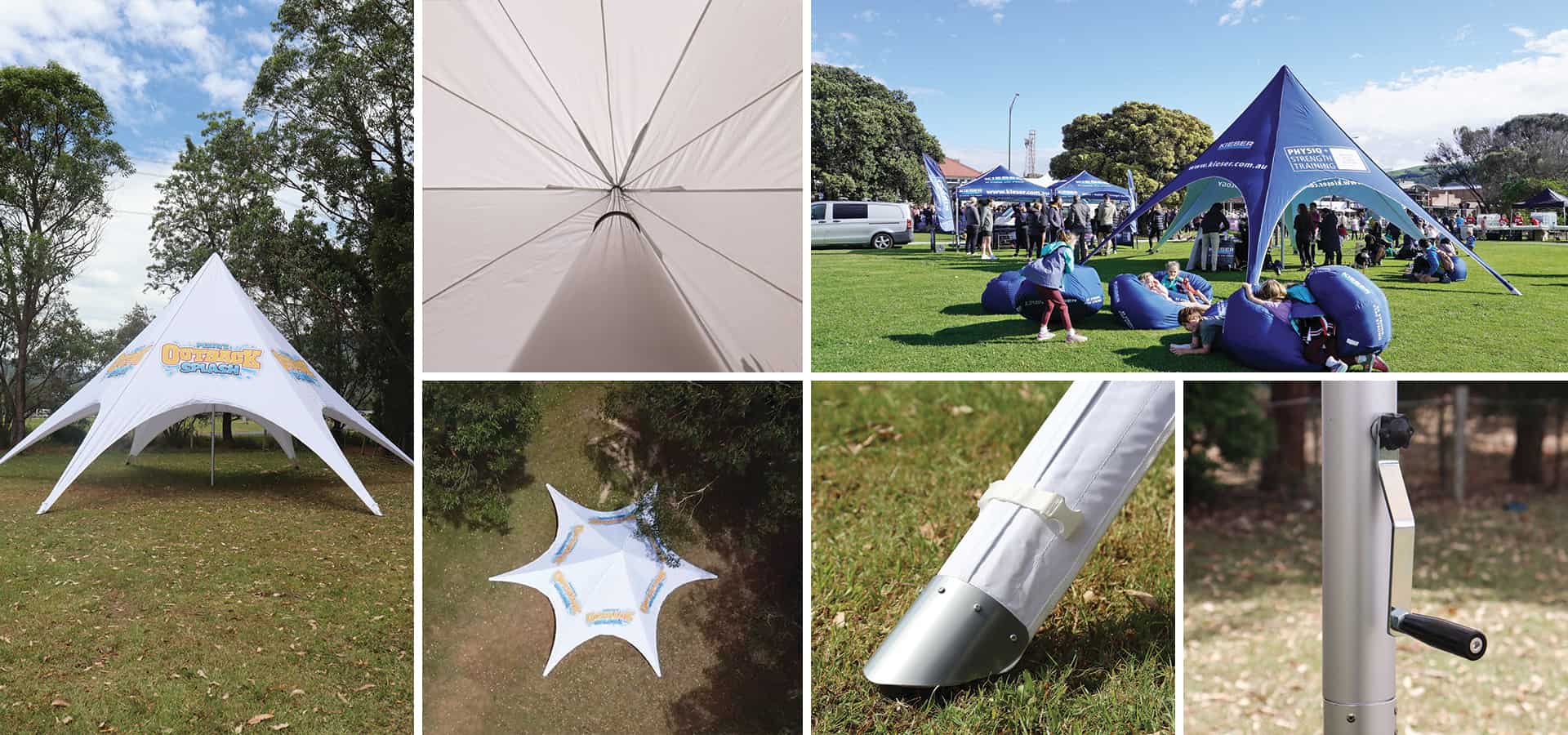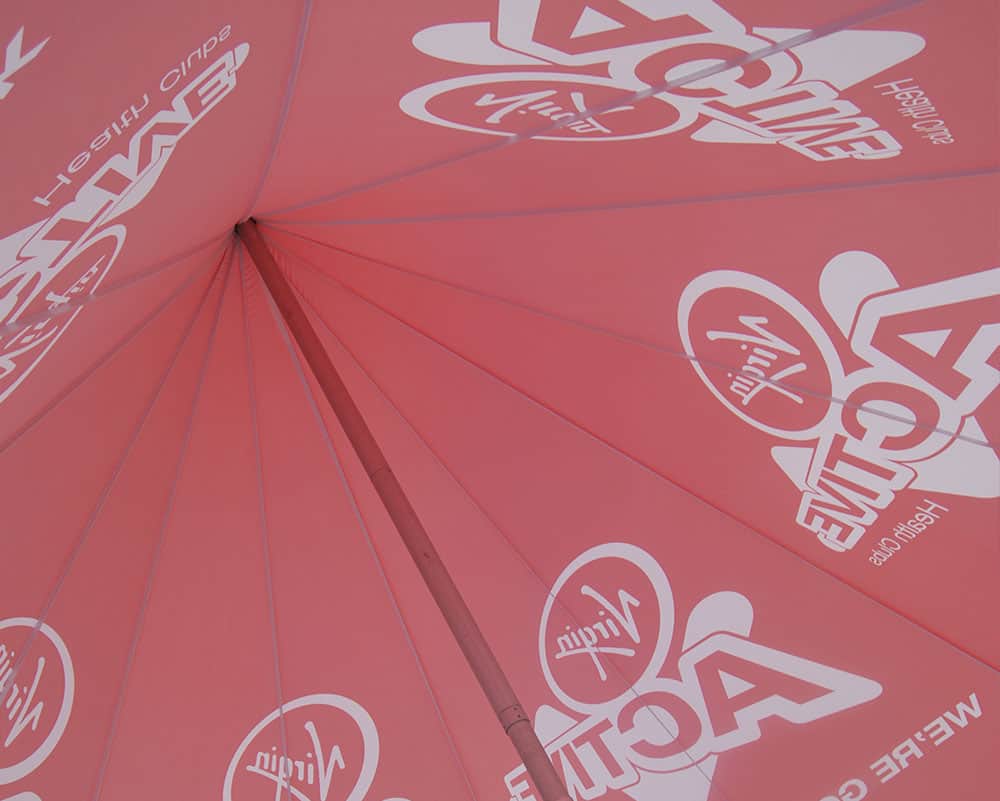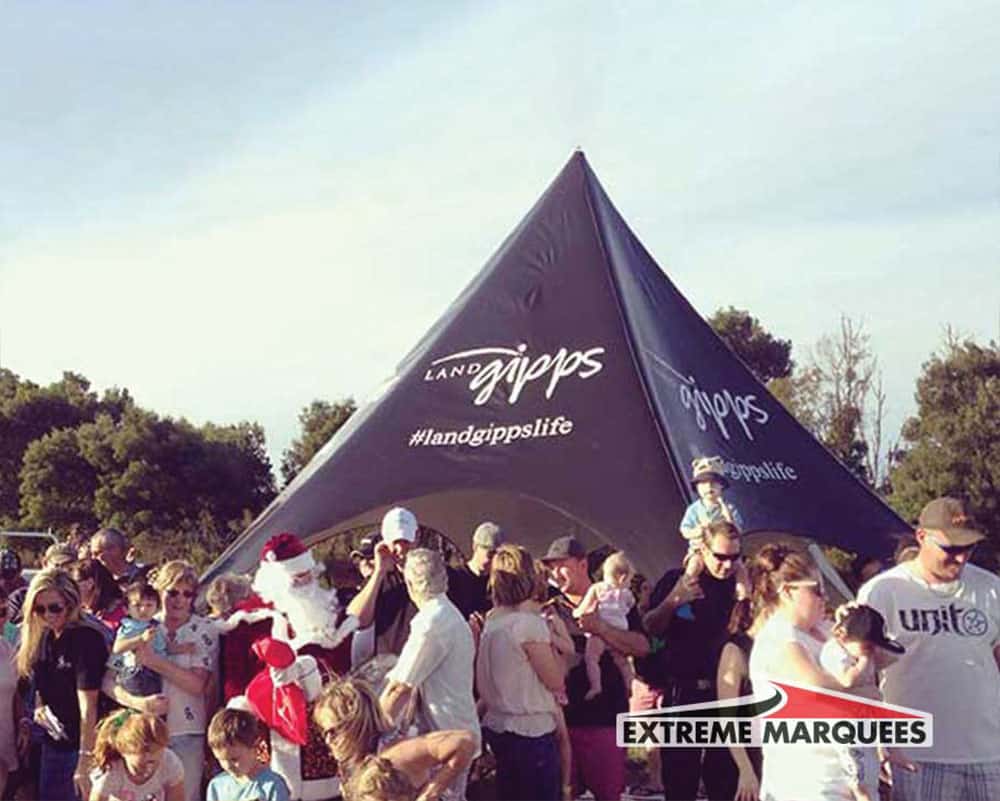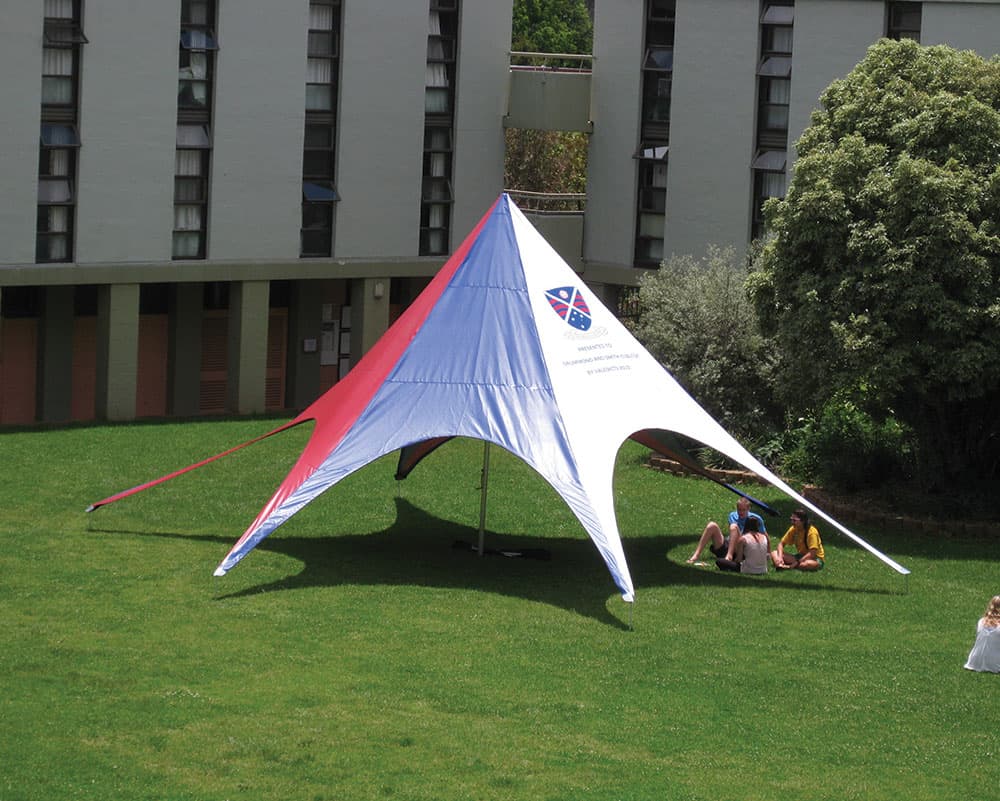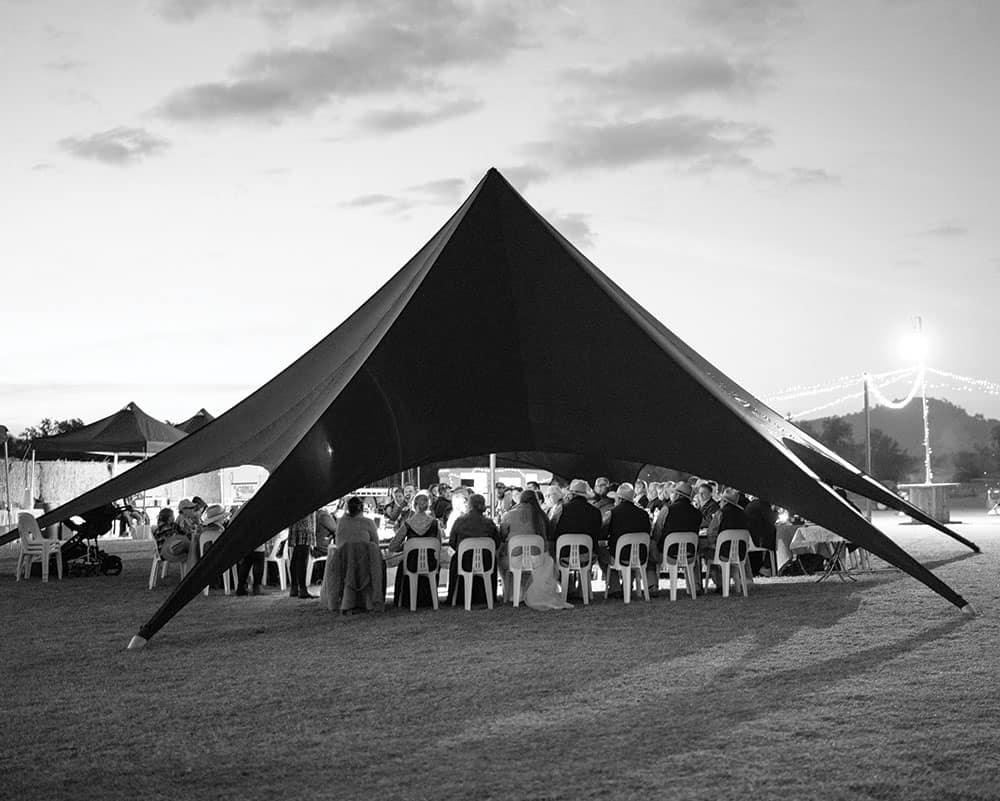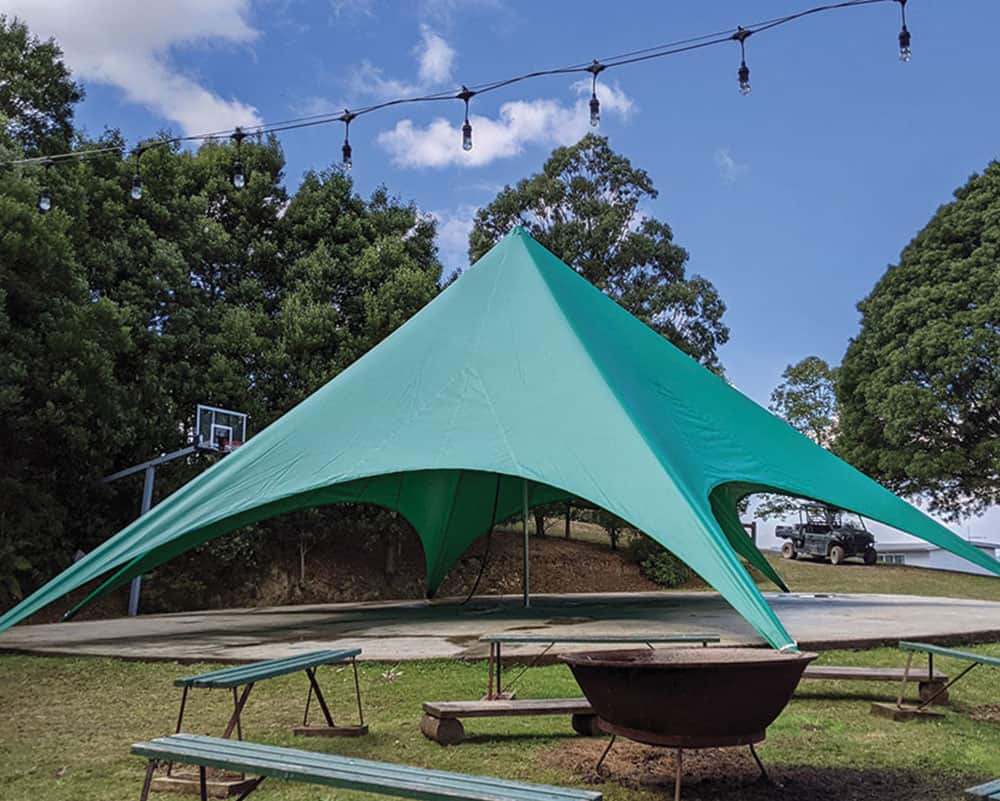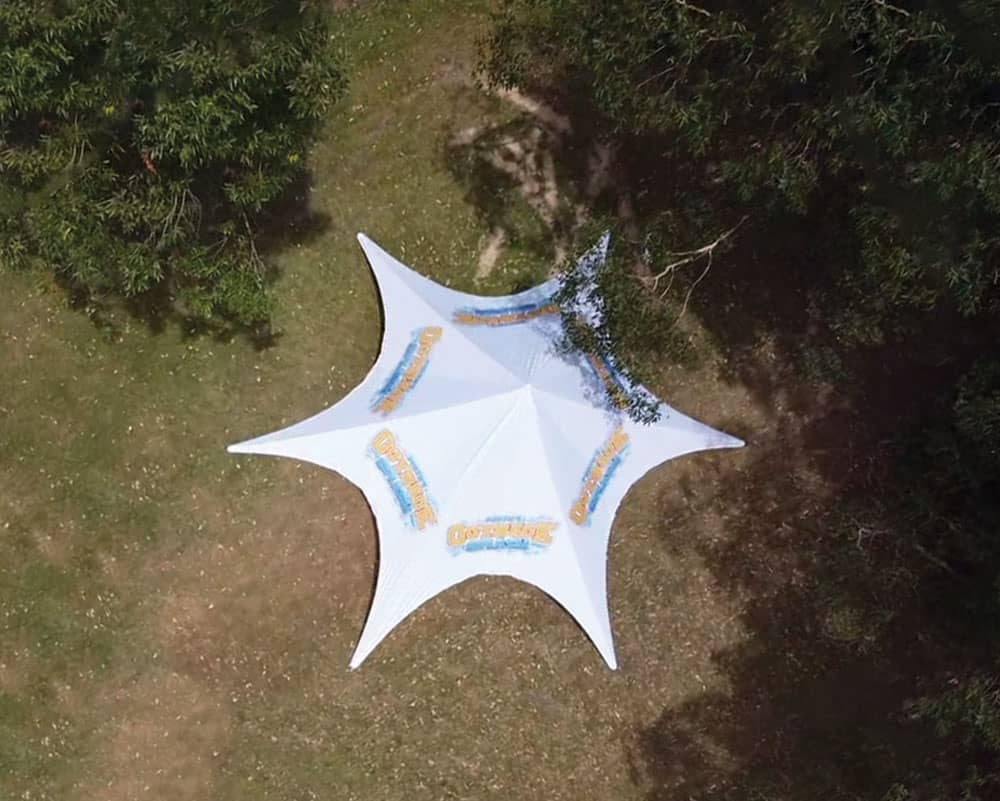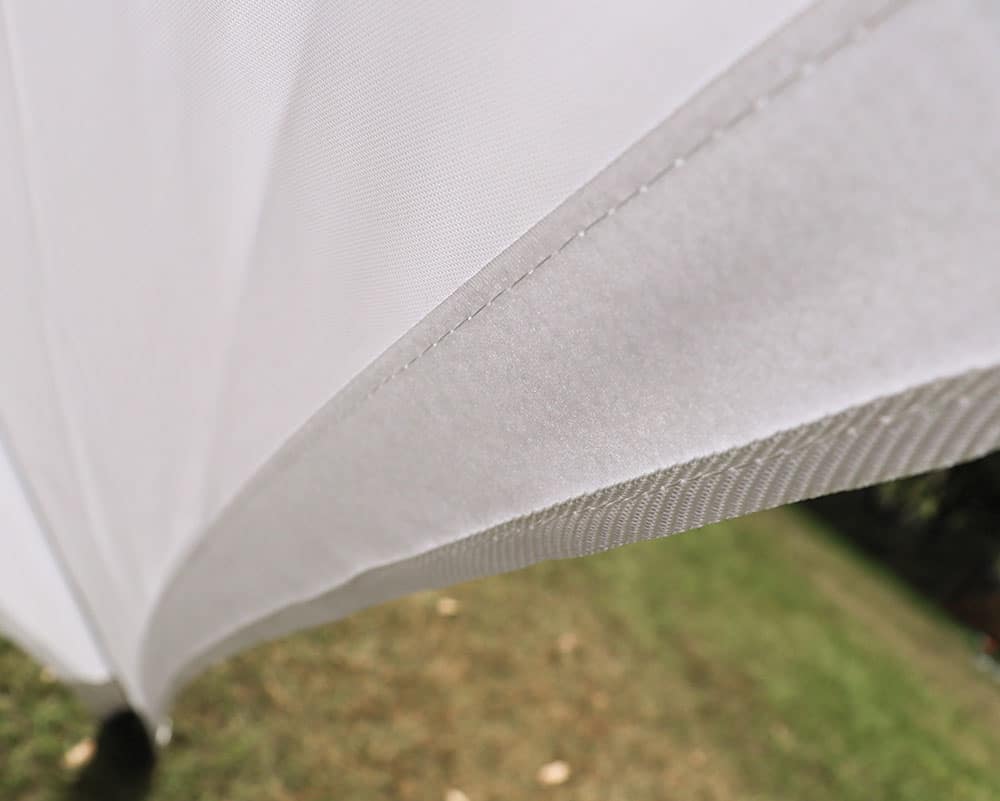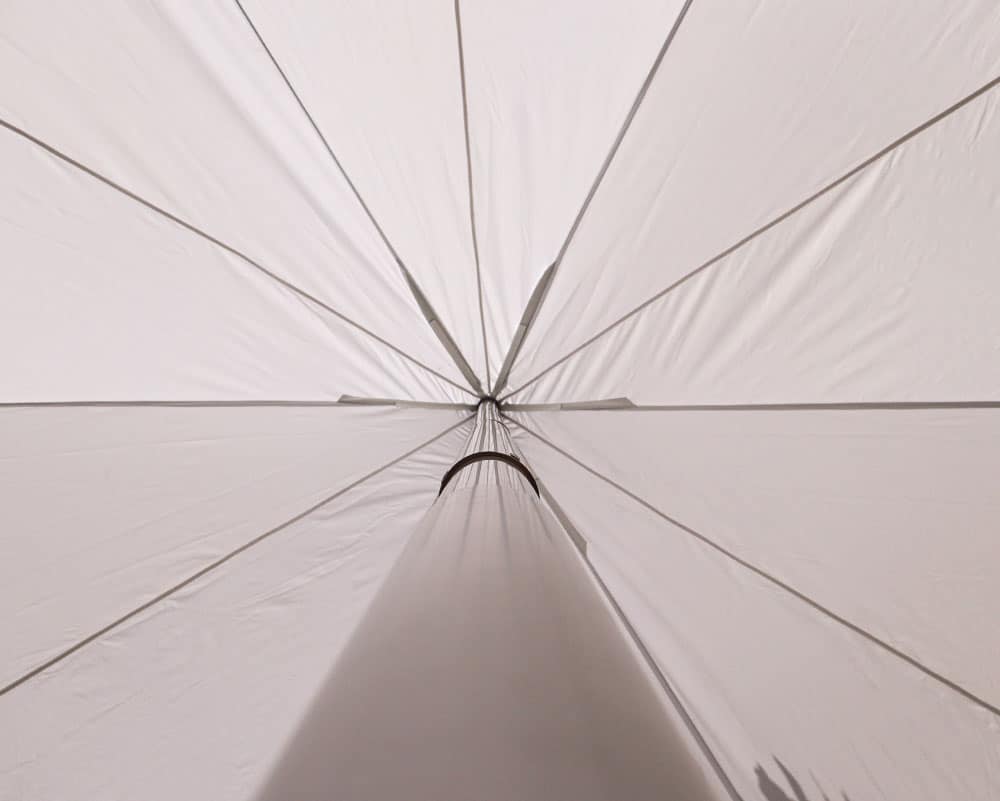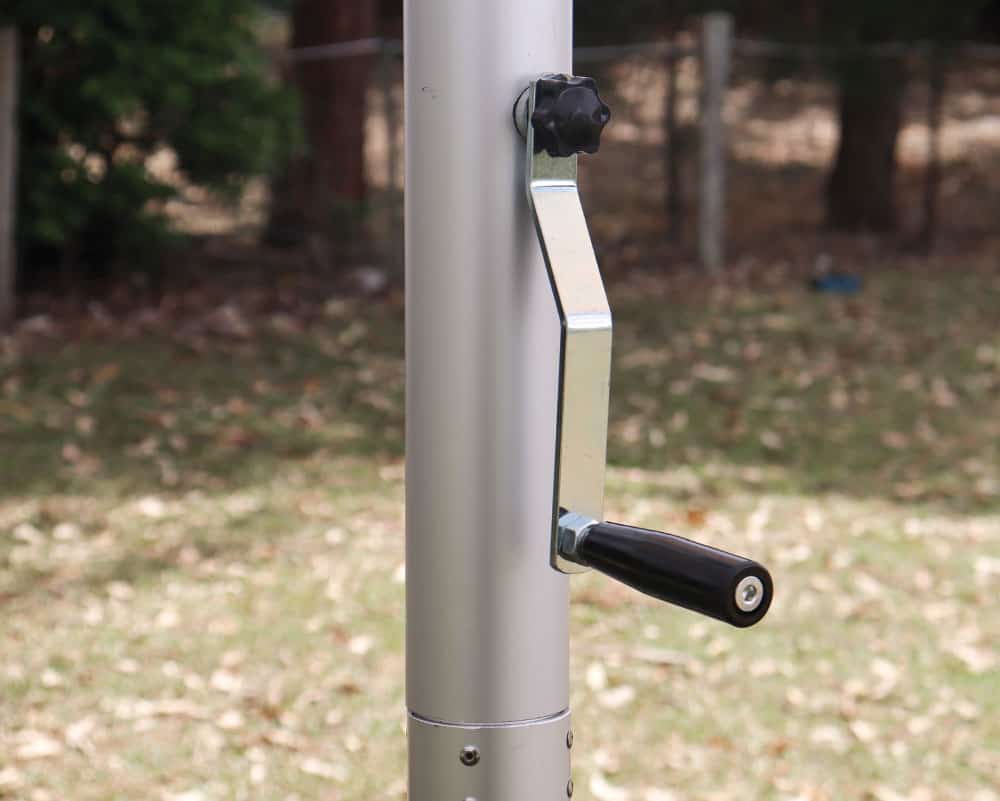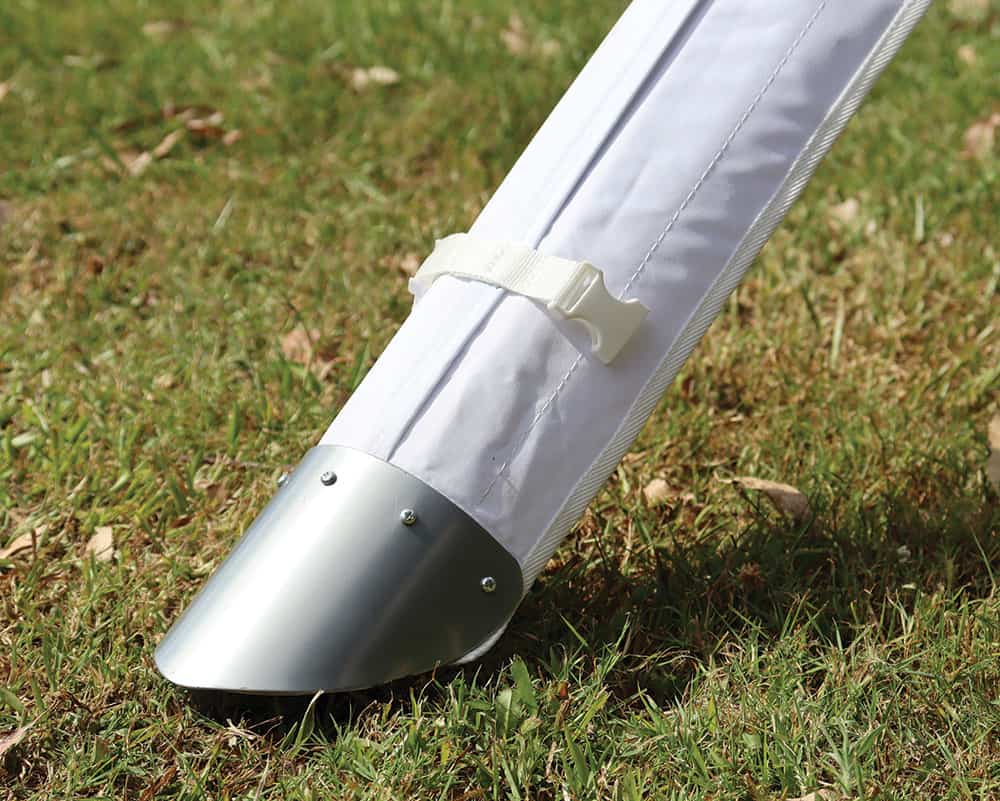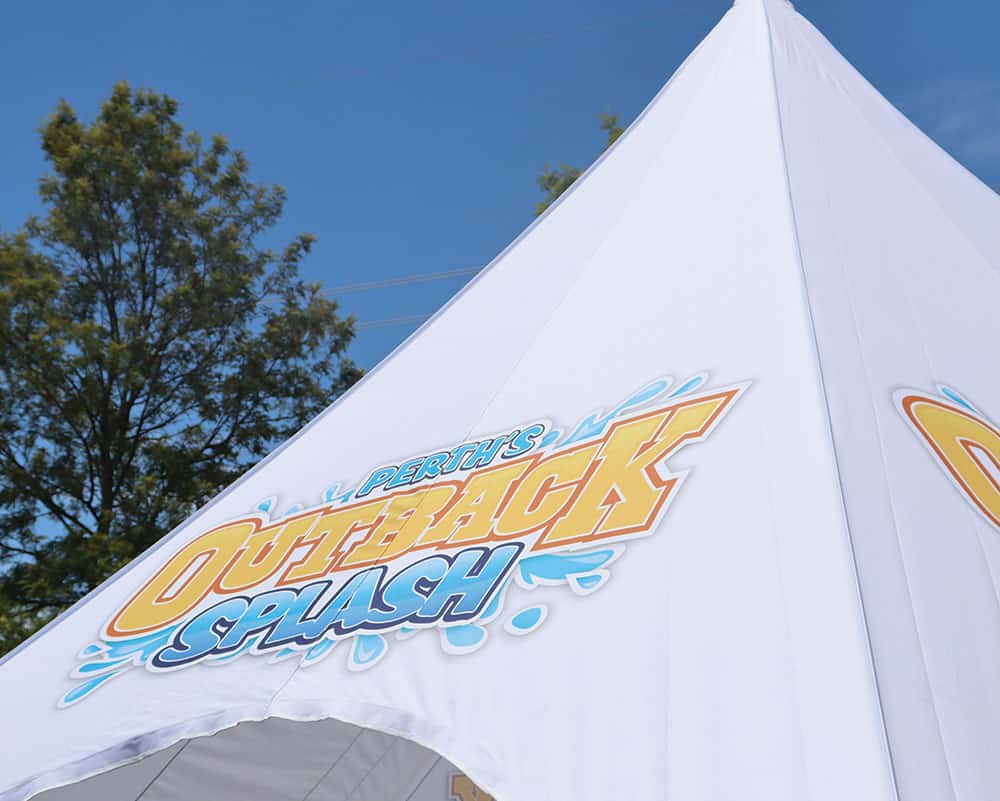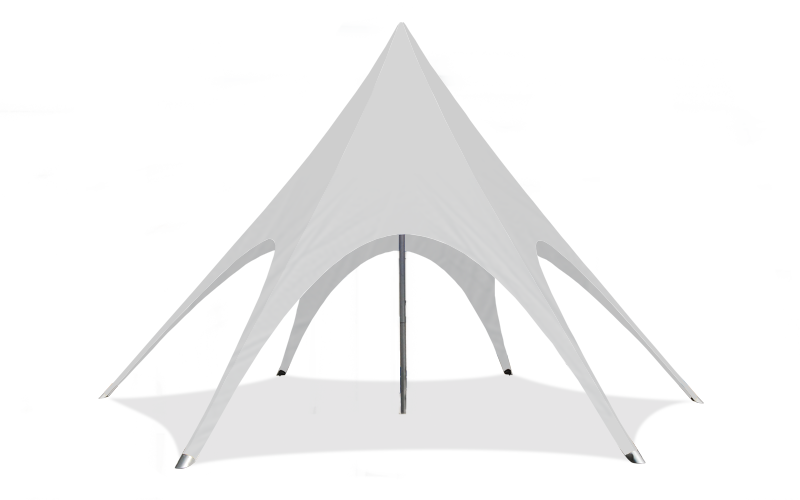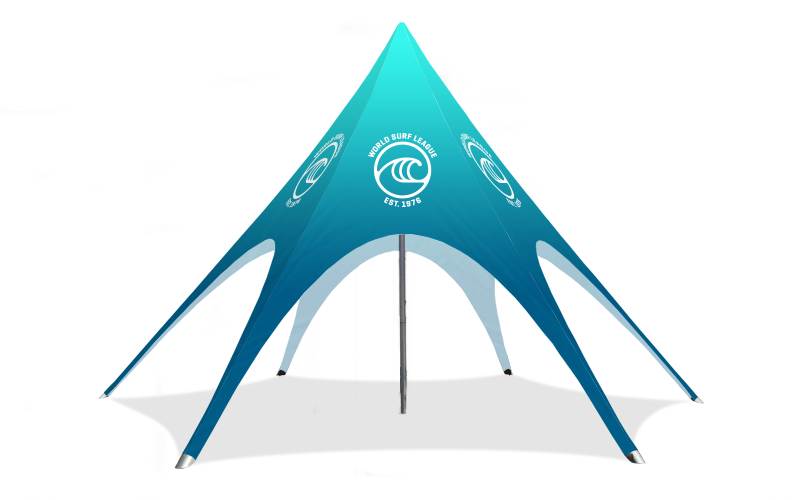 We offer custom printing on a wide range of products. Don't forget to checkout our available print packages!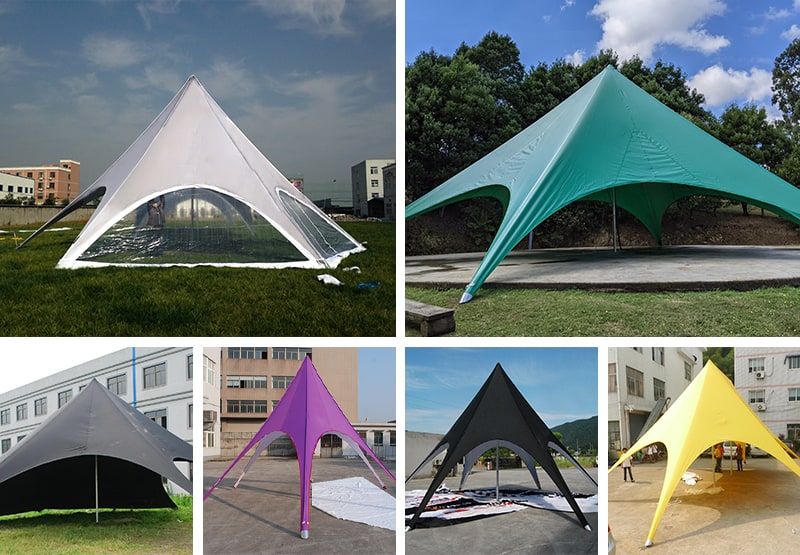 500D PVC Coated Polyester

Available for Plain products
Specifications
100% Polyester with PVC backing
Yarn count: 500D x 500D
Weight: 280 gsm
Colourfastness to light 5-6 En
Features
1 year warranty
Waterproof
Fire, UV & Wind resistant
PVC reinforced Corners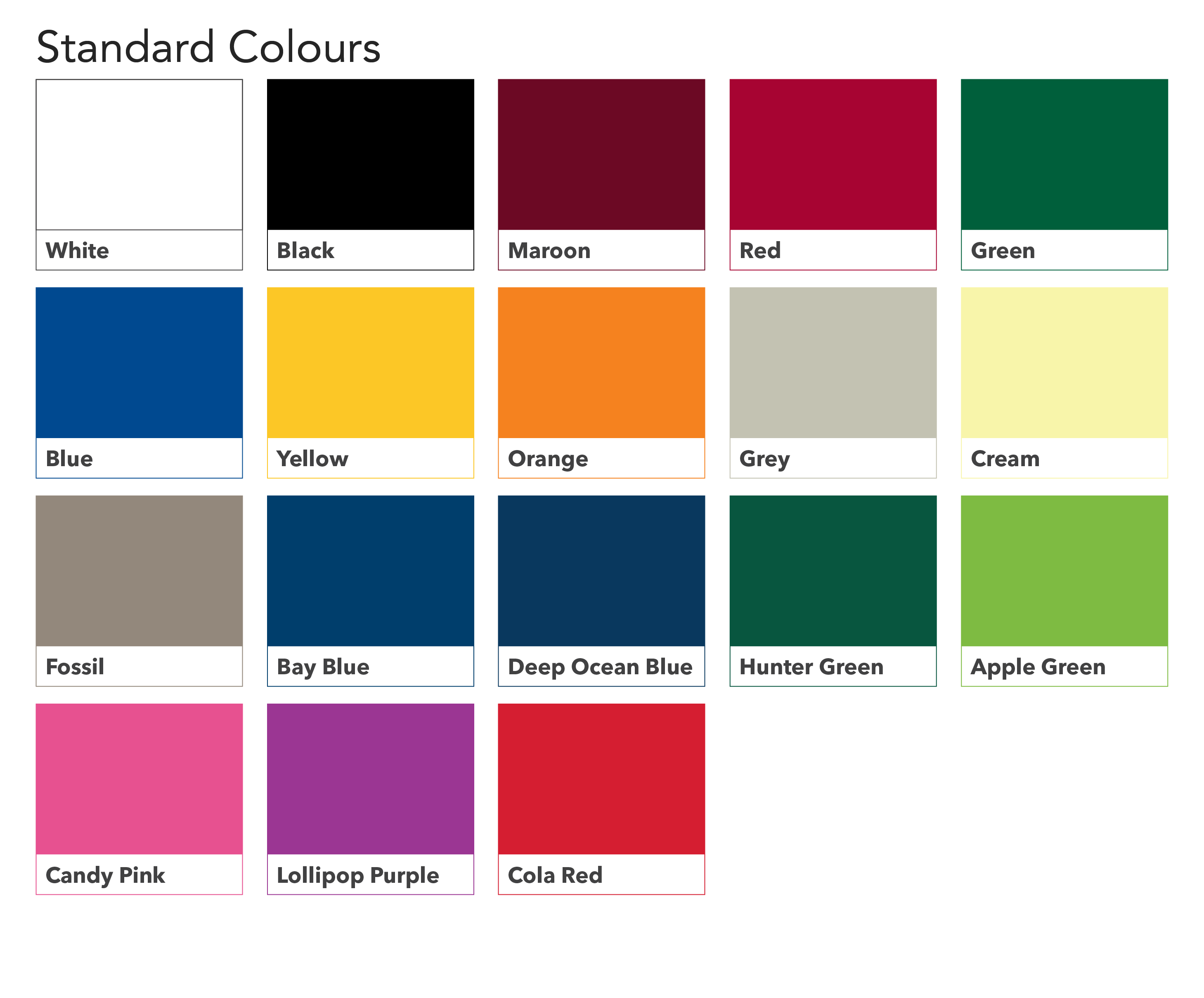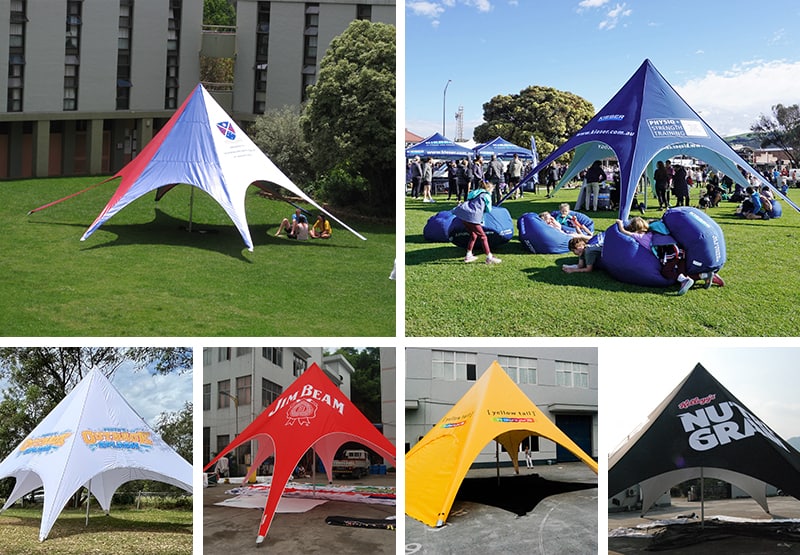 600D PU Coated Polyester
Available for Custom Printed products
Specifications
100% Polyester with PU backing
Yarn count: 600D x 600D
Weight: 245 gsm
Colourfastness to light 5-6 En
Features
1 year warranty
Fire, UV and wind resistant
Waterproof
PVC Reinforced Corners
Black or White reverse fabric
Dye Sublimation Printing
Dye sublimation printing involves the use of a digital printer to produce a print on sublimation transfer paper. The sublimation paper is then placed into a heat press with the fabric and exposed to a temperature of 200 degrees Celsius. The artwork is then transferred from the paper to the fabric. The fabric has the artwork embedded in the material and the design will not scratch from the surface. The fabric has a matte finish, which photographs well and suits indoor and outdoor use.

Bruce Christie
2 weeks ago
Could not be happier with the service and quality from Extreme Marquees. They were very patient with my questions on several occasions and when I finally confirmed my purchase, the marquee arrived two days later. Looks great in our backyard.
Craig Bachmann
a month ago
Hi I'm Craig Bachmann and I sell my rural landscape photography at around 80 outdoor markets each year. 3 years ago after much research, I purchased my first Extreme Marquee and have been very happy with its build and the professional look it gives my business. I am always receiving compliments about it from my customers and being approached by other stall holders wanting to know which business made it so they can order one as well. I recently decided to replace the roof and walls and Extreme Marquees helped me design a bit of a fresh look by adding graphics to the roof as well. I'd like to thank Georgia and Monique from Extreme Marquees for all their help. I look forward to doing more business with you in the future!
Wayne Booth
a month ago
Extreme Marquees excellent marquees.. Strong & Affordable.. Just replaced a 6m x 3m Classic frame.. Very happy with the service.. Regards The Lennox Longboarders Club.
Maria Soukkar
a month ago
Been standing for 4 years and still going Really good service and quality marquees I have purchased a few 8/4 8/8 10/10 And also the banners and teardrop banners Really professional service and competitive prices This one has been 4 years now and still perfect it's the 4/8 Easily seats up to 30 people Wouldn't go anywhere else
lisa bluhm
2 weeks ago
Friendly and helpful staff. Coordination between the different departments was great. Very fast delivery. Cannot fault them for their service. Delivery staff were helpful as well, even though they are a delivery company separate to Extreme Marquees. All steps of the customer service process has been handled really well by Extreme Marquees!!
Our Single Pole Star structures are perfect for fast shade and easy to set up. Star outdoor shade structures are made from a strong telescopic aluminium pole that is fitted inside the roof. Simply lift the pole into position and put the steel pins in the ground, adjust the ropes and you have instant up shade.
ROBUST DESIGN
Our star shade marquee range has high tensile strength of a heavy-duty waterproof marquee fabric suspended by single poles. The adjustable tension can be controlled through a hand-crank, ensuring trouble-free setup. Moreover, the streamlined and dynamic conical tent shape makes the star shade gazebo resilient to high winds, snow, and rain. With their stylish appearance and versatility, star shade tents are perfect in case you're looking to stand out from the crowd.
KEY FEATURES
– Available in an assortment of vibrant colours to jazz up your event space.
– Option to choose from Plain 500D PVC Coated Polyester fabric or Custom printed 600D PU Coated Polyester fabric.
– Made with durable, waterproof, UV-resistant, and flame retardant fabric.
– Our gazebos carry Engineer's Certificate of Compliance, guaranteeing the structural integrity of the structures.
HIGH QUALITY ASSURED
Our star shade tents, gazebos, and marquees are unparalleled in quality. They're long-lasting, and with the right care and upkeep, they will reap their investments in the long run. We offer manufacturer's warranty on the frame and fabric of up to 5 years. Our products are supplied directly from the production unit – this means that you get unquestionable quality at affordable prices.
AN ARRAY OF OPTIONS TO CHOOSE FROM
Our single poled tents are suitable for beach events, smaller parties, and concerts. These are available in the sizes of 6m, 8m, 10m, 12m, 14m, and 16m. The plain, 500D PVC Coated Polyester can be requested in up to 10 standard colours or with 600D PU Coated Polyester custom branding.
BRAND, TO YOUR HEART'S CONTENT
Star tents offer maximum surface area for branding as the marquee covers a majority of the surface area. Using our sophisticated, state-of-the-art digital printing process, we can add your logo, slogan, event details, and graphics to convert your star shade marquee into an awesome advertising solution.
Get in touch with our experts to know more about our star shade marquees!
Scroll To Top