Business Cafe and Cafe Premium Ranges
Extreme Marquees in partnership with Flare Shade have developed a premium range of outdoor umbrellas. The Flare Shade range of Café Umbrellas are a bespoke European styled shade solutions. Café umbrellas are a utilitarian way to shade your customers, guests and patrons whilst generating public attention. Flare Shade's café style umbrellas are innovative, bespoke and are each manufactured from top grade and high strength material. Serving as the bread and butter of Flare Shade's product span, both Premium and Classic Series cafés are capable of long-term setup in most settings and environments across all climate types.
The Matisse & Saville are as stunning as they are strong. Designed in-house by the Flare team, their striking square and octagonal designs will enhance your environment wherever they are incorporated. The Flare Shade Matisse and Saville café umbrellas have been sculptured using the very best of raw materials in their manufacturing.
They are each made from high end imported fabrics from Italy and Spain and the frames are made from extruded marine grade aluminium. The Business Café umbrella are also made from top grade aluminium. Don't forget that the top canopy is perfect for printing logos or business names.
Extreme Marquees is confident in the Flare Shade café range and happily backs each of these shade structures with an initial warranty period. Spare parts and replacement components are stocked and available in the event of any damage or required maintenance.
There is also warranty coverage against untimely colour fading on the canopy fabric options due to UV exposure. Rest assured that these umbrellas will stand sturdy and attractive through years of use with the right care.
2x2m Square
2.5×2.5m Square
3x3m Square
The Flare Shade Saville Café Umbrella is a square shaped, European style shade solution. The frame is made from extruded aluminium. The 30 face signature pole is stunning, distinctive and high strength. The pole measures 50mm in diameter which makes this café umbrella one of the most robust in its class. The canopy is manufactured from either imported Spanish Recasens fabric or fade resistant Olefin.
CONNECTOR HUB
POLE & TRUSS
POLE & CONNECTOR HUB
The Flare Shade Matisse Cafe umbrella is a premium class octagonal shape outdoor umbrella. The canopy is produced with a choice of either Olefin fade resistant fabric or imported Recasens fabric from Spain. The frame is made from marine grade aluminium and available in jet black or anodized silver finishing. Digitally printed canopies are also available for restaurants and cafes to promote their names.
CONNECTOR HUB
POLE & TRUSS
POLE & CONNECTOR HUB
2.5m Octagonal
3.0m Octagonal
3.5m Octagonal
4.0m Octagonal

The Flare Shade Classic umbrella is the perfect solution for restaurants and cafes that need shade for their customers. The 38mm café umbrella pole fits into most outdoor table centre holes. The square Flare Shade Classic umbrella measures 2.2×2.2 metres and is made of quality extruded aluminium. The canopy is made from Flare Shades own acrylic, highly durable, long life fabric and comes with a 5 year fade resistant warranty. Custom printing is available for your business logos, restaurant name or unique stylised colour scheme.
CONNECTOR HUB
STYLISH TOP
EASY PACK-UP

The Flare Shade Octagonal Classic umbrella is a 3 metre diameter restaurant and café outdoor shade solution. Made from polished aluminium, the frame is engineered to endure years of use. The canopy is manufactured from high grade acrylic, long life fabric and comes with a Flare Shade 5 year fade resistant warranty. The canopy is available in a large range of vibrant colours. UV digital custom printing is also available on the canopy should you wish to print logos or your branding.
CONNECTOR HUB
STYLISH TOP
EASY PACK-UP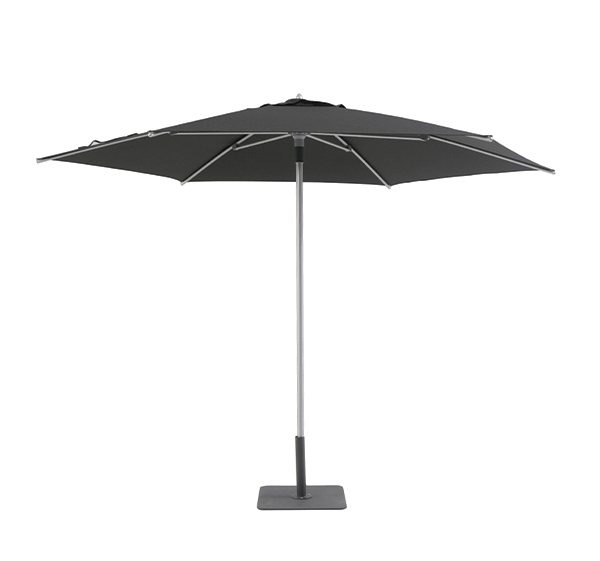 CUSTOM PRINTED
Flare Shades Cafe Umbrellas can be screen printed or UV digital printed. For printing on Olefin fabric or imported Spanish Recasens fabric we use our screen printing process. We also offer UV full colour digital printing on our heavy duty long lasting PU coated fabric. Our sales or graphics department can discuss which option most suits your needs. Custom printed cafe umbrellas are a great way to promote your business, cafe or restaurant.