Custom Printed Marquees, Gazebos & Pop Up Tents
EXTREME MARQUEES' RANGE OF CUSTOM PRINTED MARQUEES & GAZEBOS
Extreme Marquees is Australia's premier supplier of custom printed marquees and gazebos. We use state-of-the-art digital paper sublimation printing process to ensure that all printed and promotional branded marquees are of the highest quality. In addition to this, the Extreme Marquees quality control process is second to none, assuring that all our portable branded marquees are world class.
A Custom Printed Gazebo or Branded Marquee – Tailor-Made To Your Requirements
All printed marquees and branded gazebos by the Extreme team are completely tailor-made to your specific requirements. With the help of our graphics design team, Extreme Marquees is able to create dynamic & complex designs in virtually any colour. Just share your artwork with us to get started.
Printed Marquee & Branded Gazebo Packages
Below, we have graphically illustrated some of our bestselling printed marquee and branded gazebo packages. Please note that these packages come in our complete range of sizes and can be customized in every aspect for any of our folding and pop-up marquees, inflatable tents, and event marquees.
LONG LASTING PRINT
Upgrade to Ultra Violet printing, lasting up to 3x longer than sublimation printing.
FREE DESIGN
Not sure where to begin? Starting with a FREE mock up to get the ideas together!
VIP EXPRESS
Our VIP EXPRESS "Priority Production & Delivery" is a premium service available to clients that have a tight dead-line.
Weight Plates
Clip Wheels
PVC Sandbags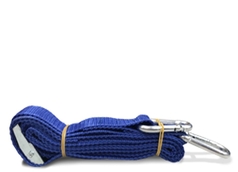 Straps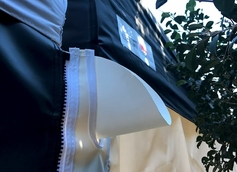 Rain Gutter
Printed Walls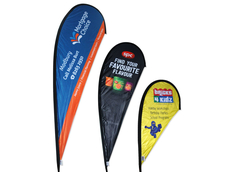 Flag Banner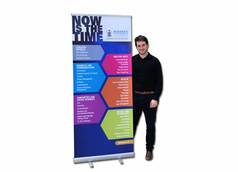 Pull-Up Banner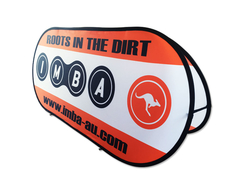 Pop Banners
PERSONALISED CUSTOM PRINTED MARQUEE & GAZEBO PRINTING
Extreme Marquees has been manufacturing and distributing custom printed marquees and gazebos for over 15 years. We've worked with companies of all sizes, and are proud to have built the reputation as Australia's premier supplier of custom printed marquees.
Extreme Marquees has an experienced team that makes purchasing a high quality custom printed marquee or gazebo an enjoyable experience. We are Australia's leaders in full colour digital printing on folding and pop-up marquees and gazebos, event marquees, and promotional banners.
Marquee Printing That Will Stand Test of Time, Weather, and Prolonged Use
To achieve the most vibrant and high definition colours, we incorporate two printing systems – one for the PVC coated polyester, and another for custom printing on 100% PVC.
Folding printed marquees offer the ultimate branding solutions. Every panel of our pop up marquees can be digitally printed. Full length and ½ length walls can also be printed on one or both sides.
Our marquees and gazebos can have as little or as much printing as you need. You can go with a single valance print to promote your school or club or upgrade for full roof and walls custom printed marquee master piece. You can just get your logo printed, or request a detailed artwork with images and text.
Ease To Setup and Assembly
Most of our custom printed marquees can be set-up within minutes!
There's no need to bring a team to assemble your custom printed Extreme Marquee. Our folding marquees can be erected by a two-member team, while our inflatable marquees can be set up individually.
Largest Range of Outdoor Branding Solutions: Corporate Marquees, Branded Marquees, Printed Marquee and Branded Popup Gazebos
Our professional level of printing is recognized around the globe with on-sellers in more than 20 countries purchasing our custom marquees and gazebos, banners and other promotional products!
Apart from being recognized as a professional and successful business around the world, we are also the largest supplier of custom printed pop-up marquees and gazebos in Australia. We custom print logos, words, or pictures onto our marquee fabrics to create the ultimate personalized outdoor shade solutions – thanks to our 6-colour digital printing capabilities.
We are able to print on PVC, paper, and our specially designed polyester fabrics. For customers looking for large volumes of economical printing, we are happy to offer our screen printing services through our high value packages.
Australia's Premier Supplier of Custom Printed Marquees Made with Imported Fabric
Extreme Marquees uses high quality imported Belgium PVC roof fabric to enhance the full colour printing process.
For PVC coated polyester, we incorporate a 3-stage process. Firstly, the fabric is passed through a thermal heat machine at 200 degrees Celsius. This pre-shrinks the fabric so that it is ready for printing.
Secondly, the artwork is printed directly onto special transfer paper by our sophisticated 6-colour, imported digital printers. Finally, the paper and fabric are fed together back through the thermal heat machine. The artwork is infused at 200 degrees onto fabric. The result is ultimate highest quality printing possible on PVC-coated polyester.
For 100% PVC, we use imported fabric from Belgium and imported, high-quality long lasting, anti-fade inks. We incorporate a 2-stage process to ensure your branded marquee has the highest possible finish.
During the first stage, 6-colour ink jets print directly onto the PVC fabric surface. Then in the second stage, the fabric is passed through our heat lacquer machine where a clear semi-gloss layer is applied to printed surface. This protects your custom printed marquee walls from getting scratched and prevents colours from peeling off due to dirt penetration.
For large volume or bulk folding, we also offer a 4-colour screen printing process. This offers exceptionally good value for simple, repetitive designs. The silk screens vary between 1 to 4, depending on the number of colours. Special screen-printing paint is applied to screens that penetrates onto the fabric. Note that screen printing has size limitations.
Commercial-Grade Printing in a Variety of Colours
We use only the highest quality, fade resistant inks, and fabrics that have been specially designed to enhance the colour printing process. Your custom printed marquees will have much clearer prints that are sharper and more vibrant.
The Extreme Marquees printing facility alone employs over 30 printing specialists, including large format printer technicians, graphic designers, and production mangers. This group of specialists have been carefully selected, and each member has the ability and commitment to ensure that every custom printed order adheres to highest standards.
The ability to complete both large and small orders is what separates us from competition. Making use of our own printing facility gives us control over not only the production process, but also the delivery schedule.
Designed to Meet the Australian Safety Standards
Our marquees come with Engineer's Certification of Compliance on structural safety standards. When we manufacture a marquee for you, we don't do it for profit. It's because we care deeply to make your outdoor event even better than what you expected. The safety of you and your guests is paramount to us, and all our marquees are waterproof, UV-resistant, flame retardant, and long lasting.
Stand Out and Make an Impact with a Personalised Custom Printed Marquee – Shipping Australia-wide
Our customer will always receive high quality custom promotional marquees on time and at a price that is affordable. Our custom printing services are not just limited to our folding range, and can be availed for our entire range including inflatable tents, star shades and pagoda-style pinnacles.
Extreme Marquees is a progressive manufacturer and to that end, we are proud of our many advancements, innovations and achievements in the marquee, tent and outdoor shared industry. Contact Extreme Marquees for more information regarding our custom printed marquees or start shopping online today!
Custom Printed Marquee FAQ's
SPEAK TO US AND DISCOVER OUR PRODUCTS TODAY
'Putting the extreme into marquees'
We are so certain you won't find cheaper that we offer a Lowest Price Guarantee, we'll beat a lower price by 10% on identical competitors marquee products*