Flare Shade have an extensive range of commercial and residential outdoor umbrella solutions. Flare Shade design and manufacture premium, high quality umbrellas, built strong and robust to guarantee years of use under the hot Australian sun. There is an umbrella to suit all needs. Flare Shade offers an extensive range of extruded marine grade aluminium umbrellas ranging from our 2×2 metres heavy duty PVC umbrella all the way up to our 100 series 6 metre diameter umbrella. The quality of the frames are evident at a glance with the imported commercial grade fabrics enhancing both style and visual appeal. A variety of frame strengths and fabrics provides the perfect blend for your customised bespoke umbrella. Choose from the popular circular 100mm diameter pole X-100 and Y-100 series to the heavy duty 200 series. Also available in our commercial range of umbrellas is the HD PVC. This series is constructed with white blockout heavy duty PVC used in the construction of large event marquees. The PVC canopy will last more than a decade enduring the harsh Australian weather 24/7, 365 days a year. The blockout PVC can be washed clean regularly, leaving it looking as good as the day it was purchased. The HD PVC range and the X/Y-200 series commercial grade umbrellas both have structural engineer's certification which is necessary if installation is in a public place. The HD PVC commercial umbrella has an advanced, internal, reinforced frame. The distinctively engineered pole design offers incredible strength resulting in safety of operation and long term durability.
The X-100 commercial grade umbrella has been originally designed from the ground up, literally. Starting with its unique 90 degree hinged base plate. The X-100 series is a large and heavy structure; however, due to this innovative hinged base design, umbrella installation is quick and a breeze. The polished marine grade 100mm diameter pole offers exceptional strength and is visually stunning. The square European styled canopy creates a beautiful outdoor shade solution that enhances its surrounds. Flare Shade offer two global leading fabrics. Recasens Recacril is a 130 year established family Spanish company that designs, engineers and produces some of the highest quality outdoor textiles internationally available. Para-Tempotest, an Italian fibre and yarn manufacturer, produce the highest level high performance fabrics in the world since established in 1921. Custom printing is also available to print logos and restaurant and resorts names.
CLOSED PROFILE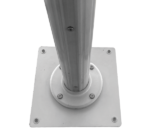 GROUND BASE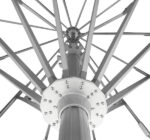 TRUSS BAR CONECTION
The X-100's sister umbrella is the stunning European Y-100 commercial outdoor umbrella. This octagonal shaped canopy sits atop of the extruded aluminium ribs that provide the strength required to make a great umbrella. The Y-100 has a stylishly rich, vibrant, high performance and technically advanced imported canopy fabric selection. As with the X-100 range, the Y-100 canopies are made from the finely-crafted Recasens and Para-Tempotest textiles. These high-end acrylics are designed to block dangerous UV rays while maintaining a vibrancy and colour depth that will persist in high definition for years on end. Screen printing and custom digitally branded canopies are also available.
CLOSED PROFILE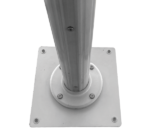 GROUND BASE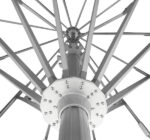 TRUSS BAR CONECTION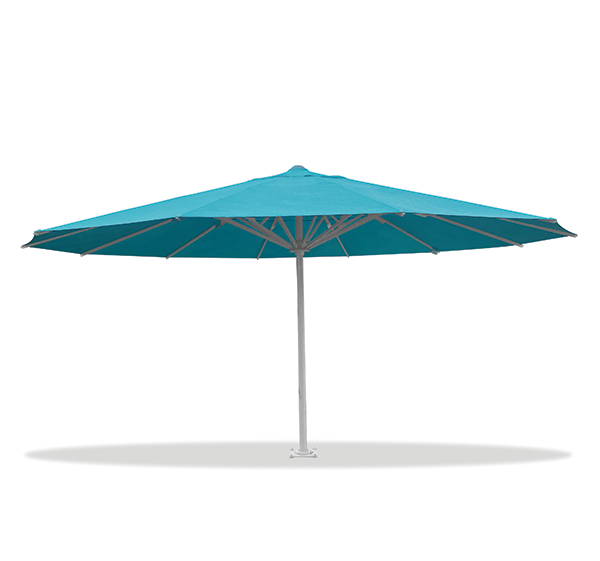 5m Octagonal
6m Octagonal
4x4m Square
4x5m Square
5x5m Square
The Flare Shade X-200 Series commercial grade shade structure has a distinctive European design, crafted on a foundation of strength and durability. The backbone of the X-200 series umbrella is its massive 105x105mm mainframe square pole cross section. Inside this square extruded cross section is the circular aluminium core that measures up to 8mm thick. Combine that with the double reinforced canopy ribs which make this outdoor umbrella structure one of the strongest in its class. The choice of premium outdoor canopy fabrics for the X-200 is second to none. Flare Shade 200 Series umbrella canopies use imported Spanish Recasens Recacril and Italian Para-Tempotest exclusively; these are high performance textiles, rich in colour and technically advanced. The X-200 series umbrella is an expertly engineered, bespoke and top quality outdoor solution. Custom printed canopies are also available.
POLE PROFILE
GROUND BASE
TRUSS ARMS
The Flare Shade Y-200 is a technically advanced, professionally engineered and bespoke outdoor umbrella shade solution. The high quality imported fabric canopy is incorporated into one of the strongest, most durable and world class extruded aluminium umbrella frames on the market. The pole is designed to provide a reliably stable platform on which the vibrant and colourful canopy will sit securely for many years. Built to last and maintain a level of attractive appearance expected from a shade structure of this class, the structure is complemented by the addition of imported Spanish Recasens Recacril and Italian Para-Tempotest – the two high end canopy fabric options available upon order. Custom branding is offered for logos and company names. Flare Shade has an in-house graphics and artwork team who can converse and make the printing process easy and seamless.
POLE PROFILE
GROUND BASE
TRUSS ARMS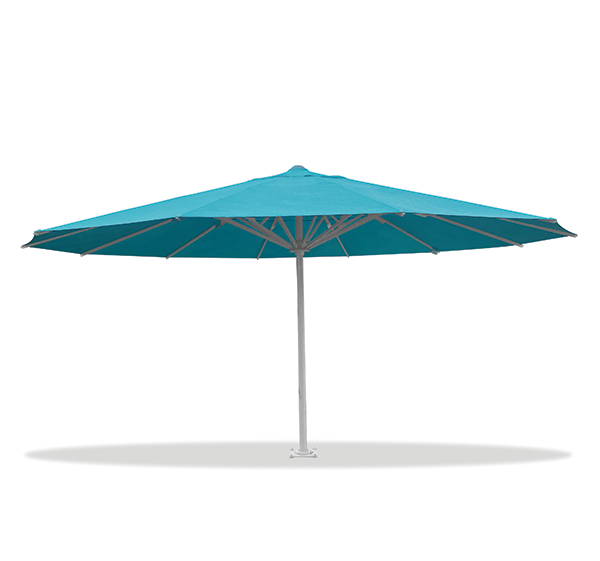 4m Octagonal
5m Octagonal
6m Octagonal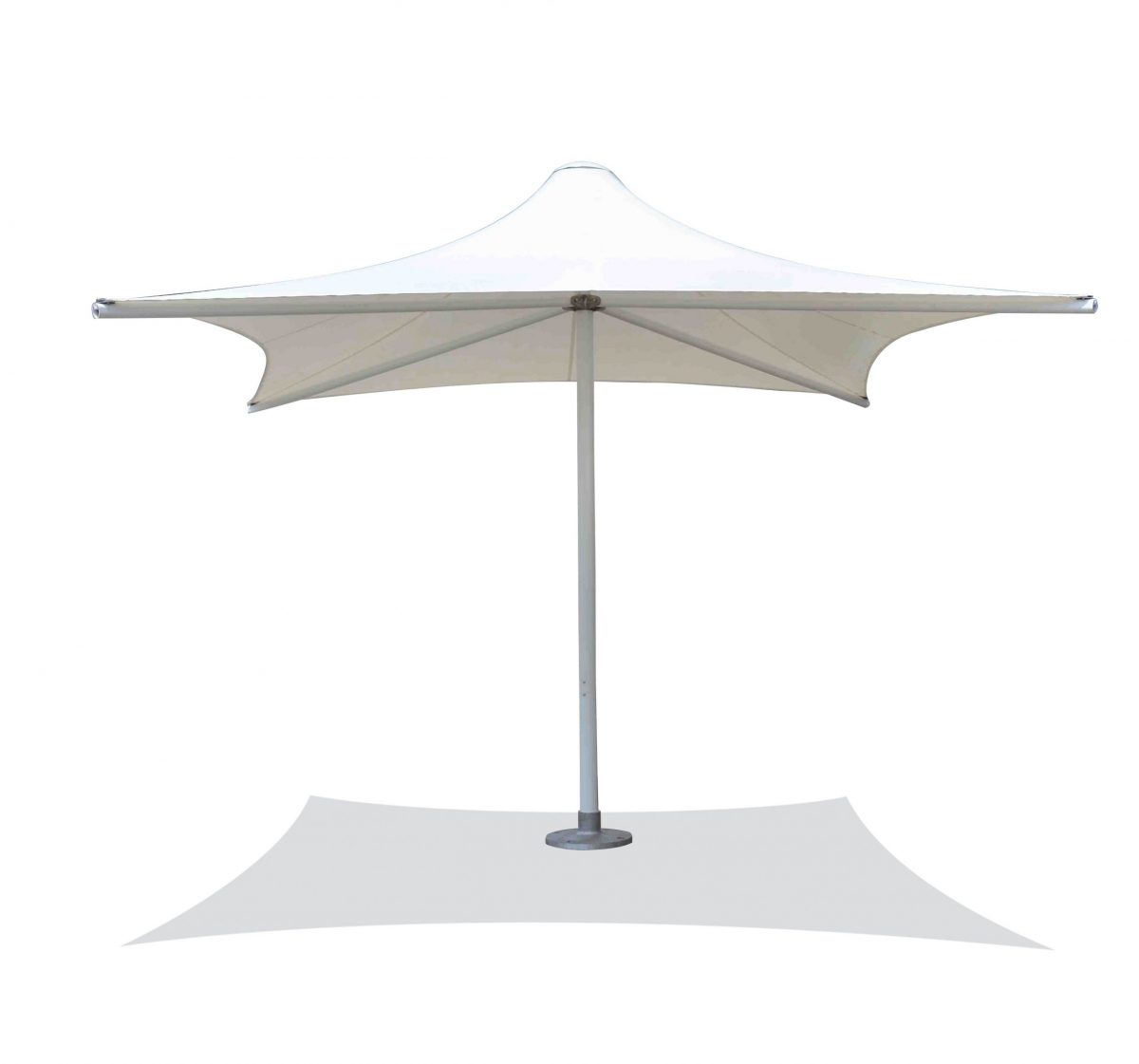 2x2m Square
3x3m Square
4x4m Square
The PVC Super Heavy Duty commercial umbrella range is strong, reliable, and contemporary with a streamlined European design. They'll provide respite to your guests and enhance your outdoor vista – at the same time! This super heavy-duty umbrella is waterproof, fire retardant and is UV 50+ atop powder coated frame with 90mm aluminium pole. The canopy is made from a heavy duty PVC with a "block-out" layer in the middle of the fabric to stop stop light and UV radiation penetrating.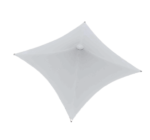 ROOF PROFILE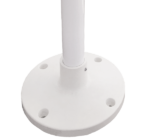 GROUND BASE
ADJUSTABLE ARMS
Custom Printing
CUSTOM PRINTING
Custom printing options turn your bespoke shade solution into a marketing solution. The beautiful Recasens or Para-Tempest imported high performance fabrics can be screen printed with long life rich in colour inks. Flare Shade have an indoor graphics team that can walk you through every part of the approval process.
Robust Centre Pole
The pole of the 200 series is made from marine grade aluminium and has a reinforced centre tube that is 8mm thick.
Fabric
The commercial Flare Shade umbrella canopies are mnufactured from imported Spanish Recasens and Italian Para-Tempotest high performance fabrics.
Foot Plate
The Flare Shade 100 and 200 series foot plate is hinged to make installation fast and easy.
Easy to operate
Flare Shade umbrellas have a mid mounted geared handle to make opening and closing a breeze.