Bruce Christie
3 weeks ago
Could not be happier with the service and quality from Extreme Marquees. They were very patient with my questions on several occasions and when I finally confirmed my purchase, the marquee arrived two days later. Looks great in our backyard.
Wayne Booth
a month ago
Extreme Marquees excellent marquees.. Strong & Affordable.. Just replaced a 6m x 3m Classic frame.. Very happy with the service.. Regards The Lennox Longboarders Club.
Craig Bachmann
a month ago
Hi I'm Craig Bachmann and I sell my rural landscape photography at around 80 outdoor markets each year. 3 years ago after much research, I purchased my first Extreme Marquee and have been very happy with its build and the professional look it gives my business. I am always receiving compliments about it from my customers and being approached by other stall holders wanting to know which business made it so they can order one as well. I recently decided to replace the roof and walls and Extreme Marquees helped me design a bit of a fresh look by adding graphics to the roof as well. I'd like to thank Georgia and Monique from Extreme Marquees for all their help. I look forward to doing more business with you in the future!
Maria Soukkar
a month ago
Been standing for 4 years and still going Really good service and quality marquees I have purchased a few 8/4 8/8 10/10 And also the banners and teardrop banners Really professional service and competitive prices This one has been 4 years now and still perfect it's the 4/8 Easily seats up to 30 people Wouldn't go anywhere else
lisa bluhm
3 weeks ago
Friendly and helpful staff. Coordination between the different departments was great. Very fast delivery. Cannot fault them for their service. Delivery staff were helpful as well, even though they are a delivery company separate to Extreme Marquees. All steps of the customer service process has been handled really well by Extreme Marquees!!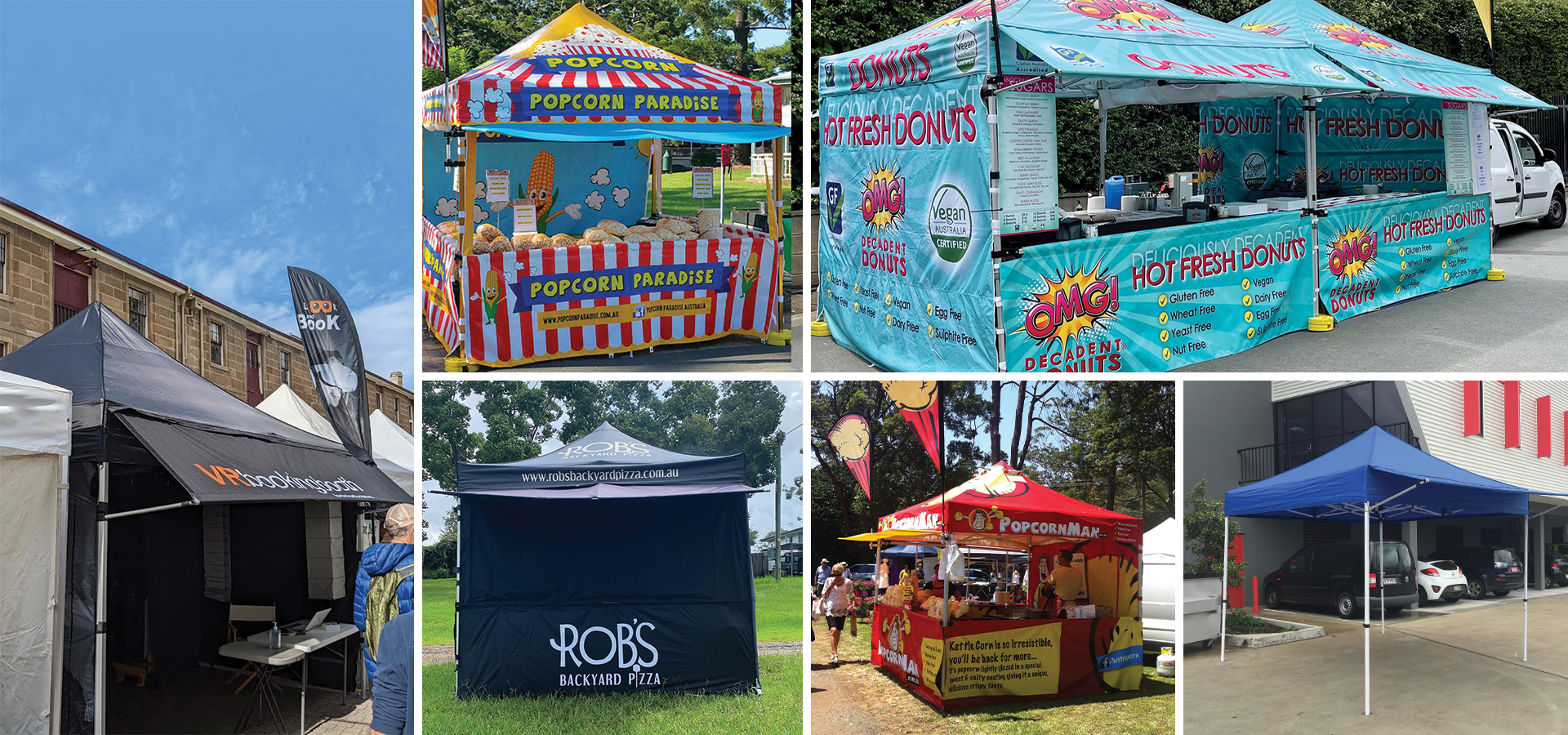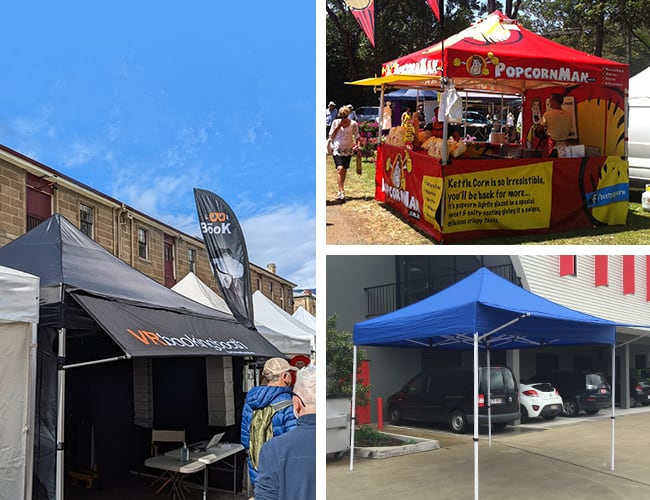 ENHANCE THE LOOK OF YOUR FOLDING MARQUEES WITH TOP-QUALITY AWNINGS
Looking for a good accessory for your folding marquee? How about a nice awning? Awnings add a decorative appeal to your marquee and can help in gaining visitor attention, making them extremely useful for events and trade shows. Also, they offer you more coverage for protection against elements such as heat and rain. At Extreme Marquees, we have both hook- and Velcro-style awnings available to enhance the look of your gazebo. They are suitable for all our products in the folding marquee range.
Our Hook & Eyelet awning kit comes with an awning, eyelets on the roof, and PVC coated polyester/ 100% PVC fabric that can be ordered plain or custom printed with your company name, logo, and/or any other business detail. The fabric is highly durable, waterproof, fade-resistant and fire-retardant. Also, it is available in a wide range of colours to choose from.  When setting up, the hooks on the awning are fixed to the eyelets on the roof.
Our second option: the Velcro Awning Kit comes with a unique Velcro tab that is sewn into the roof. The awning can be easily attached from the top of the valance, making the set-up extremely easy and hassle-free.
Shop online for awnings at Extreme Marquees today. We are a premium supplier of folding marquees and related accessories in Australia with more than 18 years of experience. Place your order now!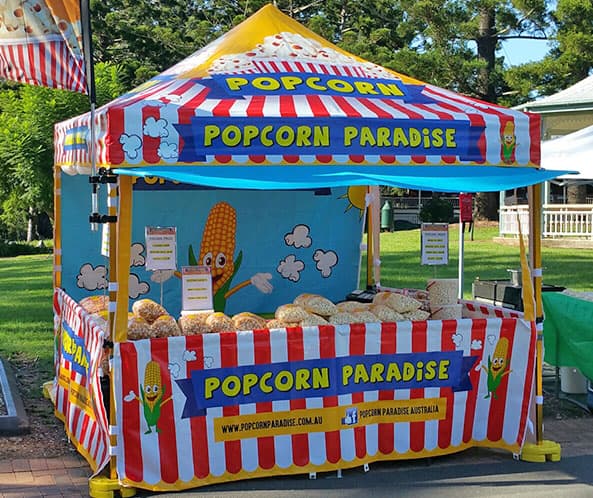 Hook & Eyelet Awning
The hook and eyelet awning is suitable for all folding marquee ranges. The hooks on the awning fix to the eyelets on the roof which are normally used to hang walls.
Awning Kit Includes
Hook Style Awning Fabric (Polyester or PVC) & Awning Bar Kit.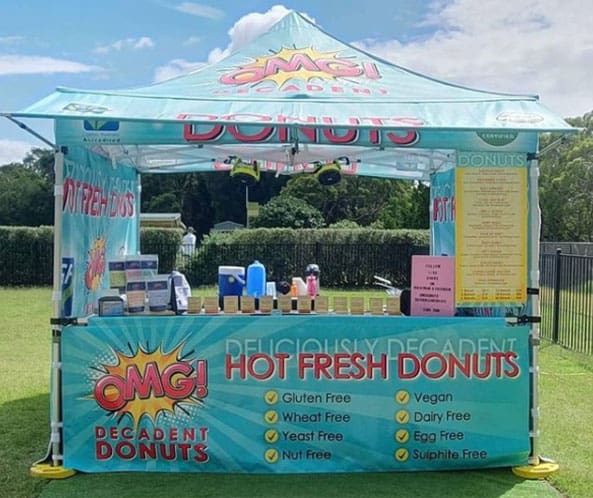 Velcro Awning
The unique Velcro tab is sewn into the roof and the awning attached from the top of the valance and extends out approximately 800mm.
Awning Kit Includes
Velcro Style Awning Fabric (Polyester or PVC) & Awning Bar Kit.
This system requires a marquee roof with Velcro tab.
Scroll To Top