GAZEBO ARCH AND ARCH TENT RANGE
Create truly spectacular event spaces with Arch Tents. Searching for something unique to amp up your next event? Extreme Marquees offers a unique range of arch tents, suitable for all events. Our high-pressure, heavy-duty custom inflatable arch tents are multi-functional, lightweight, and compact. They are extremely easy to set up and come in a wide array of sizes and colours.
From the curved stylings to the five-sided framework, everything about the arch tent is like no other product on the market. Adding to the frame and design is the peak ventilation system exclusive to this range of gazebos. Gazebo arches and Arch Tents also feature an easy-to-use awning system that curves round from each leg to create an elegant doorway that can be created on any of the five potential entrances. Add custom printing to your Arch Tent or Gazebo Arch and you have a product that truly is a one of a kind!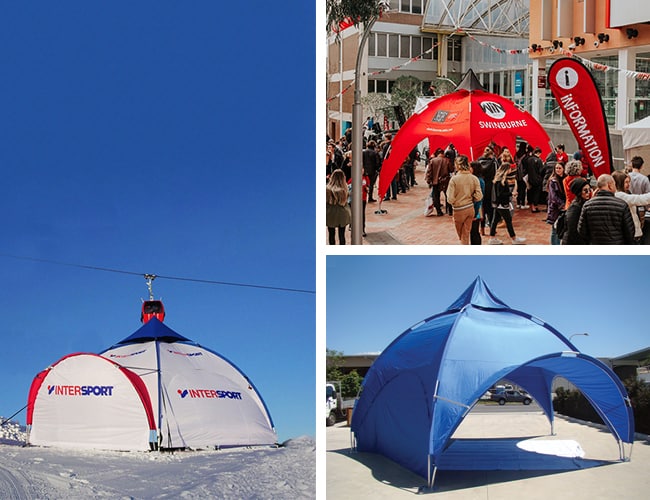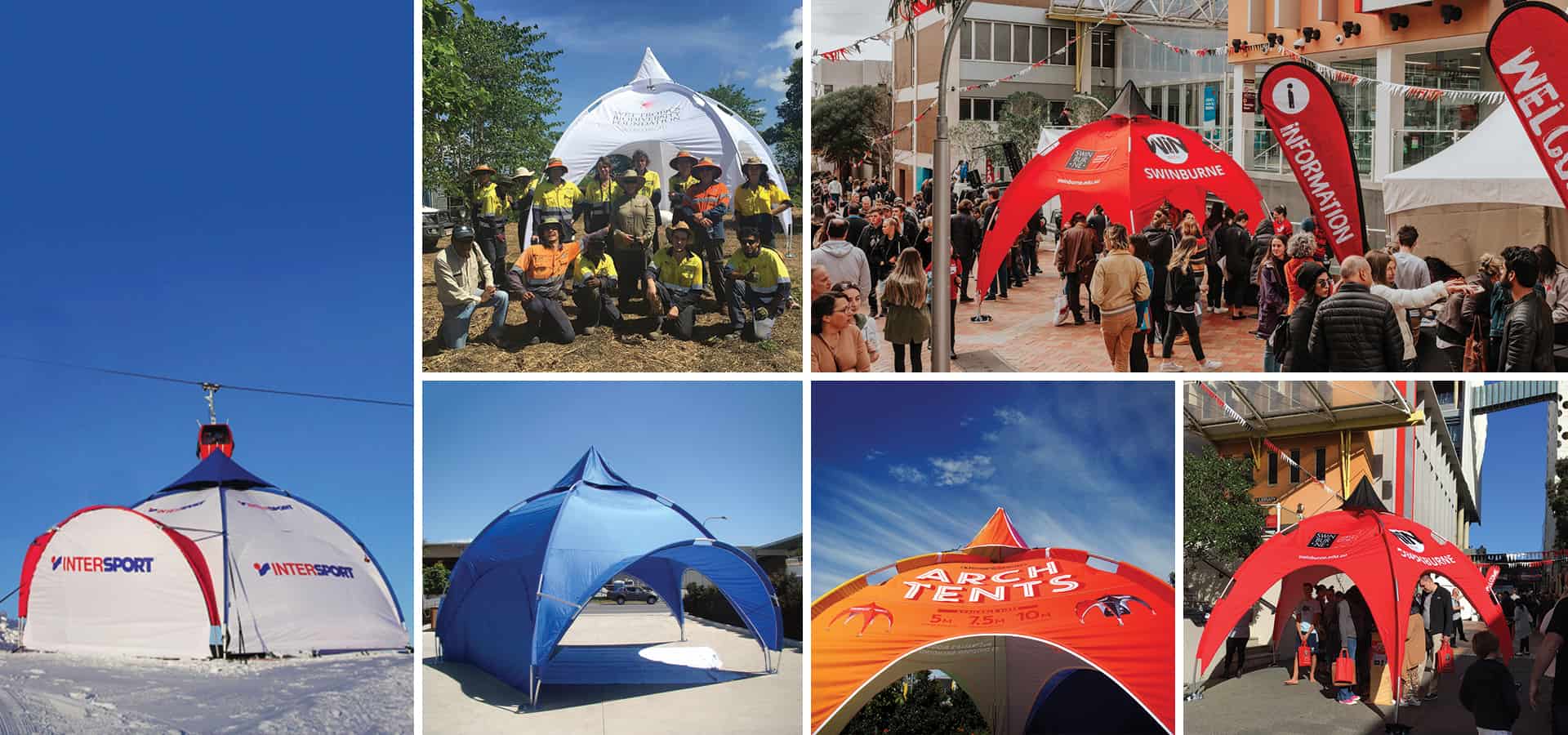 5m Arch
The 5m Arch Tent features a unique design that covers a cross section of 5 metres. The dynamic structure and flexibility in adding extras such as walls and awnings makes this arch tent a must have promotional product!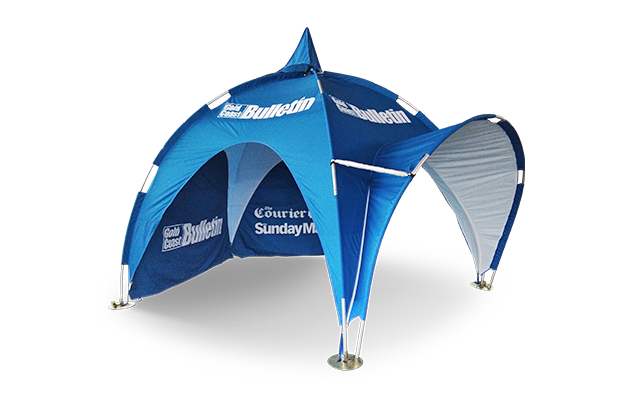 Height: 3.6m
Clearance: 2.6m
Center Pole: Aluminium
Center Pole Diameter: 63mm
Center Pole Thickness: 2.5mm
Footing:300mm Stainless Steel
Foot Plate Weight: 20kg Total
Frame Weight: 40kg
Roof Weight: 7kg
Package Includes: Frame, Roof Fabric, Foot Plates, Steel Pins, Protective Cover
7.5m Arch
The 7.5m Arch Tent is a larger format version of the Arch Tent and features a unique Gazebo Archway entrance. This 5-sided promotional tent is both unique and effective in attracting attention at any event.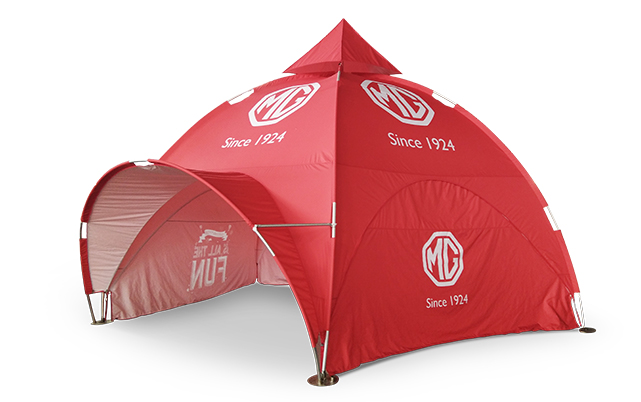 Height: 5m
Clearance: 3.7m
Center Pole: Aluminium
Center Pole Diameter: 63mm
Center Pole Thickness: 2.5mm
Footing: 300mm Stainless Steel
Foot Plate Weight: 20kg Total
Frame Weight: 50kg
Roof Weight: 13.5kg
Package Includes: Frame, Roof Fabric, Foot Plates, Steel Pins, Protective Cover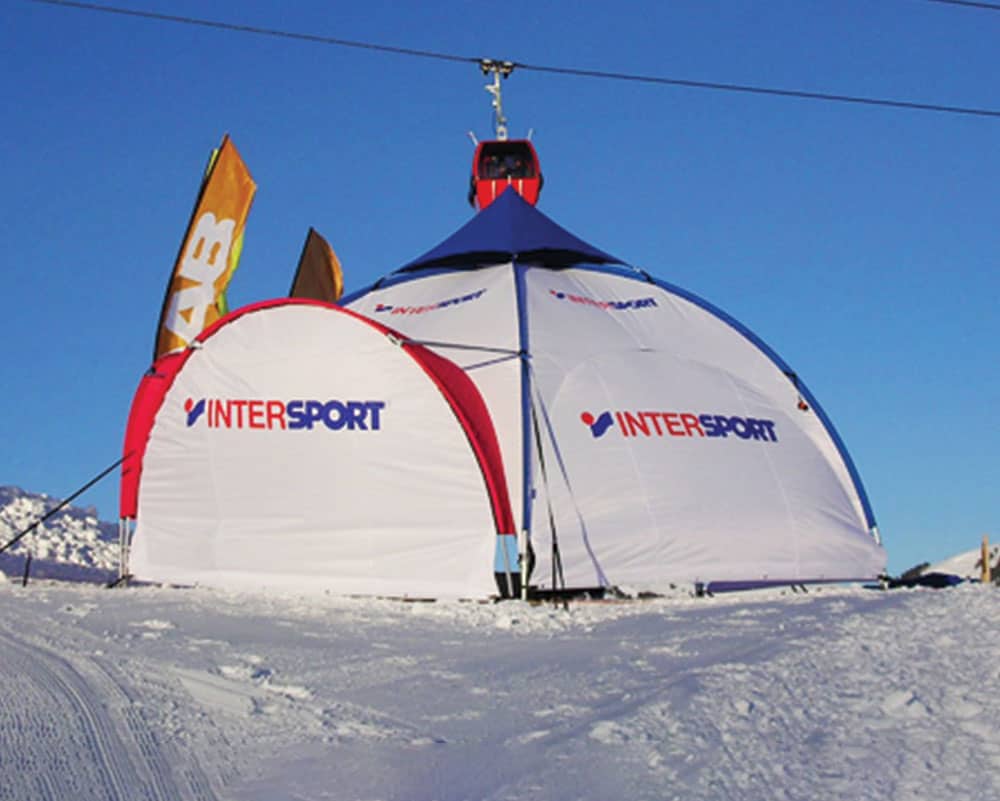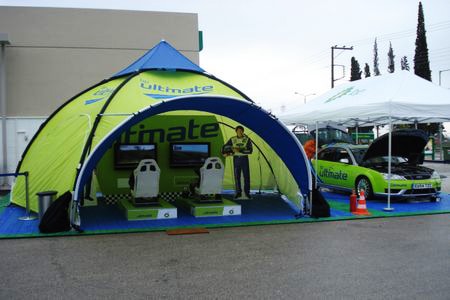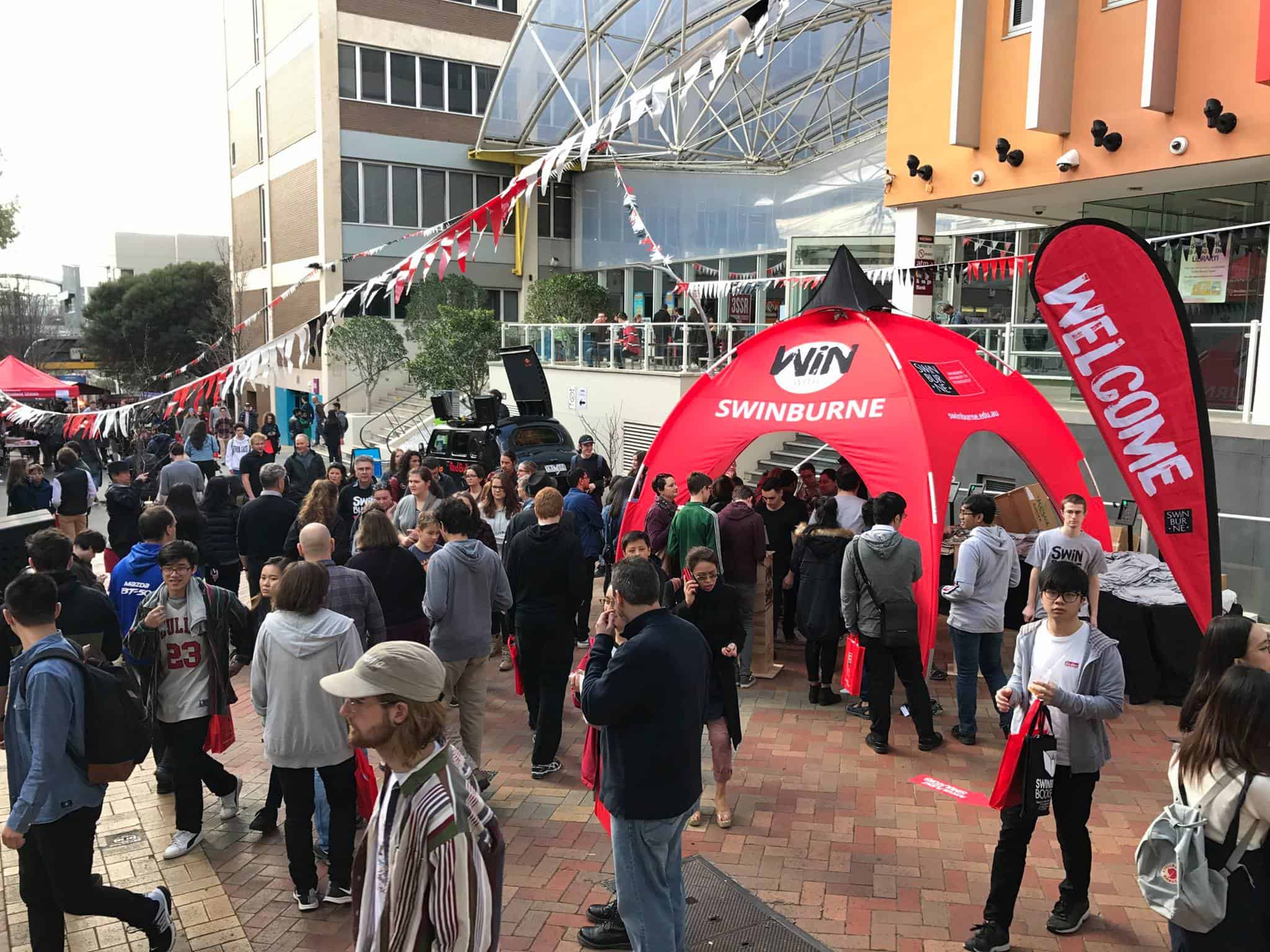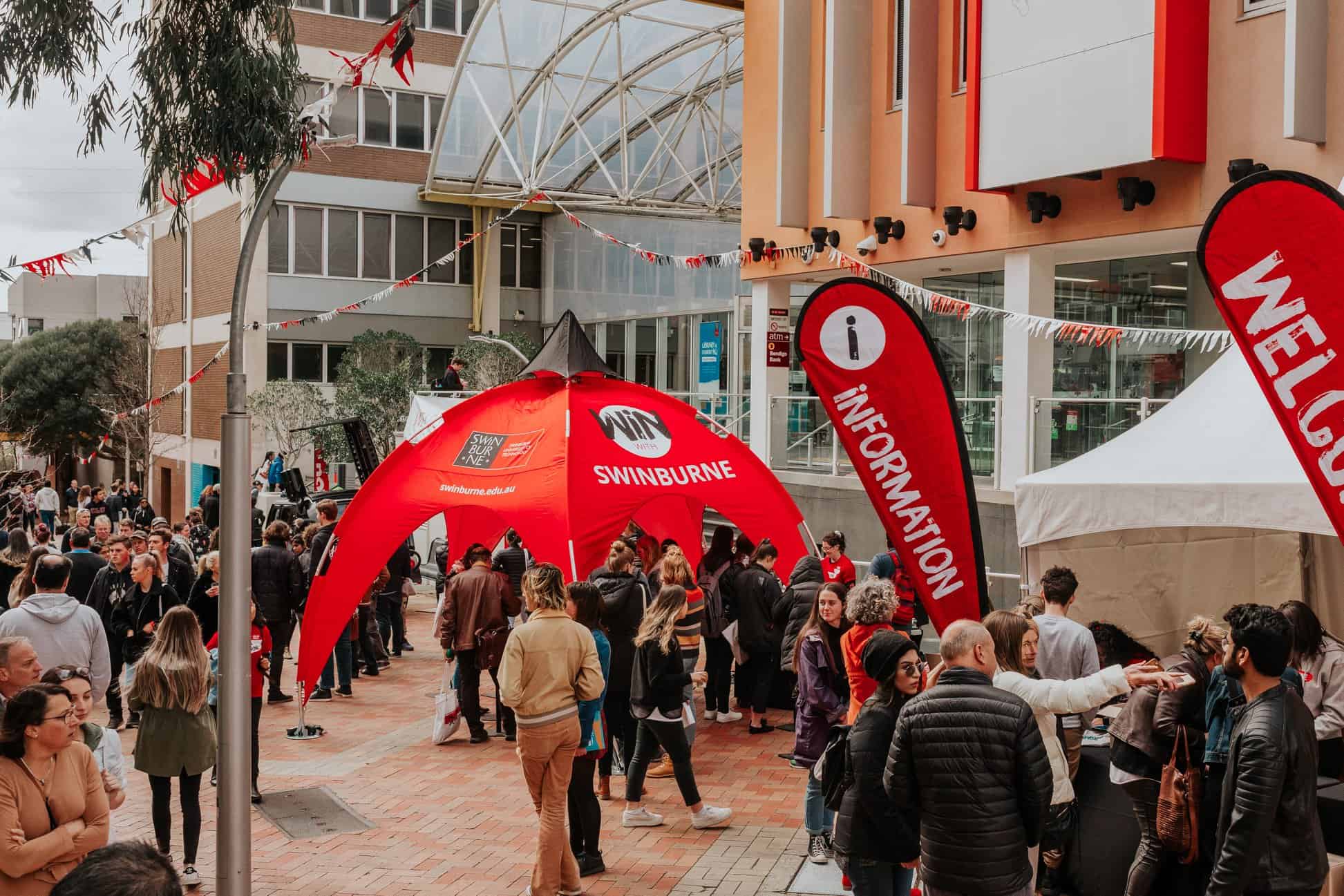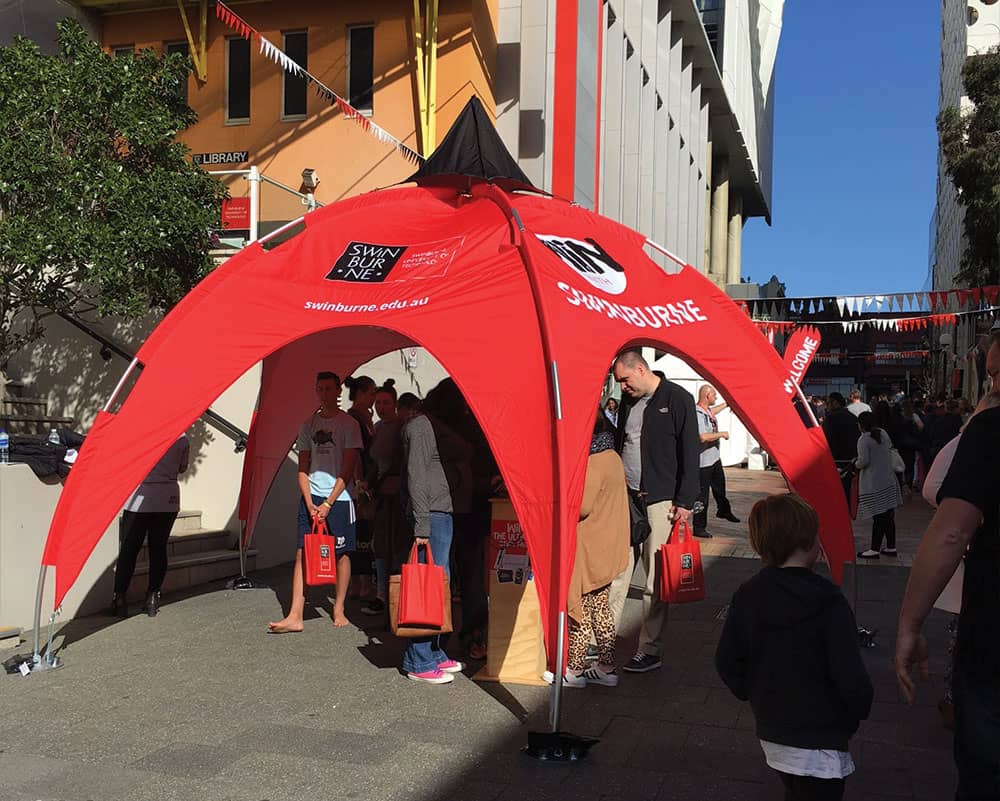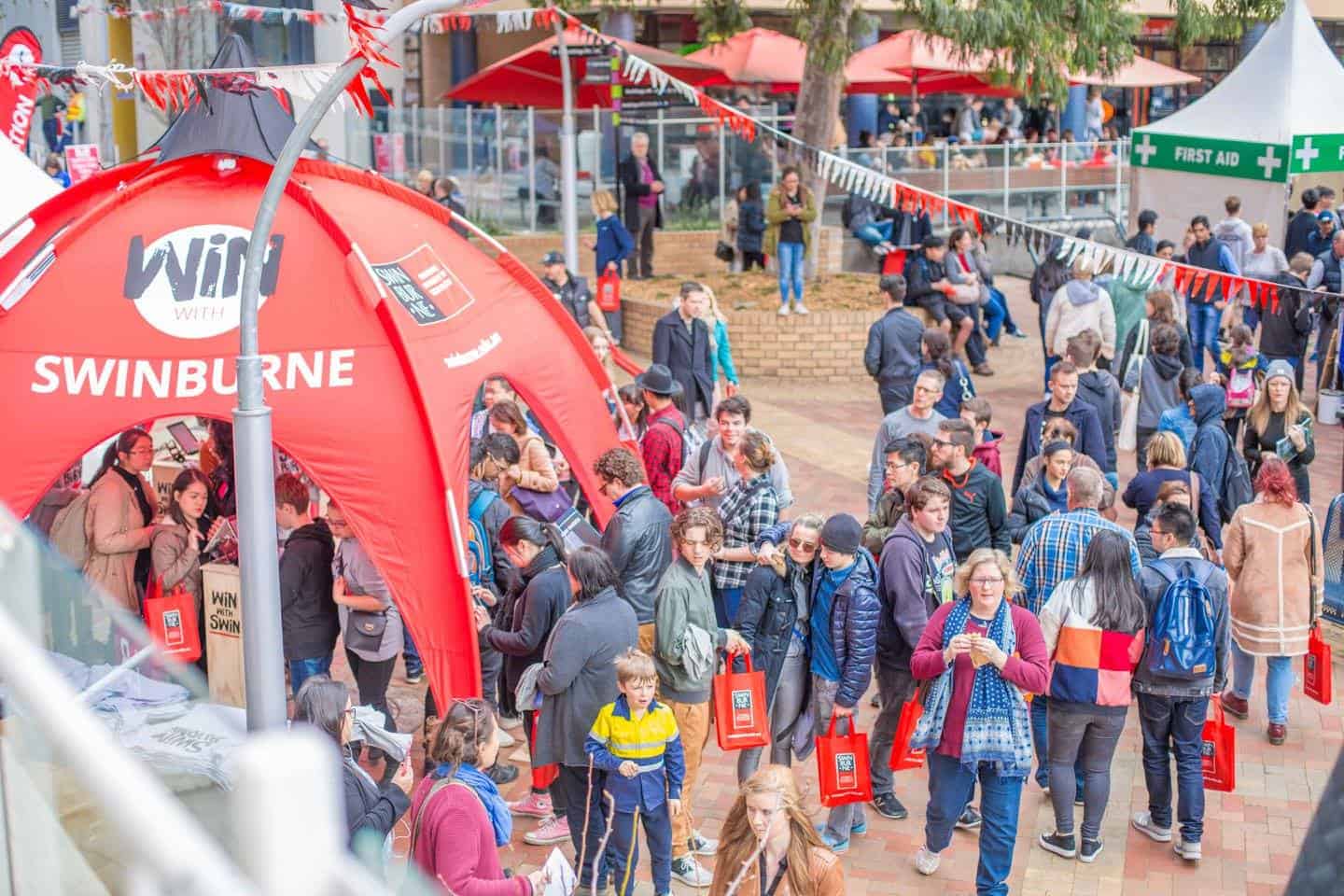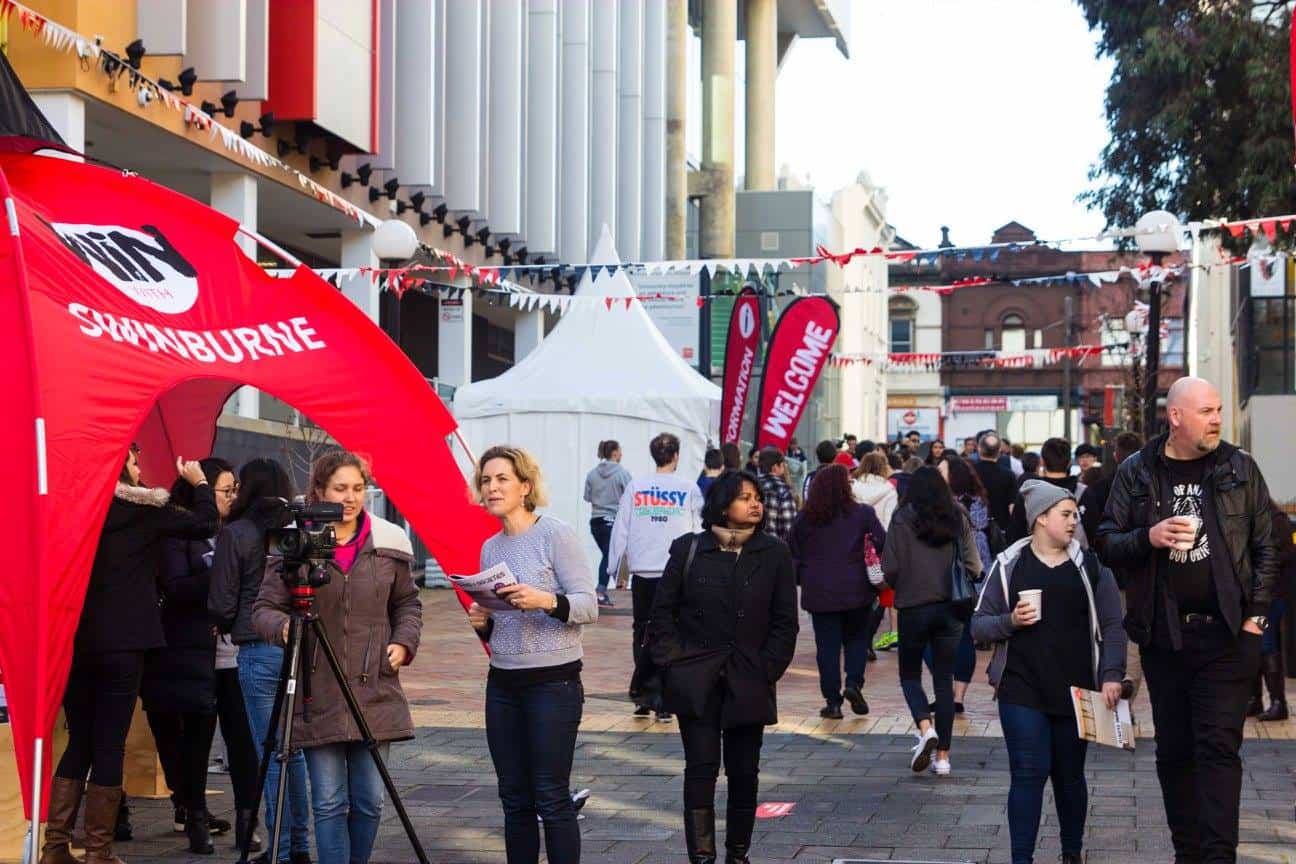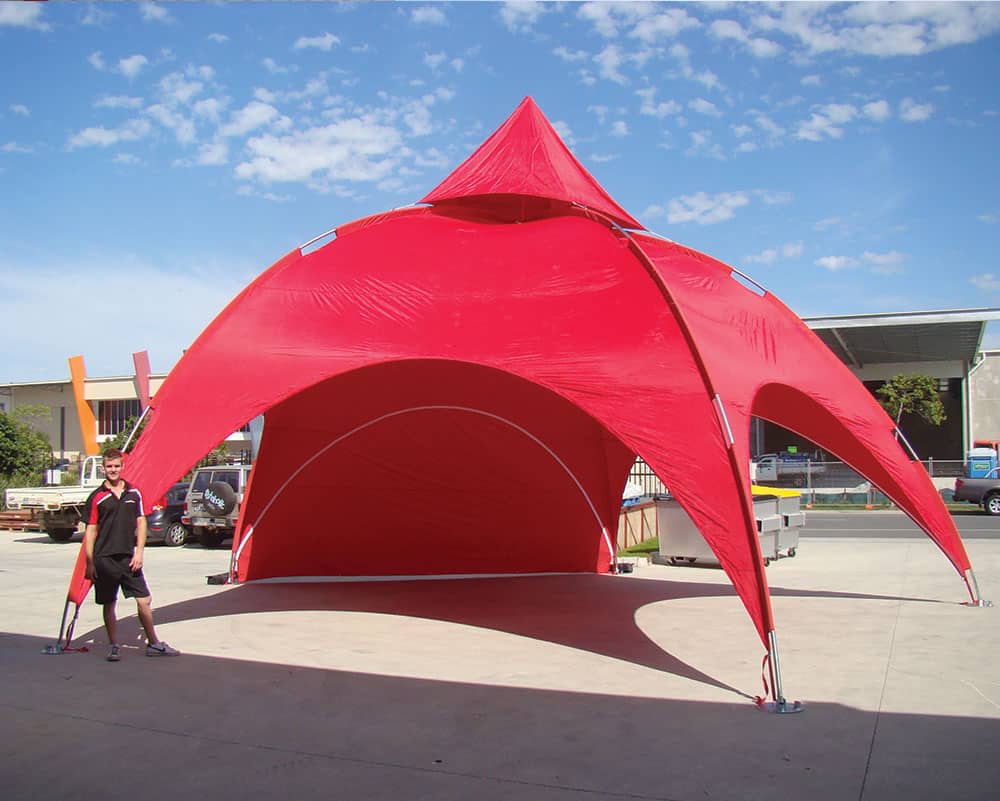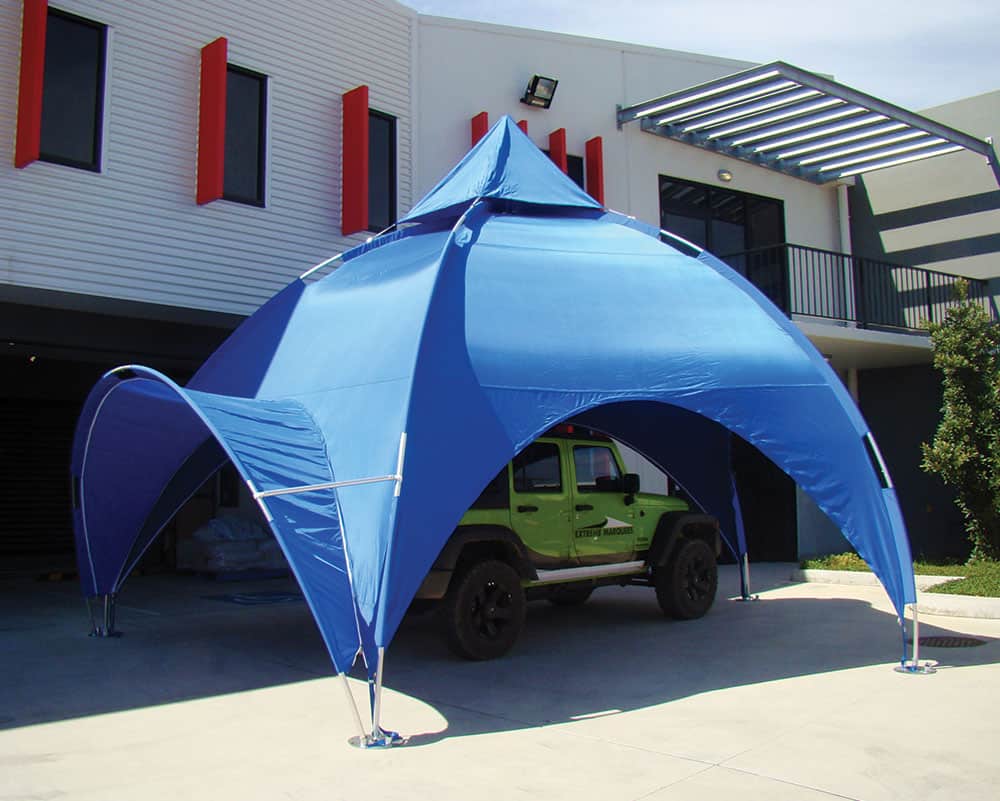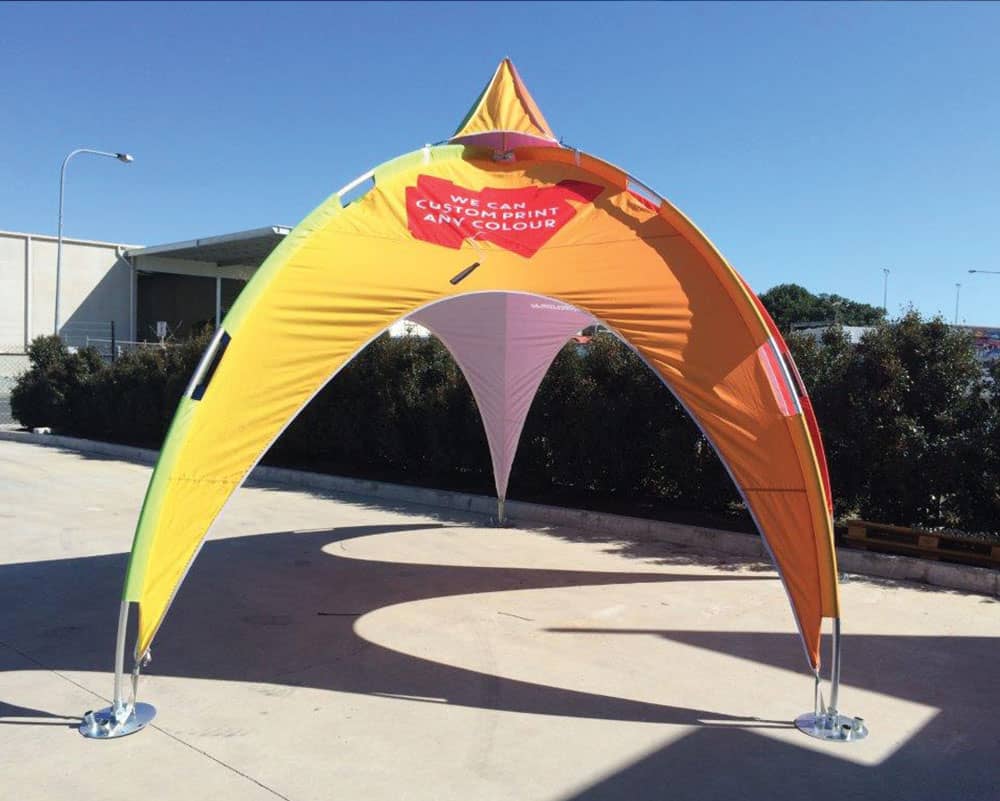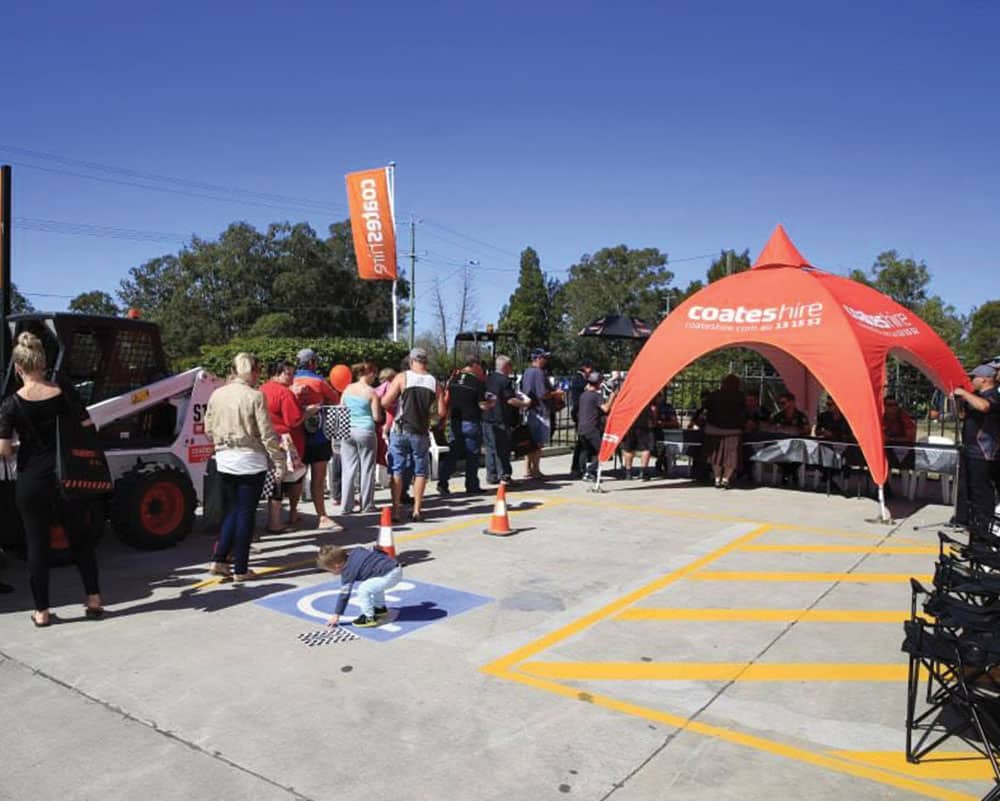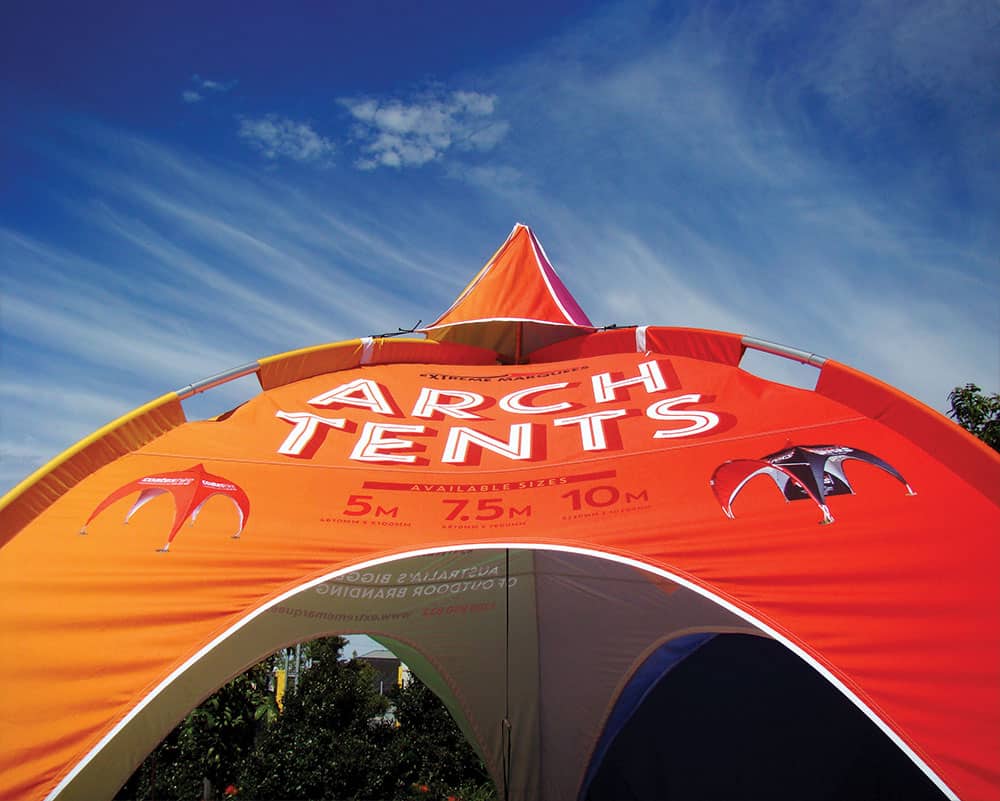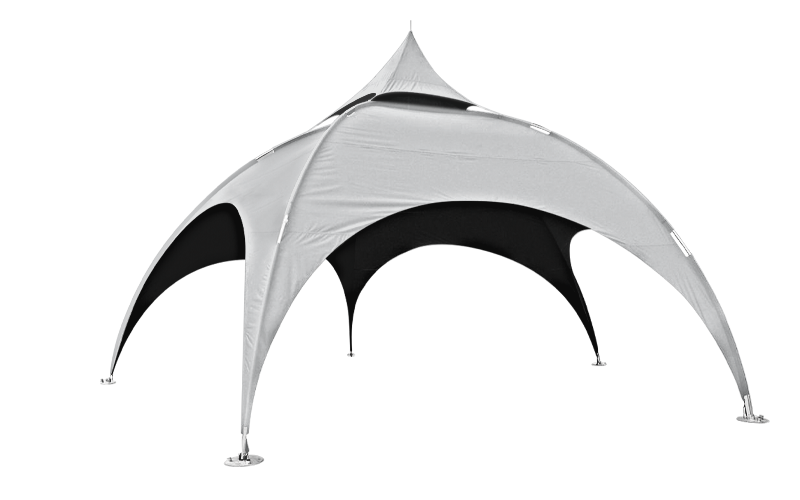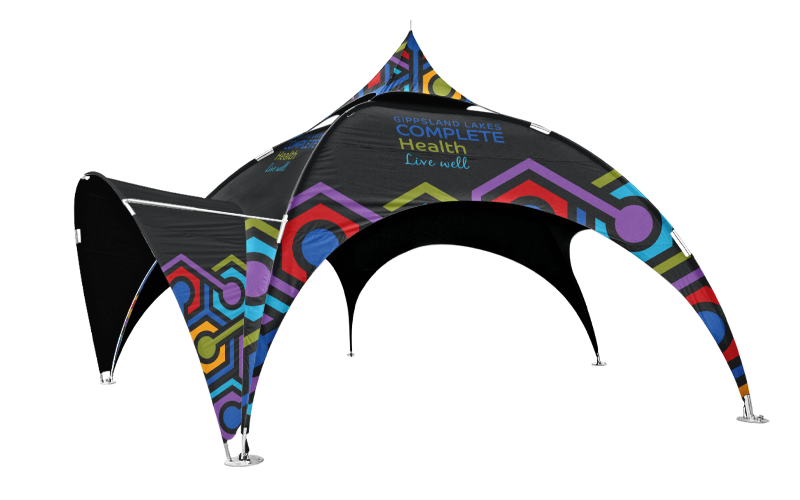 We offer custom printing on a wide range of products. Don't forget to checkout our available print packages!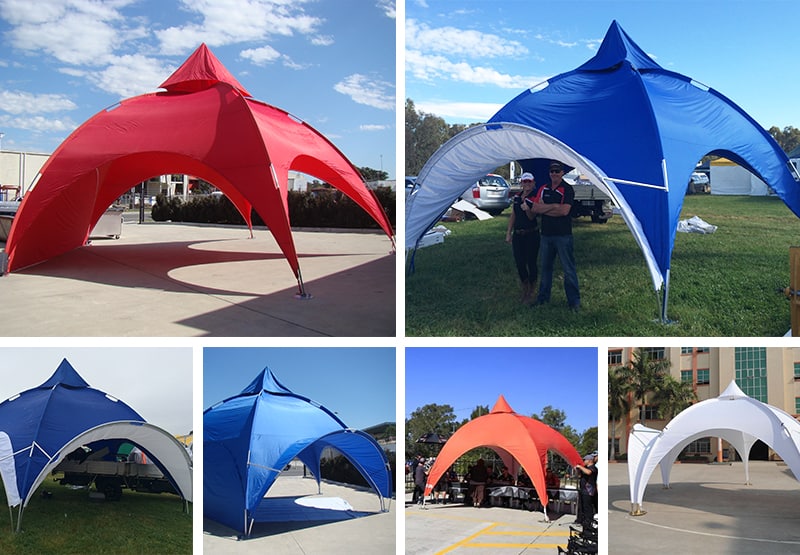 500D PVC Coated Polyester

Available for Plain products
Specifications
100% Polyester with PVC backing
Yarn count: 500D x 500D
Weight: 280 gsm
Colourfastness to light 5-6 En
Features
1 year warranty
Waterproof
Fire, UV & Wind resistant
PVC reinforced Corners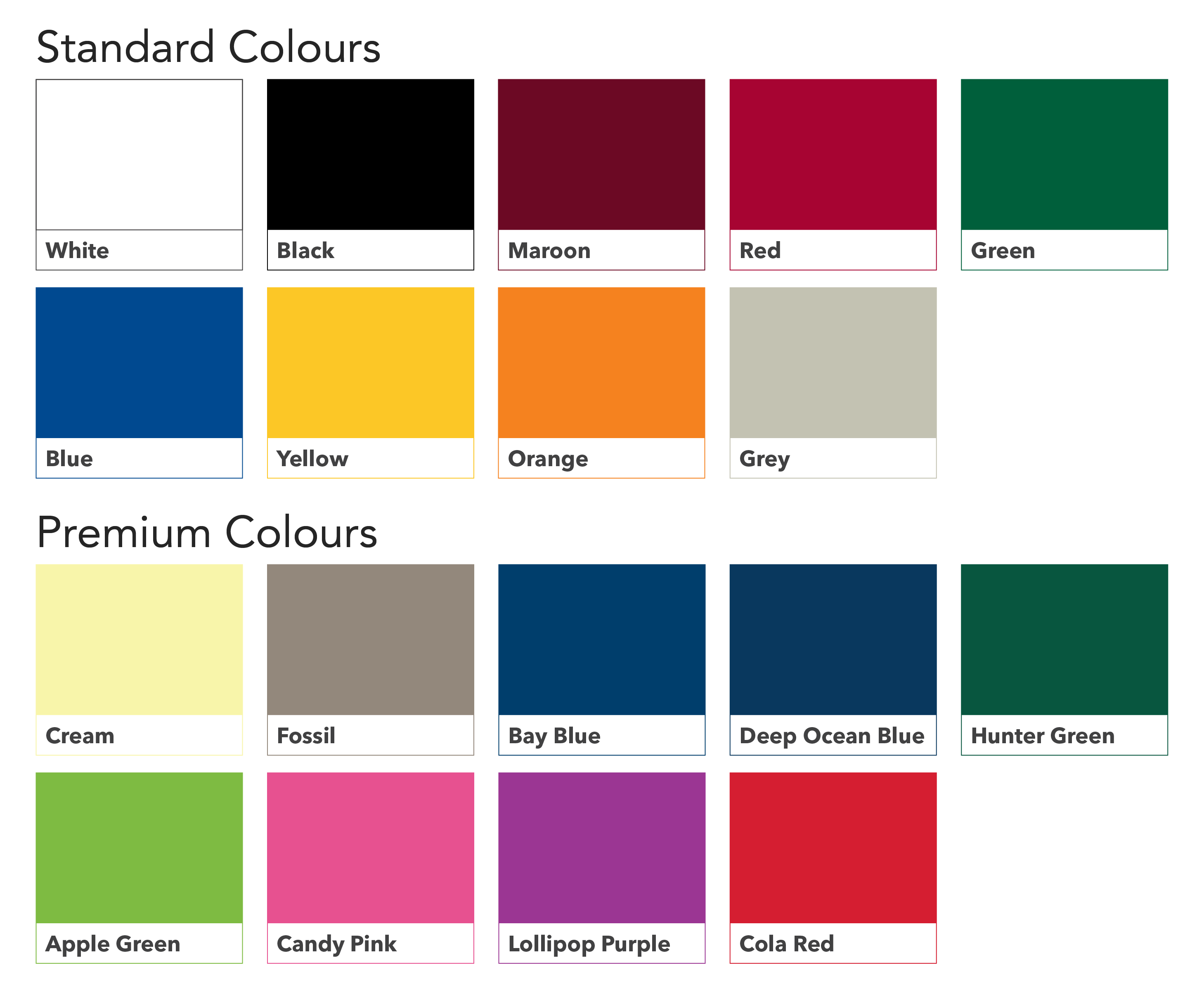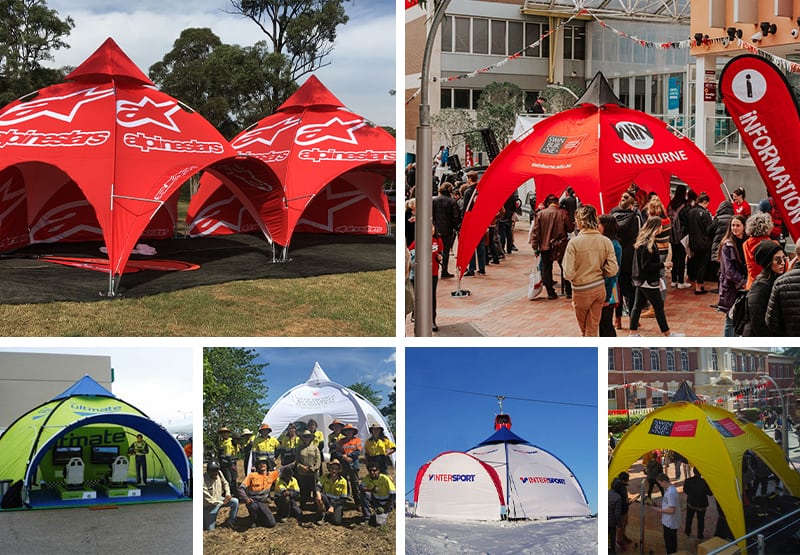 600D PU Coated Polyester
Available for Custom Printed products
Specifications
100% Polyester with PU backing
Yarn count: 600D x 600D
Weight: 245 gsm
Colourfastness to light 5-6 En
Features
1 year warranty
Fire, UV and wind resistant
Waterproof
PVC Reinforced Corners
Black or White reverse fabric
Dye Sublimation Printing
Dye sublimation printing involves the use of a digital printer to produce a print on sublimation transfer paper. The sublimation paper is then placed into a heat press with the fabric and exposed to a temperature of 200 degrees Celsius. The artwork is then transferred from the paper to the fabric. The fabric has the artwork embedded in the material and the design will not scratch from the surface. The fabric has a matte finish, which photographs well and suits indoor and outdoor use.

Bruce Christie
2 weeks ago
Could not be happier with the service and quality from Extreme Marquees. They were very patient with my questions on several occasions and when I finally confirmed my purchase, the marquee arrived two days later. Looks great in our backyard.
Craig Bachmann
a month ago
Hi I'm Craig Bachmann and I sell my rural landscape photography at around 80 outdoor markets each year. 3 years ago after much research, I purchased my first Extreme Marquee and have been very happy with its build and the professional look it gives my business. I am always receiving compliments about it from my customers and being approached by other stall holders wanting to know which business made it so they can order one as well. I recently decided to replace the roof and walls and Extreme Marquees helped me design a bit of a fresh look by adding graphics to the roof as well. I'd like to thank Georgia and Monique from Extreme Marquees for all their help. I look forward to doing more business with you in the future!
Wayne Booth
a month ago
Extreme Marquees excellent marquees.. Strong & Affordable.. Just replaced a 6m x 3m Classic frame.. Very happy with the service.. Regards The Lennox Longboarders Club.
Maria Soukkar
a month ago
Been standing for 4 years and still going Really good service and quality marquees I have purchased a few 8/4 8/8 10/10 And also the banners and teardrop banners Really professional service and competitive prices This one has been 4 years now and still perfect it's the 4/8 Easily seats up to 30 people Wouldn't go anywhere else
lisa bluhm
2 weeks ago
Friendly and helpful staff. Coordination between the different departments was great. Very fast delivery. Cannot fault them for their service. Delivery staff were helpful as well, even though they are a delivery company separate to Extreme Marquees. All steps of the customer service process has been handled really well by Extreme Marquees!!
Unique and Stylish
Arch Tents are unique in the Extreme marquees range for a number of reasons. The five sides to the structure creates a dynamic and angular look that strikes a contrast next to the standard square shaped marquees. The framework is designed to create a curved look that removes the regular angular square shaped look. At the peak of the marquee is an aesthetically functional roof ventilation system unique to the Arch Tent range.
Extreme Marquees also offers a range of inflatable arch structures that come in a variety of unique designs and feature super-easy setup.
SALIENT FEATURES OF OUR ARCH TENTS
– High-pressure, heavy-duty, and stylish arch tents
– Waterproof, wind and UV-resistant, and flame retardant
– Sturdy, robust, symmetrical, and streamlined design for long-lasting usage
– Idea for both indoor and outdoor events
CONVENIENT SETUP
Arch tents are specifically designed for portable setup at outdoor events. Characterised by distinct arch or spider-shaped appearance, our tents have two legs at the centre with multiple expanding fabric sides that are staked solidly into the ground. The arch like design is used for support and it serves two purposes. First, it is very appealing and this increases your chances of getting noticed from afar. Secondly, this design is very stable and easy to set up. The expanding sides can be staked at varying lengths so as to accommodate different spatial requirements.
STUDY FINISH
The arch tent frame is made with anodised aluminium with galvanised steel foot plates with stainless steel nuts and bolts. The roof canopy, awnings, and walls are available in premium-quality PVC coated polyester and you can choose a standard fabric in ten standard colours, or you can request a custom inflatable arch for the ultimate display!
INTRODUCE YOUR BRAND IN STYLE!
Your arch tent can be supplied with your brand's identity over imported canopy fabric with digital printing through anti-fade inks. You can get just the text and logo added, or you have the option to get full-blown artwork on the walls, roof, and visor of your custom inflatable arch.
The branding isn't only limited to the canopy fabric, we also print promotional accessories such as wave banners, flare banners, pull-up banners, pop banners, table covers, frame banners, superboards, peak flag banners, and printed fence wrap.
LONG-LASTING BUILD
Our inflatable arch for sale is waterproof, UV-resistant, and flame retardant, and comes with Engineer's Certificate of Compliance. We're confident of the quality of our arch tents, and they have a frame and fabric warranty of over 5 years.
Our customer success team ensures that you get your marquee delivered safe and sound, well ahead of time!
Scroll To Top