GAZEBO ARCH AND ARCH TENT RANGE
CREATE TRULY SPECTACULAR EVENT SPACES WITH ARCH TENTS
Searching for something unique to amp up your next event? Extreme Marquees offers a unique range of arch tents, suitable for all events. Our high-pressure, heavy-duty custom inflatable arch tents are multi-functional, lightweight, and compact. They are extremely easy to set up and come in a wide array of sizes and colours.
From the curved stylings to the five-sided framework, everything about the arch tent is like no other product on the market. Adding to the frame and design is the peak ventilation system exclusive to this range of gazebos. Gazebo arches and Arch Tents also feature an easy-to-use awning system that curves round from each leg to create an elegant doorway that can be created on any of the five potential entrances. Add custom printing to your Arch Tent or Gazebo Arch and you have a product that truly is a one of a kind!

The 5m Arch Tent features a unique design that covers a cross section of 5 metres. The dynamic structure and flexibility in adding extras such as walls and awnings makes this arch tent a must have promotional product!
Size: 5m
From $1,555

Arch Tent Frame Specifications
Height: 3.6m
Clearance: 2.6m
Frame Weight: 40kg
POLY Roof Weight: 7kg
Center Pole: Aluminium
Center Pole Diameter: 63mm
Center Pole Thickness: 2.5mm
Feet: Steel
Polyester Standard Colours

Roof Fabrics
600D PVC Coated Polyester

The 7.5m Arch Tent is a larger format version of the Arch Tent and features a unique Gazebo Archway entrance. This 5-sided promotional tent is both unique and effective in attracting attention at any event. The domed styling and arched gazebo entryways create an event structure like no other.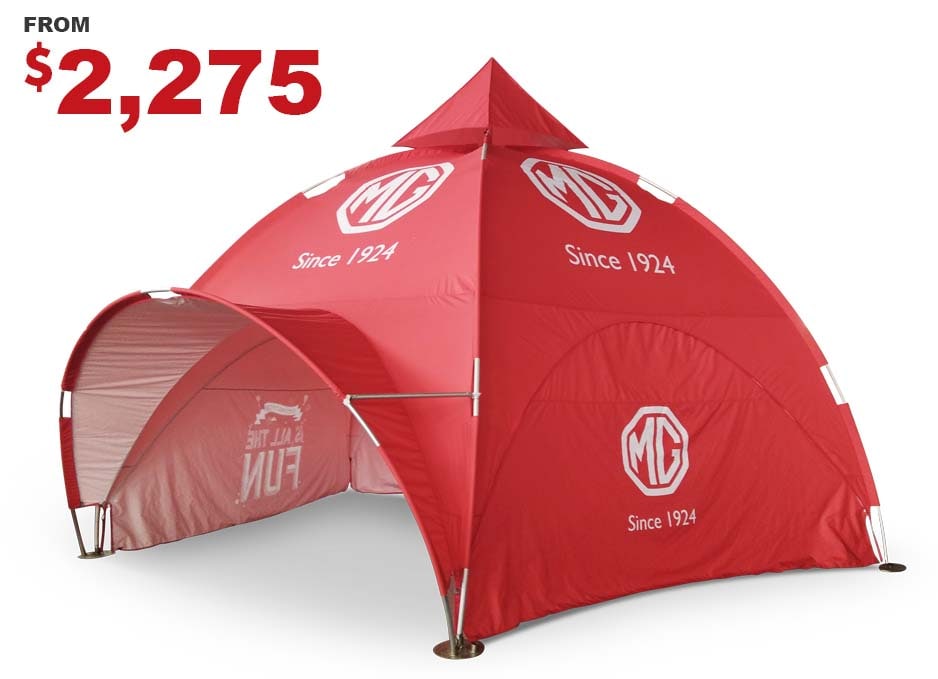 Size: 7.5m
From $2,275

Arch Tent & Gazebo Arch Frame Specifications
Height: 5m
Clearance: 3.7m
Frame Weight: 50kg
POLY Roof Weight: 13.5kg
Center Pole: Aluminium
Center Pole Diameter: 63mm
Center Pole Thickness: 2.5mm
Feet: Steel
Polyester Standard Colours

Roof Fabrics
600D PVC Coated Polyester
Arch Tents are unique in the Extreme marquees range for a number of reasons. The five sides to the structure creates a dynamic and angular look that strikes a contrast next to the standard square shaped marquees. The framework is designed to create a curved look that removes the regular angular square shaped look. At the peak of the marquee is an aesthetically functional roof ventilation system unique to the Arch Tent range.
Extreme Marquees also offers a range of inflatable arch structures that come in a variety of unique designs and feature super-easy setup.
Salient features of our arch tents:
High-pressure, heavy-duty, and stylish arch tents
Waterproof, wind and UV-resistant, and flame retardant
Sturdy, robust, symmetrical, and streamlined design for long-lasting usage
Idea for both indoor and outdoor events
Convenient Setup
Arch tents are specifically designed for portable setup at outdoor events. Characterised by distinct arch or spider-shaped appearance, our tents have two legs at the centre with multiple expanding fabric sides that are staked solidly into the ground. The arch like design is used for support and it serves two purposes. First, it is very appealing and this increases your chances of getting noticed from afar. Secondly, this design is very stable and easy to set up. The expanding sides can be staked at varying lengths so as to accommodate different spatial requirements.
Study Finish
The arch tent frame is made with anodised aluminium with galvanised steel foot plates with stainless steel nuts and bolts. The roof canopy, awnings, and walls are available in premium-quality PVC coated polyester and you can choose a standard fabric in ten standard colours, or you can request a custom inflatable arch for the ultimate display!
Introduce your Brand in Style!
Your arch tent can be supplied with your brand's identity over imported canopy fabric with digital printing through anti-fade inks. You can get just the text and logo added, or you have the option to get full-blown artwork on the walls, roof, and visor of your custom inflatable arch.
The branding isn't only limited to the canopy fabric, we also print promotional accessories such as wave banners, flare banners, pull-up banners, pop banners, table covers, frame banners, superboards, peak flag banners, and printed fence wrap.
Long-lasting Build
Our inflatable arch for sale is waterproof, UV-resistant, and flame retardant, and comes with Engineer's Certificate of Compliance. We're confident of the quality of our arch tents, and they have a frame and fabric warranty of over 5 years.
Our customer success team ensures that you get your marquee delivered safe and sound, well ahead of time!