Custom Inflatable Marquee Shapes
Custom Shape Inflatable Marquees
Custom Inflatables are designed to set themselves apart from our standard line of eye-catching inflatables. Our team have the capabilities to create custom printed and custom structure inflatables to suit your vision. The initial stages will involve concept art provided by our experienced design team, followed by a rendered engineer mockup. Once approved, we go into production to turn your idea into an inflatable reality!
Inflatable Shapes can be made to order to almost any size:
Frame Fabric: 100% PVC
Stability options: Tie down straps or Feet
Accessories: Blower storage bag and steel pins
Also includes a repair kit
Common Sizes – 6m, 8m, 9m, 12m
Custom sizes and added 3d shapes available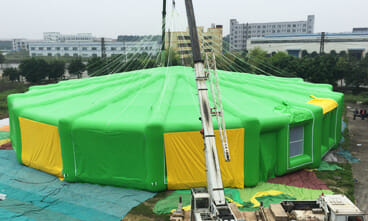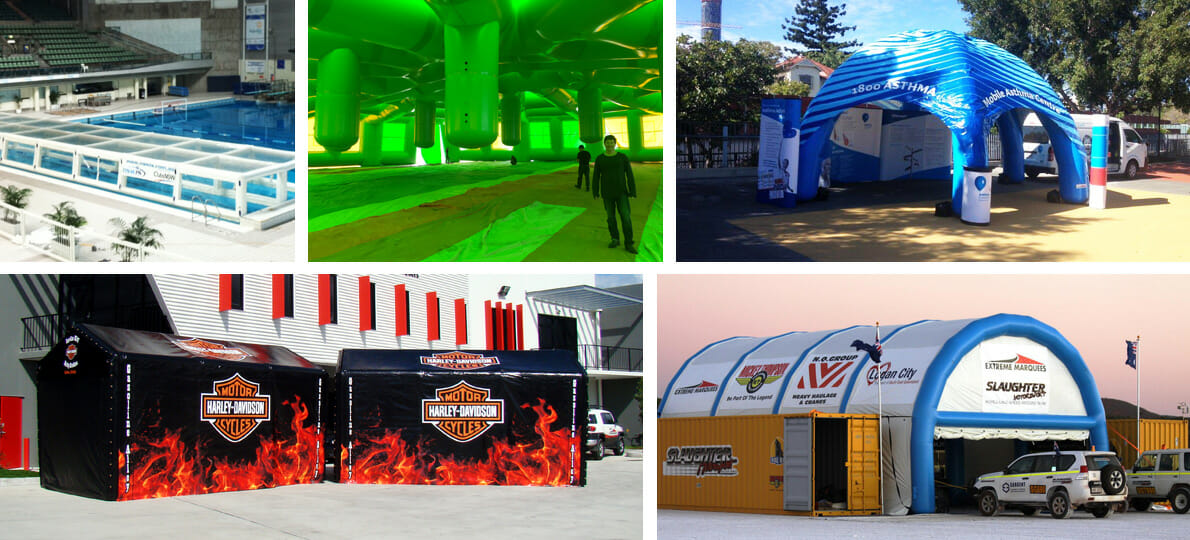 Inflatable Marquees can be manufactured in three ways.
SEWN
Similar to jumping castles where the fabric is sewn together. With this method the electric air blower needs to be on constantly as air continuously leaks through the sewn seams. If however power is lost due to a circuit breaker or blower fault, the marquee will deflate within 30 seconds. Also, there is considerable noise from the blower.
GLUED
Similar to zodiac inflatable boats. The advantage of this method is that after the marquee is inflated, the electric air blower can be turned off. There is no reliance on constant power to maintain inflation.
THERMAL WELDED
Thermal welding is the ultimate method of making an inflatable marquee and offers all the advantages of the glued method along with increased join strength and a smooth almost seamless join. All Extreme Marquee custom inflatables are produced via this method. Extreme Marquees uses a state of the art German welding machine to ensure the highest quality is achieved through the manufacturing process.
Custom Designs
Our design team can work with you to produce your ultimate marquee.
Custom Printing
Extreme Marquees want to produce your ultimate marketing product. Our full colour digital printing process will add whatever graphics, logos or photographs you require to brand your marquee. As with all Extreme Marquees, we use only the highest quality PVC to enhance our full colour digital printing process. Our PVC is imported from Belgium and France and offers the ultimate in resolution, definition and high quality colour. After printing we "hot seal" our PVC to protect against scratching, dirt and ultra violet light fading. With the correct care and maintenance your custom inflatables marquee will last for many years, looking as good as the day purchased.
Inflatable Marquees can be manufactured in three ways.
Inflating Time
Smaller custom inflatables marquees inflate in several minutes with larger marquees taking approximately 20 to 30 minutes. Dependent upon size, marquees come with between 1 and 4 high output blowers.