Custom Banners & Fence Wrap
Bruce Christie
2 weeks ago
Could not be happier with the service and quality from Extreme Marquees. They were very patient with my questions on several occasions and when I finally confirmed my purchase, the marquee arrived two days later. Looks great in our backyard.
Craig Bachmann
a month ago
Hi I'm Craig Bachmann and I sell my rural landscape photography at around 80 outdoor markets each year. 3 years ago after much research, I purchased my first Extreme Marquee and have been very happy with its build and the professional look it gives my business. I am always receiving compliments about it from my customers and being approached by other stall holders wanting to know which business made it so they can order one as well. I recently decided to replace the roof and walls and Extreme Marquees helped me design a bit of a fresh look by adding graphics to the roof as well. I'd like to thank Georgia and Monique from Extreme Marquees for all their help. I look forward to doing more business with you in the future!
Wayne Booth
a month ago
Extreme Marquees excellent marquees.. Strong & Affordable.. Just replaced a 6m x 3m Classic frame.. Very happy with the service.. Regards The Lennox Longboarders Club.
Maria Soukkar
a month ago
Been standing for 4 years and still going Really good service and quality marquees I have purchased a few 8/4 8/8 10/10 And also the banners and teardrop banners Really professional service and competitive prices This one has been 4 years now and still perfect it's the 4/8 Easily seats up to 30 people Wouldn't go anywhere else
lisa bluhm
2 weeks ago
Friendly and helpful staff. Coordination between the different departments was great. Very fast delivery. Cannot fault them for their service. Delivery staff were helpful as well, even though they are a delivery company separate to Extreme Marquees. All steps of the customer service process has been handled really well by Extreme Marquees!!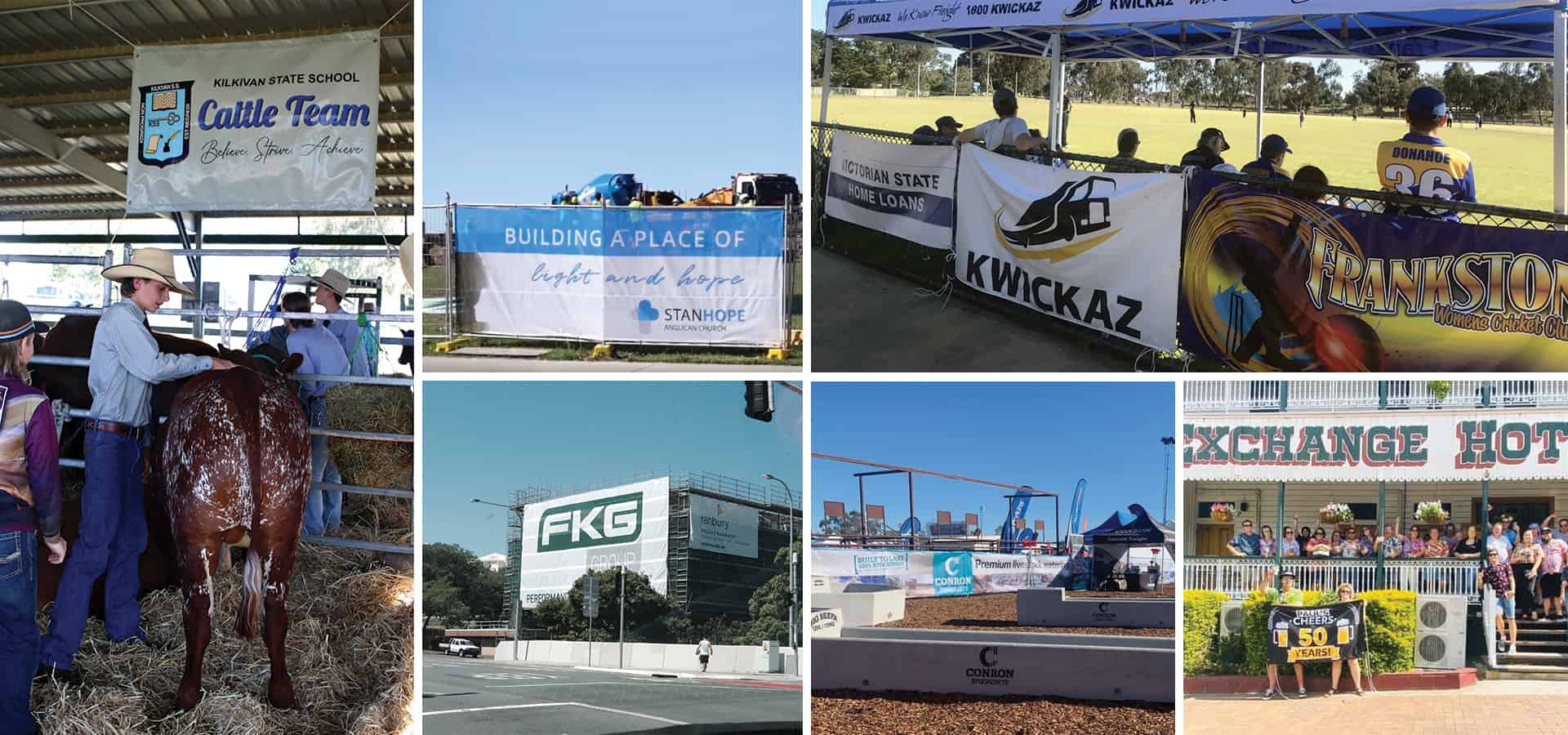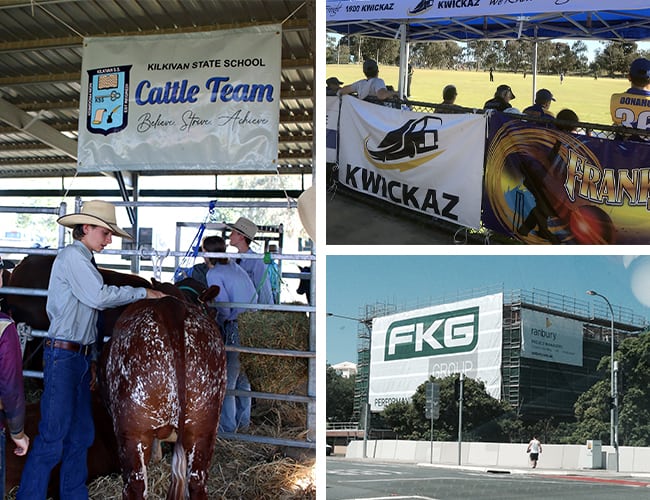 Custom Banner
Custom Printed Banners are made-to-order banners in either PVC or Polyester fabric. Our Custom Printed Banners include eyelets and ropes, so they can be easily attached for the right position.
Specifications:
Artwork Size: Custom
Printing: Single or Double Sided
Features: Eyelets every meter,
Sleeve Top & Bottom with Rope.
Fabric Option 1: 500D PVC Coated Polyester
Fabric Option 2: 580GSM PVC
Resources:
3m x 1m Template
2m x 1m Template
1m x 1m Template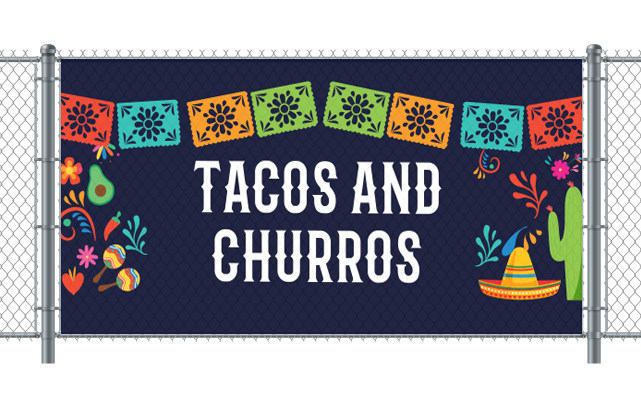 Fence Wrap
Fence Wraps are an affordable promotional banner option that easily attaches to fences and barriers. This breathable PVC mesh allows for light visibility through the material without compromising the full digital print on the fabric.
*Fence wraps are sold by the meter online with a fixed height of 1400mm. If you require a custom height and/or length please contact our sales team.
Specifications:
Max Height: 1400mm
Fabric: 340gsm PVC Mesh Fence Wrap
Printing: Single Sided
Edges: Hemmed Mesh
Features: Eyelets every meter
Resources:
10m x 1.4m Template
BESPOKE DESIGNS AND STATE-OF-THE-ART CUSTOM BANNER PRINTING
Our custom outdoor banners are not limited to just a variety of shapes and designs. They're available in a wide variety of colours and options for custom banner printing. You can go for minimalistic branding of your logo, tag line, and business name on your custom-made banners or get full-blown artwork, images, graphics, and other content printed on your banner.
We use sophisticated 6-colour digital printers over high-quality fabric with anti-fade inks so that your banners are long lasting, wear and tear resistant, and suitable for use both indoors and outdoors.
CUSTOM BANNERS NEAR ME – ORDER TODAY FROM EXTREME MARQUEES
If you're looking for a reliable and trusted partner for printing and supplying your custom banners, look no further than Extreme Marquees – Australia's #1 custom banners and promotional flags supplier since the last 15 years.
Our banners are completely customisable – just share the artwork with our design team to get started. And our banners are extremely affordable. We offer Lowest Price Guarantee – you won't find custom banners and marquee products cheaper than our brand, and we'll beat the lower price by 10% on identical products from competitors.
Interested in knowing more about our custom banners and printing processes? Call our experts right now 1300 535 409 to place your order and get it delivered Australia-wide!
CUSTOM OUTDOOR BANNERS – HIGH IMPACT VISUAL MESSAGING SOLUTIONS
Want to promote your business with custom banner printing? Extreme Marquees offers a wide range of promotional flags, banners, and other collaterals to give your business the attention it deserves. Our custom banners are attention-grabbing, colourful, and get your booth noticed from afar.
We design all our custom banners cheap, easy to set up, and convenient to transport. Our high standards for quality control and a robust customer service in place ensure that when you order custom banner and collateral from us, you receive only the most premium quality products and service.
At Extreme Marquees, we specialise in designing customised event display gear: Wave banners, Flare custom banners, Pull-up banners, Pod-pop banners, Shuttle pop custom made banners, Oval pop custom outdoor banners, Frame banners, Marquee peak flags, Fence wraps and Table covers.
Scroll To Top