Bruce Christie
3 weeks ago
Could not be happier with the service and quality from Extreme Marquees. They were very patient with my questions on several occasions and when I finally confirmed my purchase, the marquee arrived two days later. Looks great in our backyard.
Wayne Booth
a month ago
Extreme Marquees excellent marquees.. Strong & Affordable.. Just replaced a 6m x 3m Classic frame.. Very happy with the service.. Regards The Lennox Longboarders Club.
Craig Bachmann
a month ago
Hi I'm Craig Bachmann and I sell my rural landscape photography at around 80 outdoor markets each year. 3 years ago after much research, I purchased my first Extreme Marquee and have been very happy with its build and the professional look it gives my business. I am always receiving compliments about it from my customers and being approached by other stall holders wanting to know which business made it so they can order one as well. I recently decided to replace the roof and walls and Extreme Marquees helped me design a bit of a fresh look by adding graphics to the roof as well. I'd like to thank Georgia and Monique from Extreme Marquees for all their help. I look forward to doing more business with you in the future!
Maria Soukkar
a month ago
Been standing for 4 years and still going Really good service and quality marquees I have purchased a few 8/4 8/8 10/10 And also the banners and teardrop banners Really professional service and competitive prices This one has been 4 years now and still perfect it's the 4/8 Easily seats up to 30 people Wouldn't go anywhere else
lisa bluhm
3 weeks ago
Friendly and helpful staff. Coordination between the different departments was great. Very fast delivery. Cannot fault them for their service. Delivery staff were helpful as well, even though they are a delivery company separate to Extreme Marquees. All steps of the customer service process has been handled really well by Extreme Marquees!!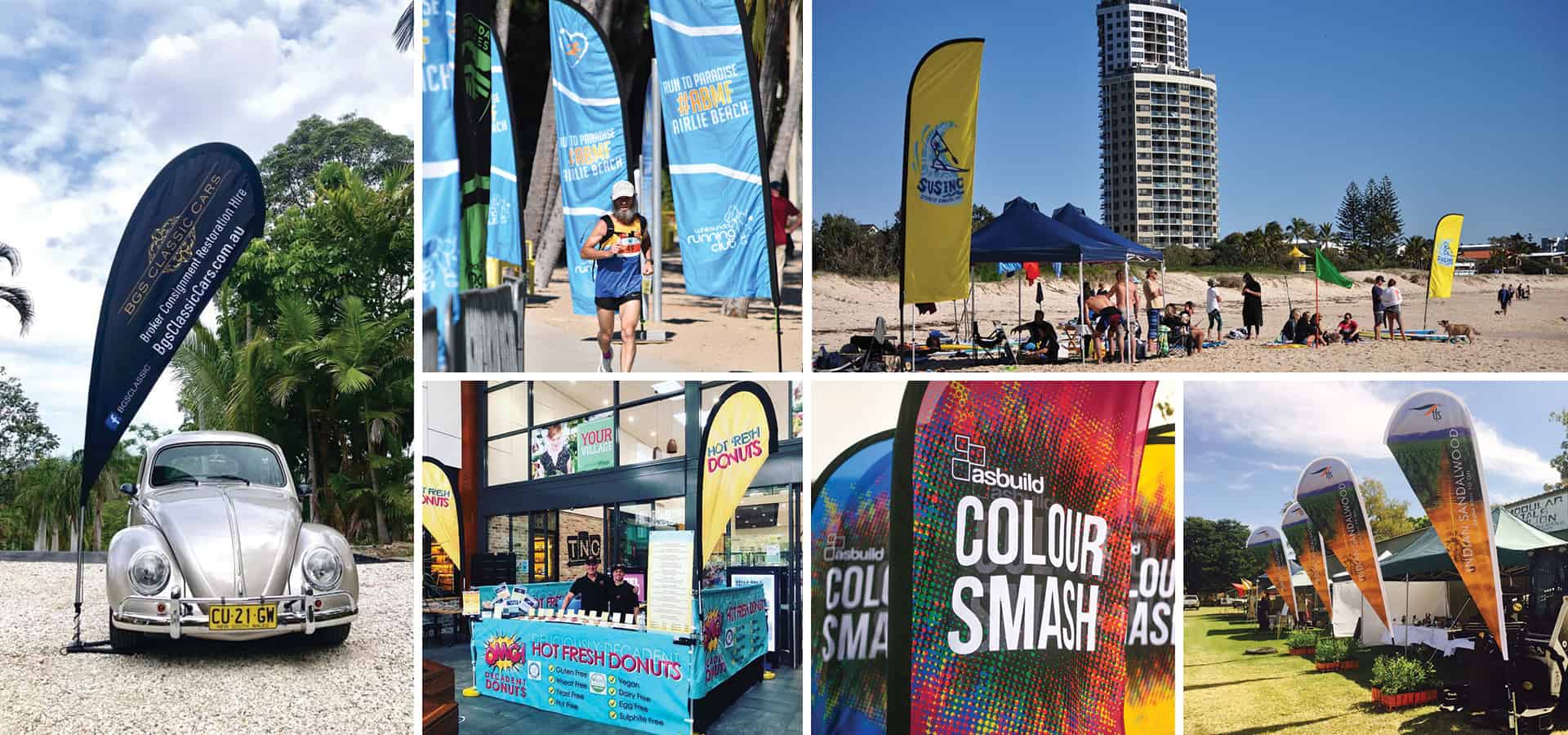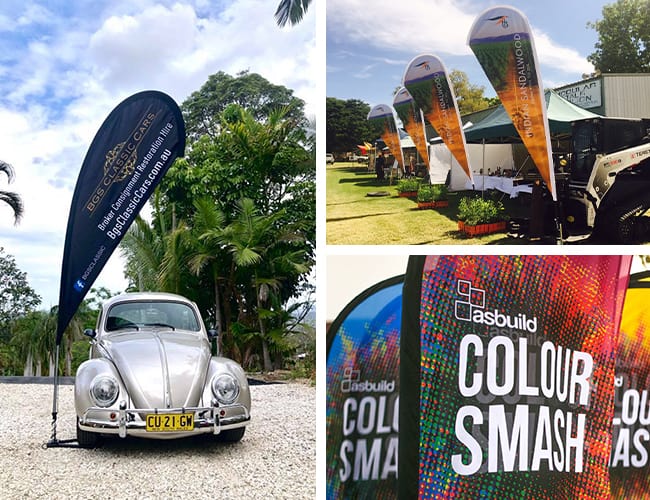 Wave Banners
The Wave and Wave Plus Banners and Flags are a popular outdoor banner style from our range. These banners are found outside businesses, at school and club events and at every field day or trade show.
Wave Specifications:
Colour: Custom
Printing: Single or Double Sided
Flag Sleeve: Black or White
Flag Pole: Aluminium
Packing Details: 1400mm length
Wave Fabric:
Banner Fabric
Double Sided include Silver Lining
Wave Warranty
Hardware: 1 year
Fabric: 6 months
Size: Small Wave
Finished Height: 2.2m
Artwork Size: 1700 x 790mm
Weight: 4kg
Size: Medium Wave
Finished Height: 2.8m
Artwork Size: 2370 x 800mm
Weight: 5kg
Size: Large Wave
Finished Height: 3.7m
Artwork Size: 3350 x 790mm
Weight: 6kg
Flare Banners
The Flare Plus and Teardrop Banners and Flags are our flagship outdoor banner range. These banners and flags are ideal for any business and are seen outside business storefronts, at trade shows and at school and club events.
Flare Specifications:
Colour: Custom
Printing: Single or Double Sided
Flag Sleeve: Black or White
Flag Pole: Aluminium
Packing Details: 1400mm length
Flare Fabric:
Banner Fabric
Double Sided include Silver Lining
Flare Warranty
Hardware: 1 year
Fabric: 6 months
Size: Small Flare
Finished Height: 1.9m
Artwork Size: 1400 x 790mm
Weight: 4kg
Size: Medium Flare
Finished Height: 2.5m
Artwork Size: 2000 x 810mm
Weight: 5kg
Size: Large Flare
Finished Height: 3.4m
Artwork Size: 3000 x 810mm
Weight: 6kg
ADVERTISING FLAGS FOR SALE AUSTRALIA-WIDE
Extreme Marquees offers a huge range of indoor and outdoor promotional banners including advertising flags for sale Australia-wide. All our promotional banners, advertising flags and promotional products can be printed with your brand logo, slogan and images.
So, If You're Looking To Up Your Branding Game, Extreme Marquees' Banners Are A Must-Have In Your Promotional Toolkit.
From our small and practical pod pop banners to our popular flare and wave ranges of flag and pull-up banners, we provide vibrant and eye-catching branding solutions for businesses of all sizes and industries.
PROMOTIONAL FLAGS AND BANNERS FOR YOUR EVENT
All our banners and promotional products can be customised to suit your individual or business requirements. They're designed to stand out among a sea of competitors, making them the perfect display companions.
Printed promotional banners, such as our pop up and pull-up banners, are a must have item for any business with a street front or exhibitors attending trade shows and events. Custom printed banners are the perfect promotional tools to draw attention to your business and create brand recognition.
Extreme Marquees manufactures and distributes a range of promotional outdoor and pull up banners including our standing Wave & Teardrop Banners, Flare Banners and Surf Banners.
We have been providing customers with outdoor promotional banners for over 14 years. We pride ourselves in maintaining a very high standard of quality control and top-notch customer service. Customers repeatedly come back to us to purchase custom printed pull-up banners and teardrop banners as they're assured that they will always receive a very high-quality product. Furthermore, with our highly trained sales, graphics and logistics team, ordering is simple and easy, and customers are kept informed during all stages of production.
With highly efficient infrastructure in place, Extreme Marquees can supply custom printed banners and advertising flags for sale Australia-wide in a very short time frame.
BANNERS AND ADVERTISING FLAGS FOR SALE, AUSTRALIA
Extreme Marquees has one of the widest and best value range of promotional products in the Australian market today, including flare and wave banners. These banners are easy to set up and come in an assortment of styles, shapes and sizes. Our state-of-the-art custom printing processes use fade-resistant inks and imported fabric to ensure the most vibrant of colours. We also sell a large range of banner bases, connectors and mounts to make installation easier on a variety of surfaces.
WHY SHOULD YOU USE ADVERTISING FLAGS FOR YOUR EVENT?
Outdoor banners and advertising flags sway with wind and greet visitors from afar. They look very attractive when perched atop your event booth or registration kiosk and are quite affordable to buy, print and set up. Custom printed banners come in all shapes and sizes. In fact, Extreme Marquees is Australia's biggest manufacturer of outdoor banners. Our wave and flare banners are easy to set-up, maintain and store.
ERGONOMIC DESIGN – TO LAST YOU YEARS OF USE
Our range of printed banners packs into a small flat bag for easy transport and storage. To set-up, simply remove from the carry bag and twist open. Within a few seconds the banner is ready to soar high in the sky. The banner frame is made from spring steel which, when opened, forms a unique shape that is ideal for use at trade shows and exhibitions. When used outdoors, these banners and advertising flags have four anchorage points that secure them to the ground.
Twist banners are full colour and printed digitally. Our graphics team can add simple logos as well as photographic images. High quality imported inks over commercial grade polyester fabric are used with fade inhibitors to extend the life span of banners.
Extreme Marquees also manufactures roof peak banners and advertising flags. Peak advertising flags are ideal if you want to add more colour and movement to your gazebo or exhibition marquee. Custom printed peak advertising flags are easy to install and can be ordered with any custom roof. Peak flags are designed in conjunction with our PVC or polyester gazebo roofs. Peak flags are an inexpensive accessory that will make your pop-up gazebo or marquee stand out at any event.
SOPHISTICATED PRINTING PROCESS FOR VIVID RESULTS
Extreme Marquees manufactures wave and flare banners that can be printed on one or both sides. Our double sided custom printed banners have a silver piece of fabric that is sewn into the middle of the banner to prevent the image from showing through the fabric under bright sunlight. Our banners are digitally printed by using a paper transfer method to ensure that colours are vibrant and sharp.
Paper transfer printed banner fabric is passed through a special heat transfer machine to preshrink the fabric. After this process, the fabric and digitally printed transfer paper is again passed through the heat transfer machine. The ink is infused onto the banner fabric at 200 degrees. Our banner range is available in small, medium and large sizes that can be set up on a variety of stands.
PROMOTIONAL ACCESSORIES FOR YOUR EVENT
For outdoor use at agricultural fairs and events, we also supply a range of connectors, flag bases and mounts. Made with rustproof and heavy-duty materials, these accessories will ensure that your banners stay put in windy conditions. We also sell wheel mounts that are the perfect accessory for real estate agents wanting to promote open house.
Scroll To Top