Event Marquees, Wedding Marquees & Clear Span Tents
If you are looking to buy a large marquee, event tent or temporary shade solution for outdoor events or wedding parties, our Crest marquees range will perfectly suit your need. These large-size event marquees are customizable to virtually any length or width. By adding modular bays, the marquees can be expanded as required. At Extreme Marquees, we are a team of highly experienced marquee manufacturers who can create marquees of any size that suits your requirement. We manufacture event and wedding marquees for sale that offer exceptional strength, durability, and coverage that is unmatched by any other style of marquees on the Australian market. Contact us today to buy clear span marquees for promotional events, wedding parties, or any other occasion.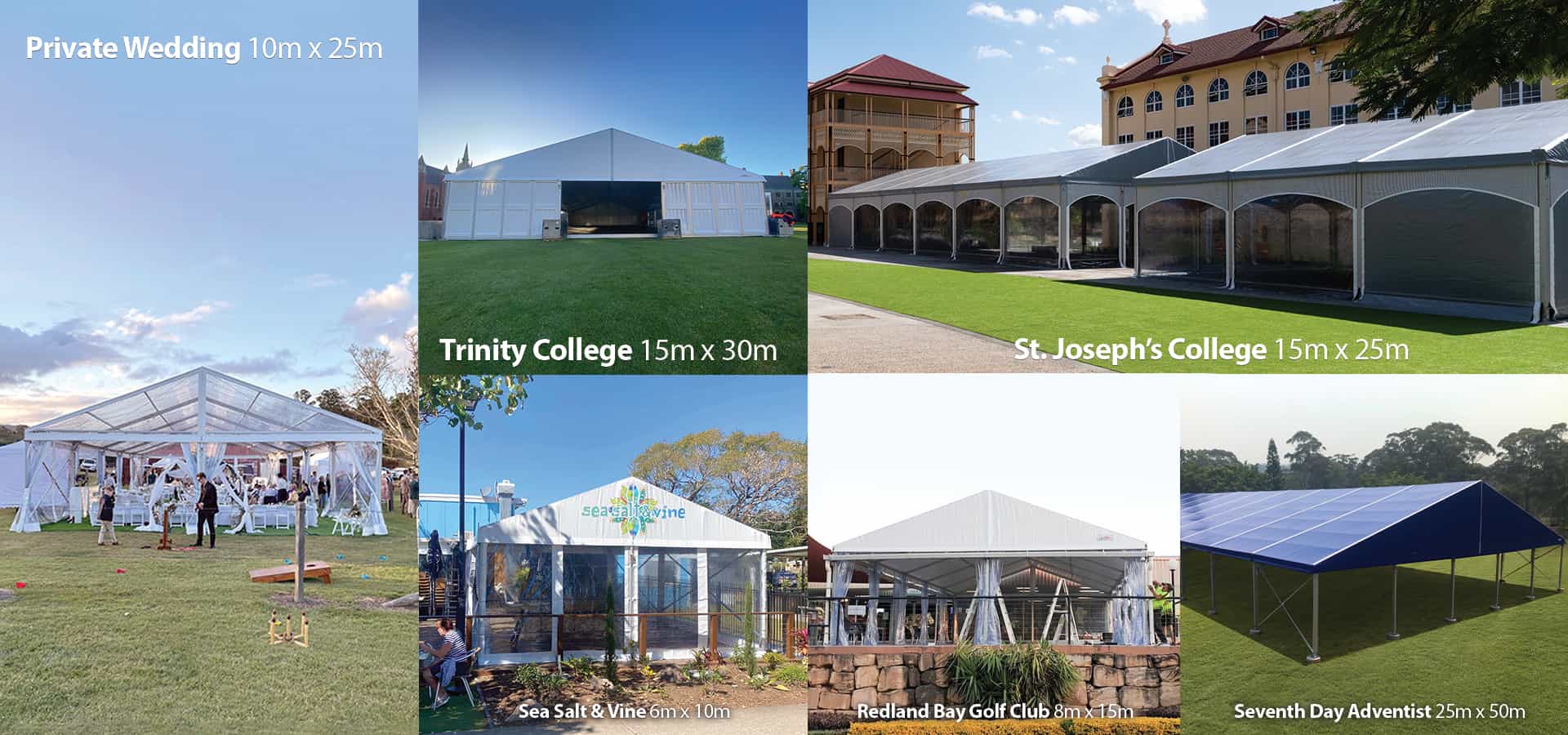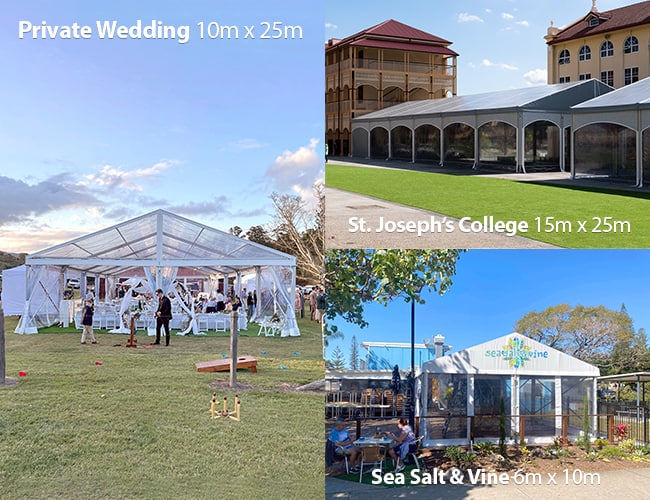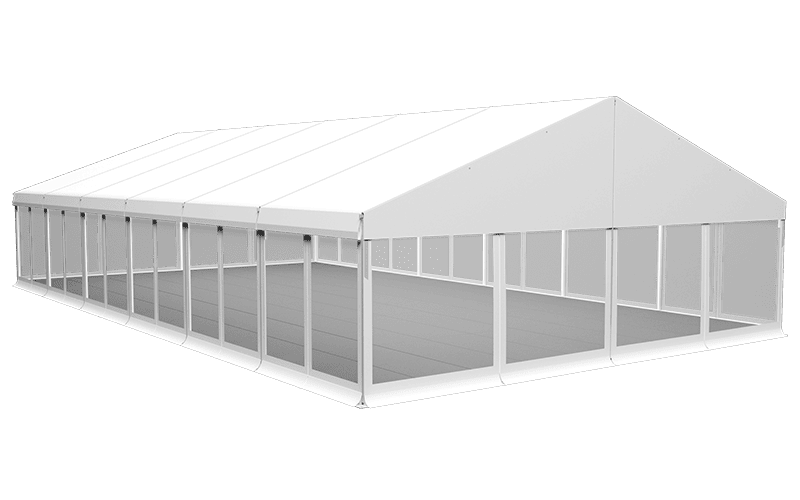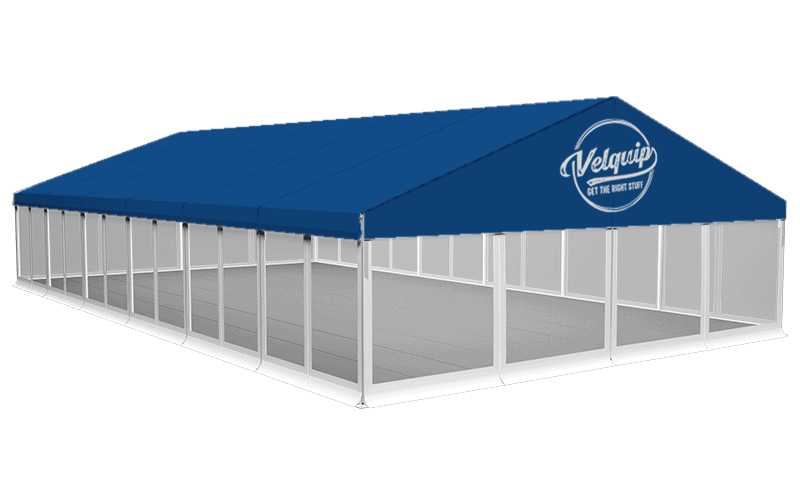 We offer custom printing on a wide range of products. Don't forget to checkout our available print packages!
Event Marquees PVC
Available for Plain and Custom Printed Event Marquees
Specifications:
100% PVC
Colourfastness to light: 5-6 En standard
Weight:
950 gsm: Clear PVC
850 gsm: White PVC covers
750 gsm: Coloured and printed PVC
650 gsm: White PVC walls
Features:
2 year warranty: Printed and Clear
5 year warranty: White and coloured
Waterproof
Fire, UV & Wind resistant
Hot lacquer welded seams
Digital Print Process
Large format digital printing refers to a method of printing from a digital based image directly to the PVC marquee material. Once the print has dried, a hot lacquer is applied to the print surface to seal the print to avoid scratches.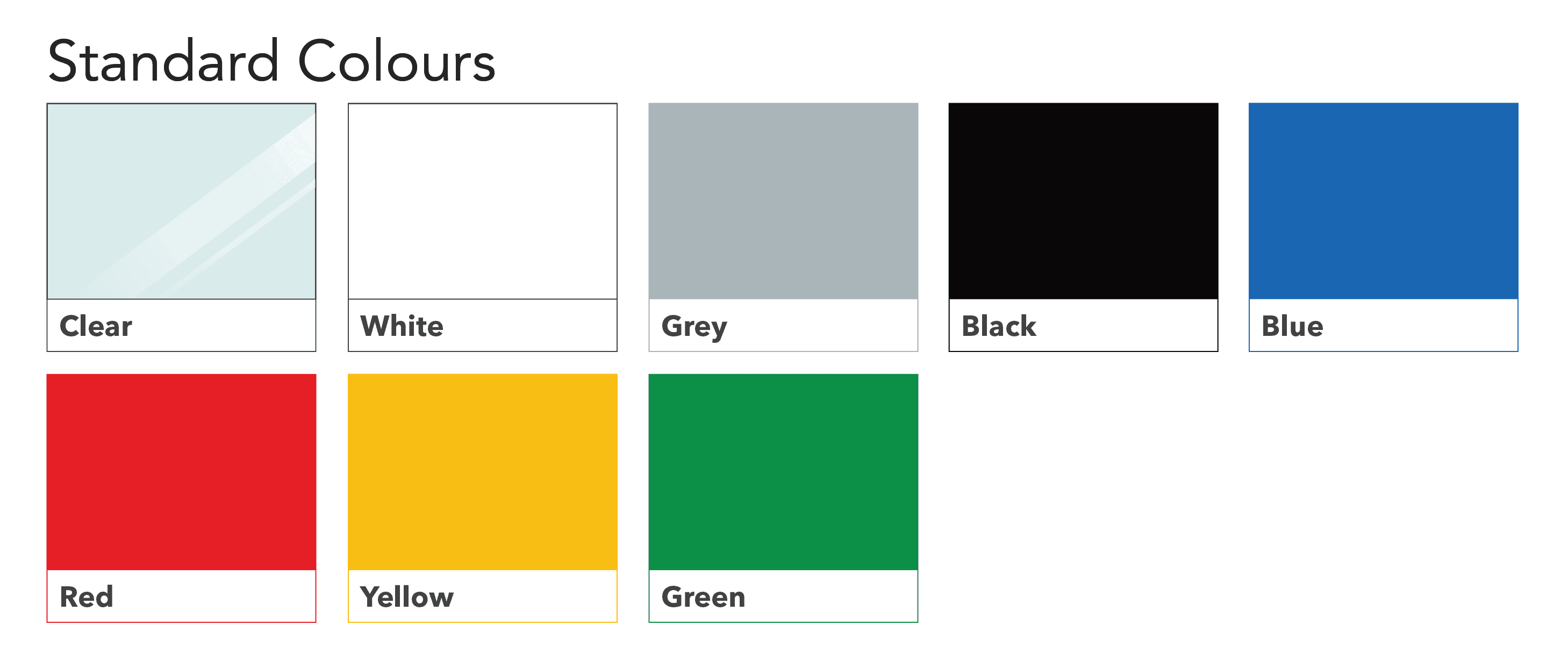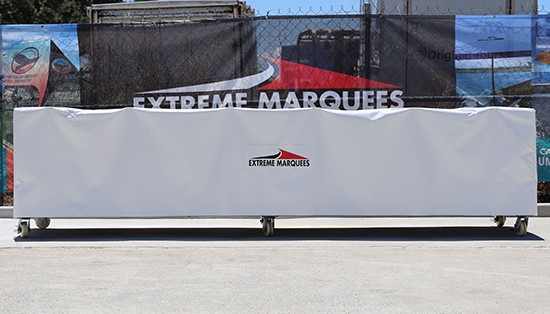 Transport boxes are custom to each order and are imported to ensure the safety and protection of the Event Crest during transit and while in storage.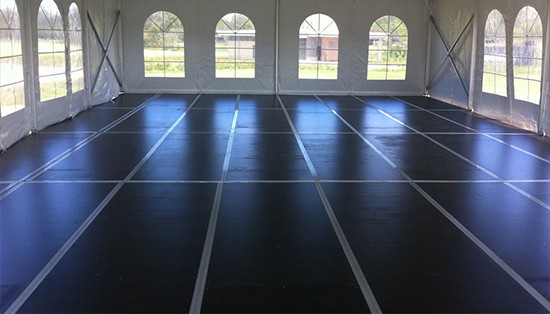 The flooring system are solid waterproof, and incorporate anti-slip technology, making them ideal for most events. The come in black and a selection of woodgrain colours.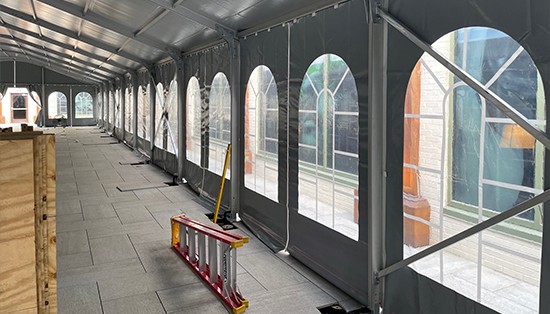 Sidewalls are available with PVC clear windows in church, square, mesh, and plain window varieties.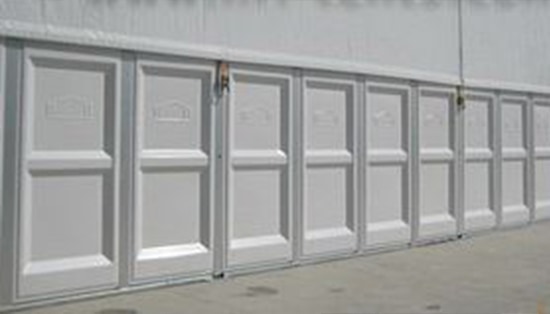 Lightweight, integrated system shares the same structure as the glass panels and door units, allowing these items to be easily interchanged.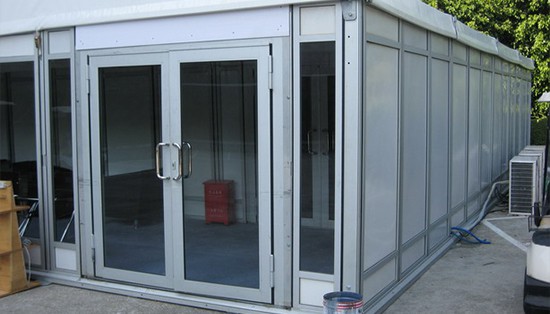 The aluminium frame glass door system is available in both single and double-winged configurations.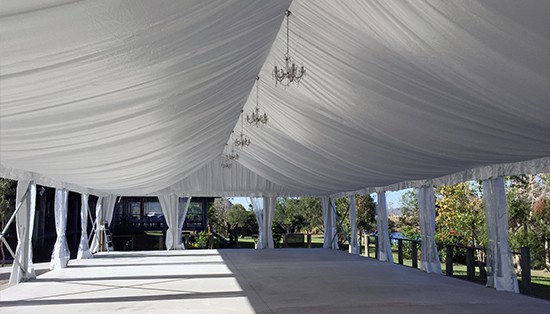 Add internal drapes to your Event Marquee for a touch of elegance.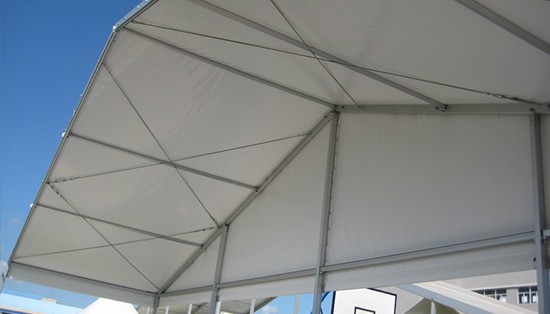 These visually striking structural additions provide extra protection from the elements.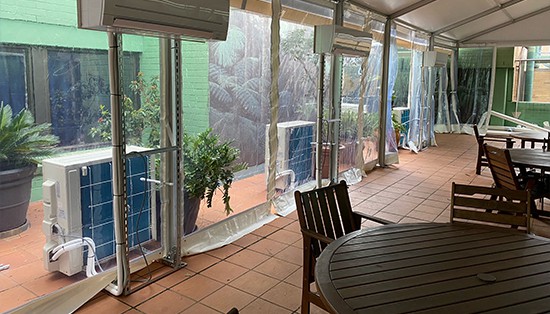 The air conditioning compressor and fan unit have ben built onto a steel frame that can be easily moved into position on a trolley.
Event Crests are transported in a custom made steel frame container enclosed by a sturdy PVC cover. These transport boxes are custom to each order and are important to ensure the safety and protection of the Event Crest during transit and while in storage. Event Crests above a 12m span require a transit box however larger elements such as roof beams are shipped separate.
Transit Box Sizing
Event Crest 3x9m – Box 3.0m x 0.6 x 0.6 (LxHxW), weight 300kgs
Event Crest 6x12m – Box 3.7m x 0.7 x 0.8 (LxHxW), weight 800kgs
Event Crest 8x15m – Box 4.4m x 0.9 x 0.9 (LxHxW), weight 950kgs
Event Crest 10x20m – Box 5.6m x 1.0 x 1.2 (LxHxW), weight 1650kgs
Event Crest 12x20m – Box 6.5m x 1.3 x 1.3 (LxHxW), weight 2000kg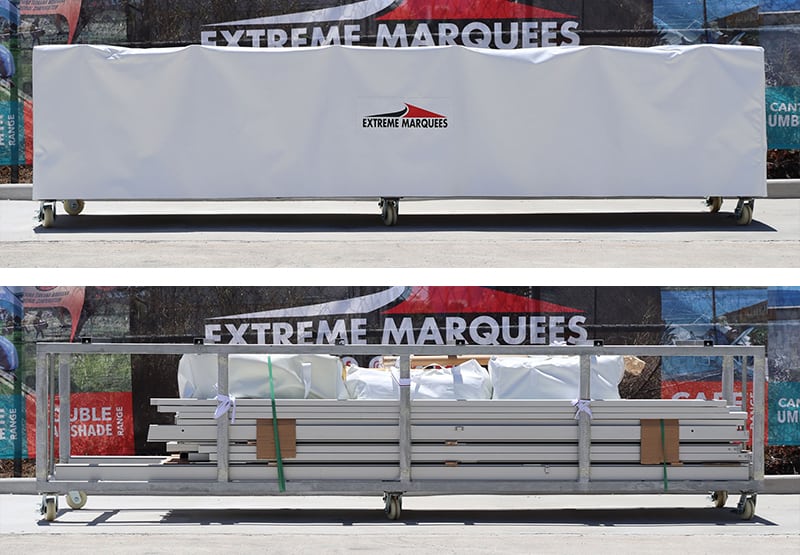 Bruce Christie
2 weeks ago
Could not be happier with the service and quality from Extreme Marquees. They were very patient with my questions on several occasions and when I finally confirmed my purchase, the marquee arrived two days later. Looks great in our backyard.
Craig Bachmann
a month ago
Hi I'm Craig Bachmann and I sell my rural landscape photography at around 80 outdoor markets each year. 3 years ago after much research, I purchased my first Extreme Marquee and have been very happy with its build and the professional look it gives my business. I am always receiving compliments about it from my customers and being approached by other stall holders wanting to know which business made it so they can order one as well. I recently decided to replace the roof and walls and Extreme Marquees helped me design a bit of a fresh look by adding graphics to the roof as well. I'd like to thank Georgia and Monique from Extreme Marquees for all their help. I look forward to doing more business with you in the future!
Wayne Booth
a month ago
Extreme Marquees excellent marquees.. Strong & Affordable.. Just replaced a 6m x 3m Classic frame.. Very happy with the service.. Regards The Lennox Longboarders Club.
Maria Soukkar
a month ago
Been standing for 4 years and still going Really good service and quality marquees I have purchased a few 8/4 8/8 10/10 And also the banners and teardrop banners Really professional service and competitive prices This one has been 4 years now and still perfect it's the 4/8 Easily seats up to 30 people Wouldn't go anywhere else
lisa bluhm
2 weeks ago
Friendly and helpful staff. Coordination between the different departments was great. Very fast delivery. Cannot fault them for their service. Delivery staff were helpful as well, even though they are a delivery company separate to Extreme Marquees. All steps of the customer service process has been handled really well by Extreme Marquees!!
IMPORTANT INFORMATION
The Crest Tents advertised on our website have been designed and approved by our engineers to meet regulations in Australia. These tents have been designed to comply with "Temporary Structures" regulations and cannot be left up for more than 6 months for any one event. Should the time being used at one event exceed 6 months, it is considered to be a permanent structure and we will need to redesign the frame so that it will comply. This means upgrading the aluminium profiles used so that it can withstand stronger wind gusts. We will need to know the size required and the location that it will be erected so our engineer can make sure the structure is compliant. The frame will need further upgrading if it is in an area that has snow.
There are three ways to anchor the tent to the ground.
1) Steel pins ( for use on standard ground i.e grass or soil surfaces). This is the simplest method.
2) Weight plates. Weight plates are attached to each foot and then concrete blocks are placed on each foot. Our engineer will advise the weight required.
3) If erected on a concrete slab, the frame can be anchored by concrete fixing bolts.
Engineers notes:
The relevant Australian Standards AS1170.0:2002 General principles, AS1170.1:2002 Permanent, imposed and other actions and AS1170.2:2011 Wind actions are used. The design check is in accordance with AS/NZS 1664.1:1997 Aluminum limit state design.
Design Restrictions and Limitations 2.1 The erected structure is for temporary use only and is limited to 6 months maximum at any one site establishment.
2.2 It should be noted that if high gust wind speeds are anticipated or forecast in the locality of the tent, the temporary erected structure should be dismantled.
2.3 For forecast winds in excess of (refer to summary) – all fabric shall be removed from the frames, and the structure should be completely dismantled. (Please note that the locality squall or gust wind speed is affected by factors such as terrain exposure and site elevations.)
2.4 The structure may only be erected in regions with wind classifications no greater than the limits specified on the attached wind analysis.
2.5 The wind classifications are based upon category 2 in AS. Considerations have also been made to the regional wind terrain category, topographical location and site shielding from adjacent structures. Please note that in many instances topographical factors such as a location on the crest of a hill or on top of an escarpment may yield a higher wind speed classification than that derived for a higher wind terrain category in a level topographical region. For this reason, particular regard shall be paid to the topographical location of the structure. For localities which do not conform to the standard prescribed descriptions for wind classes as defined above, a qualified Structural Engineer may be employed to determine an appropriate wind class for that the particular site.
2.6 The structures in no circumstances shall ever be erected in tropical or severe tropical cyclonic condition.
2.7 The tent structure has not been designed to withstand snow and ice loadings such as when erected in alpine regions.
2.8 For the projects, where the site conditions approach the design limits, extra consideration should be given to pullout tests of the stakes and professional assessment of the appropriate wind classification for the site.
Scroll To Top