EMX HIGH PRESSURE INFLATABLE TENTS, MARQUEES, GAZEBOS AND ARCHES
A perfect blend of inspiration and creativity, the EMX is an all new range of high pressure inflatable tents, marquees, gazebos, arches and shelters from Extreme Marquees that are sure to turn heads at any event. Our advanced technology means the new EMX inflatable tent series is light, compact, fast to set up and importantly, strong and sturdy in its design.
The EMX inflatable marquee range features a symmetrical and streamed lined design and makes it one of the most elegant promotional inflatable shelters in Australia. Highlighting the high-quality fabrics, meticulous craftsmanship and detailed design elements, the EMX series provides the perfect branded solution or inflatable gazebo for your next event. The strength of this inflatable shelter comes from an internal tube, encased in a special lightweight and advanced webbed fabric that enables an exceptionally high internal pressure to be achieved. This high pressure means great strength and rigidity can be achieved resulting in a very stable structure in adverse weather conditions.
The EMX range of inflatable tents are available in a variety of custom inflatable shapes, from our classic EMF inflatable marquee through to our striking Omega inflatable marquee. All our inflatable marquees can be custom printed to match your brand or message with a wide variety of fabric colours.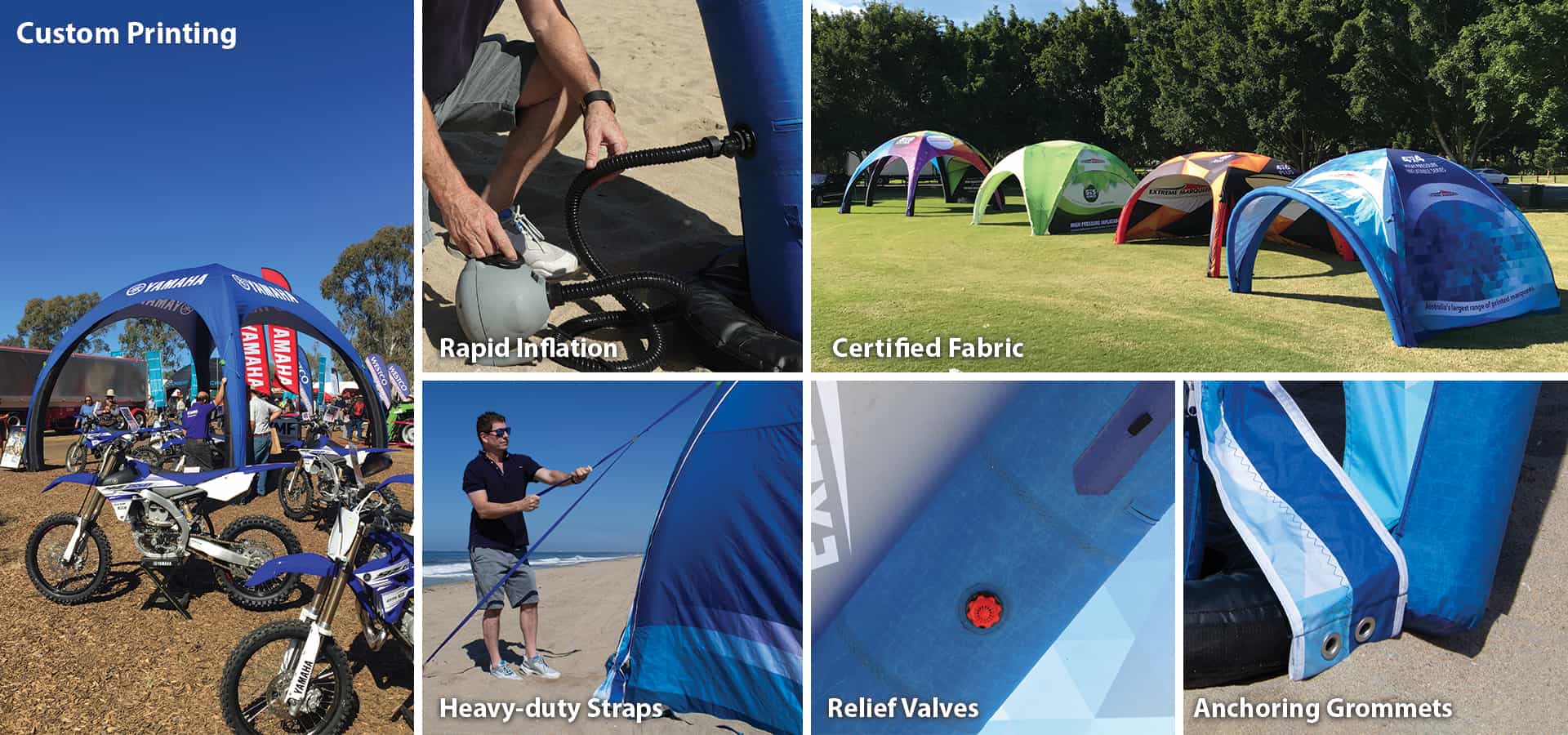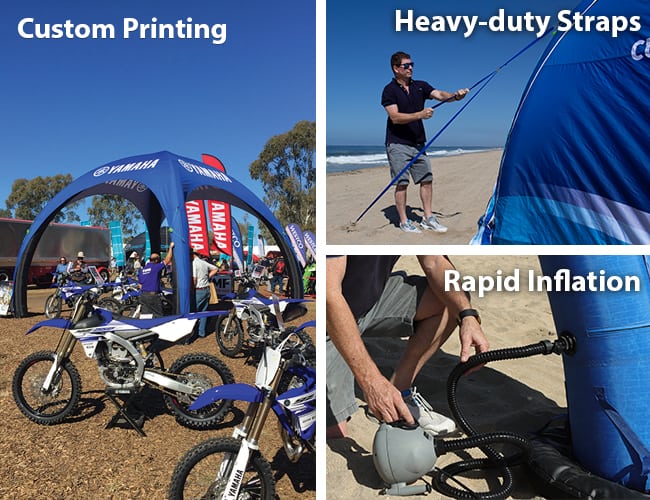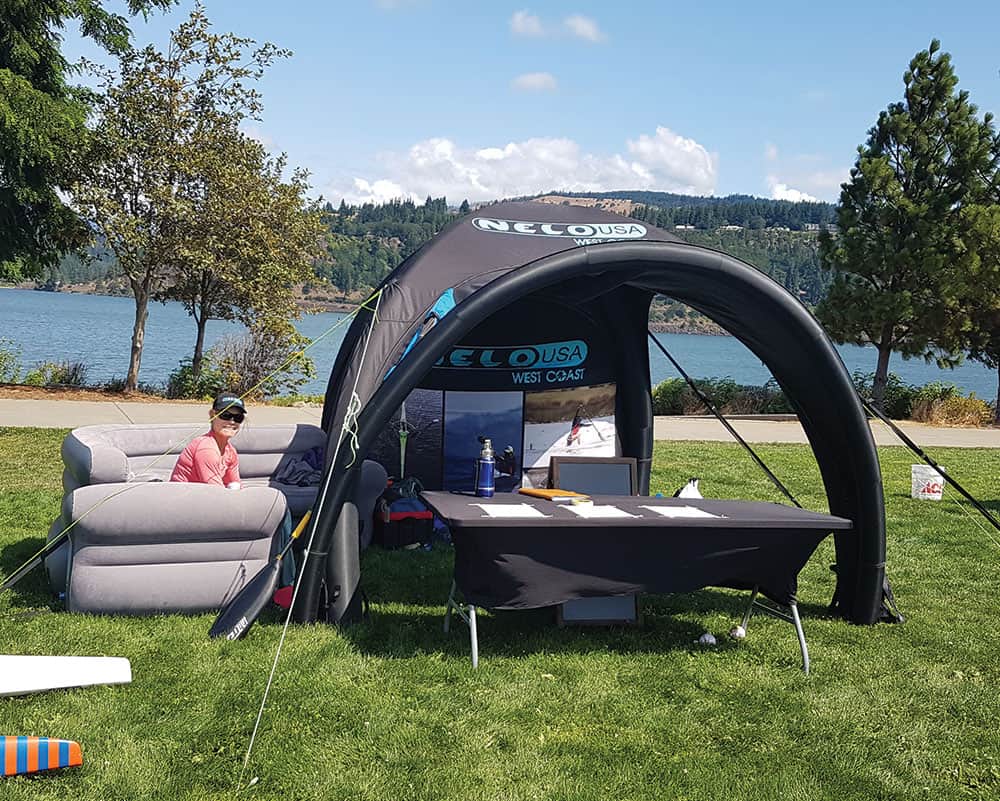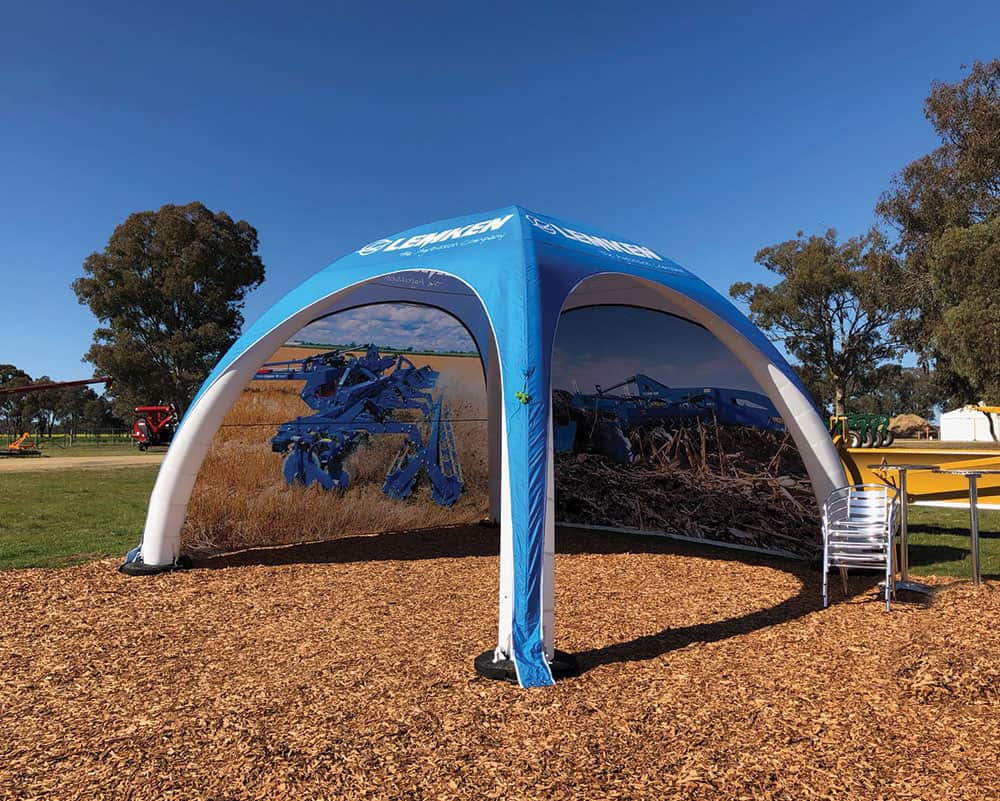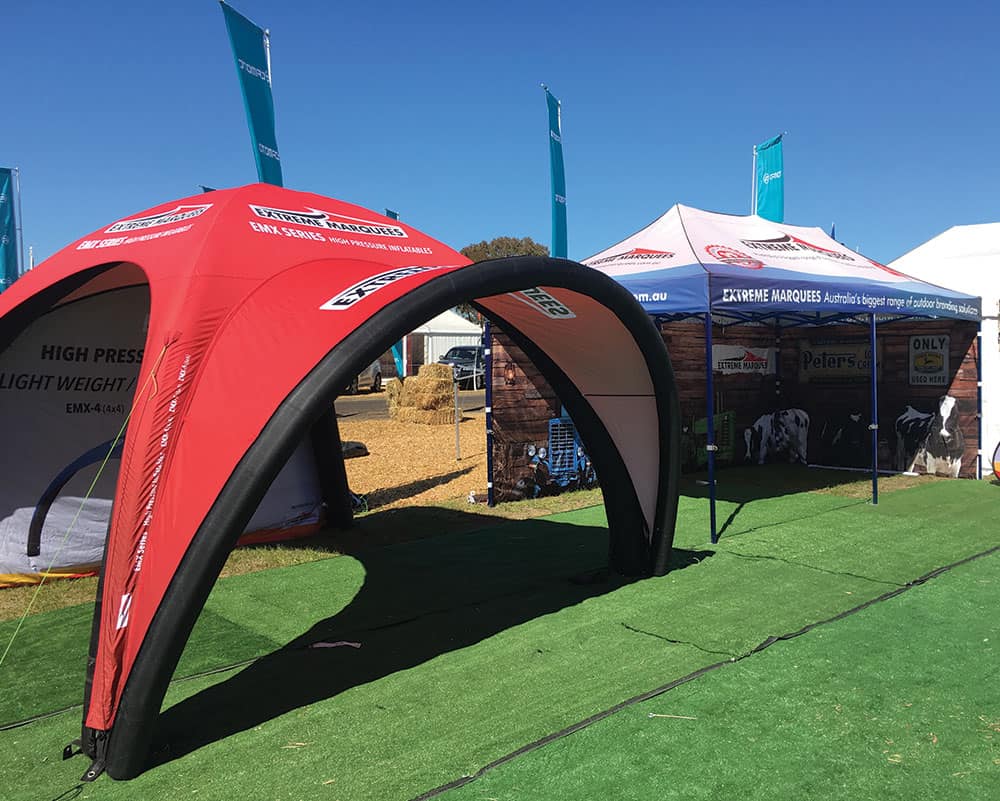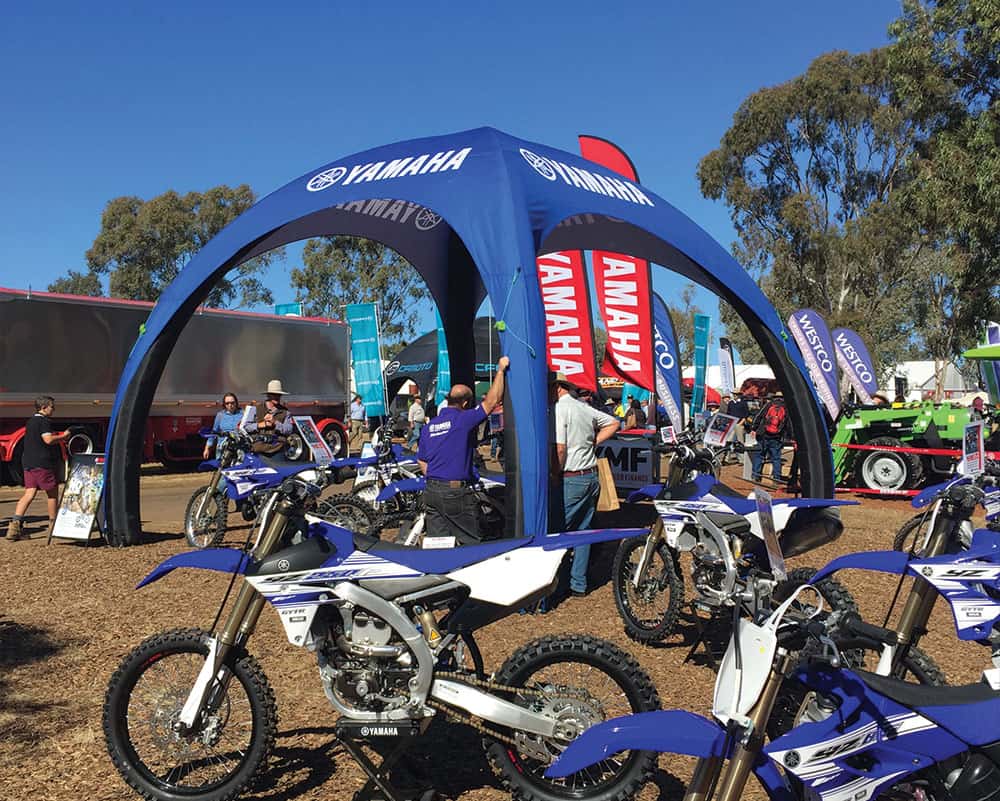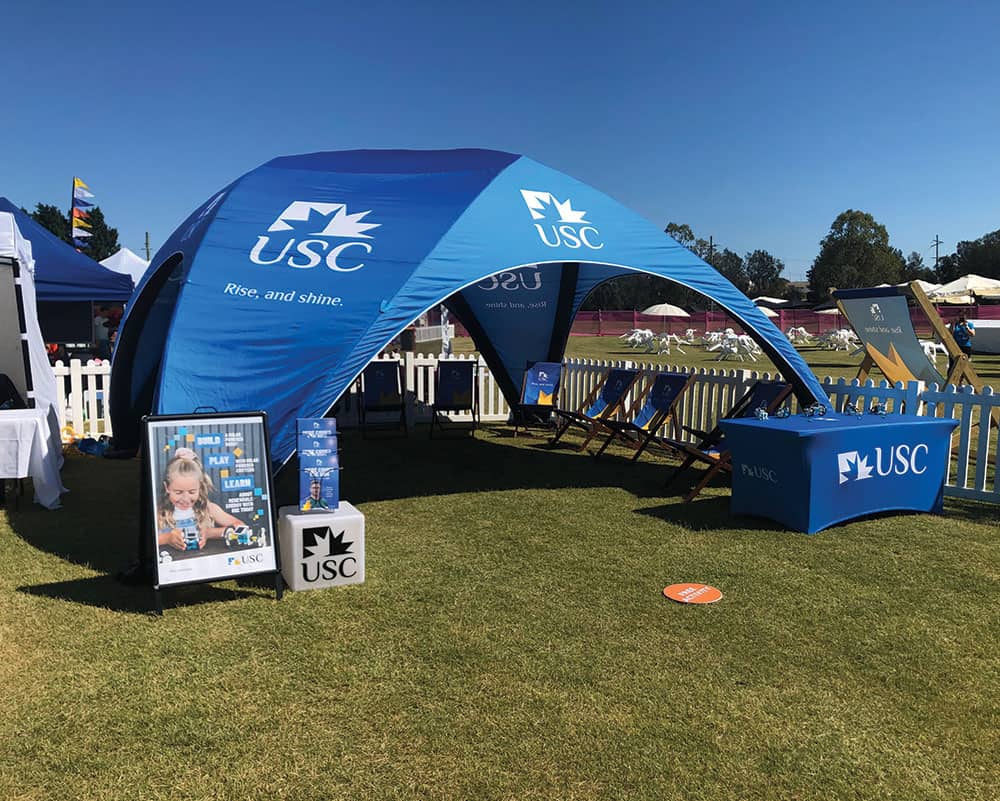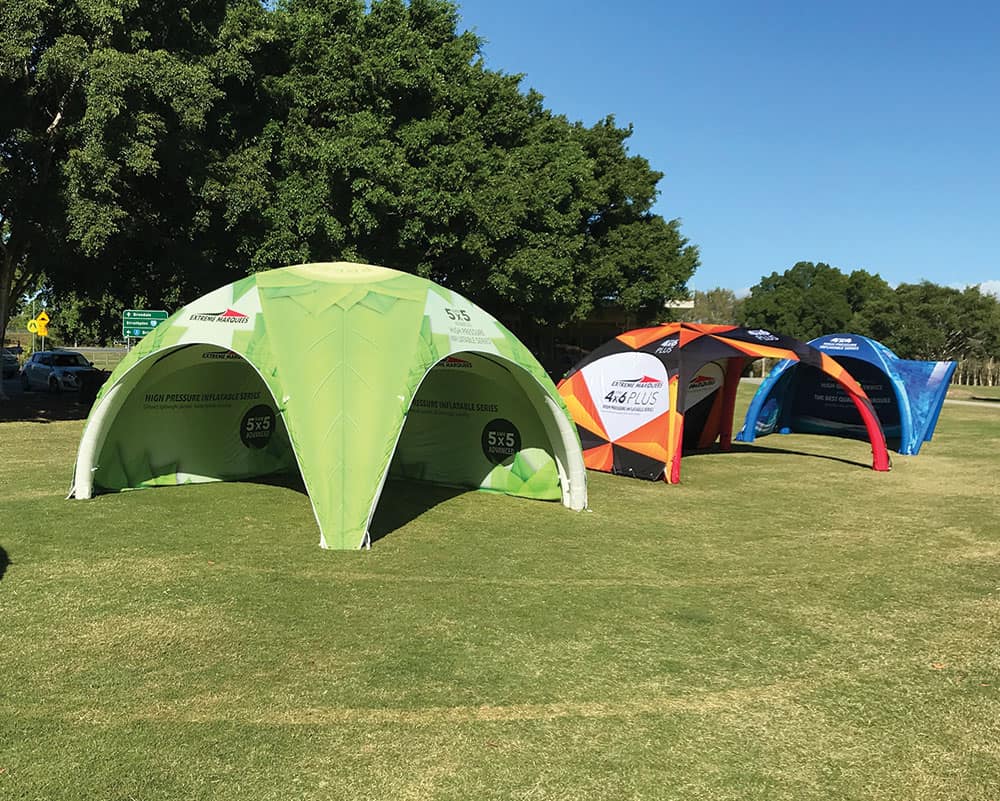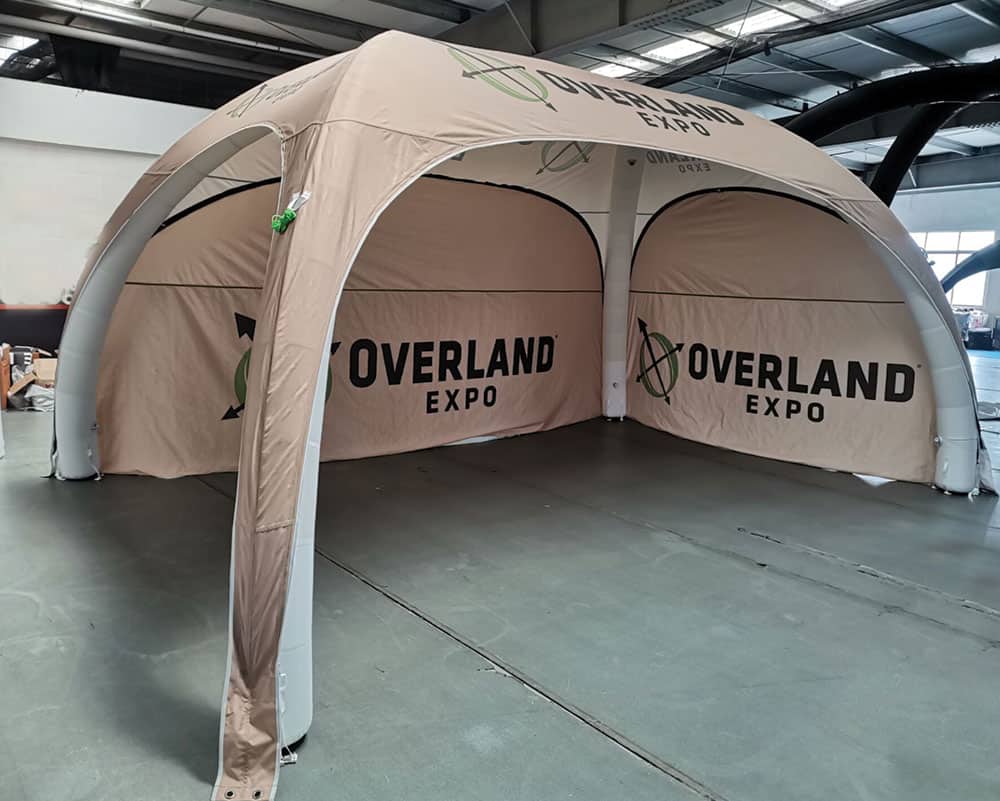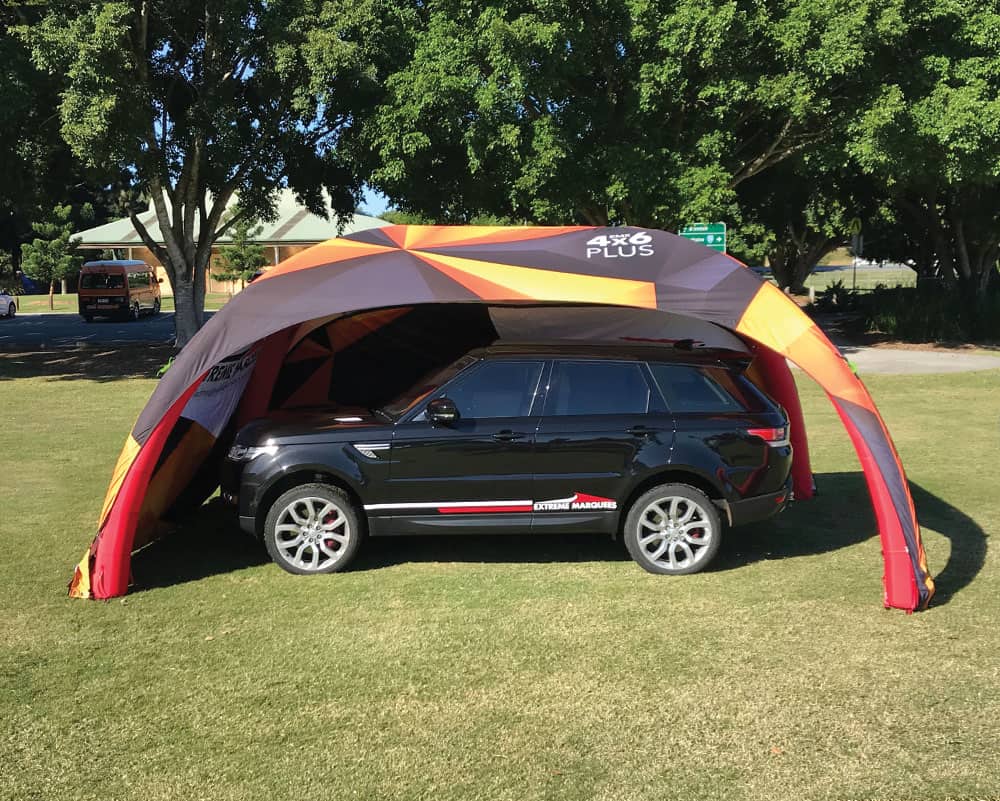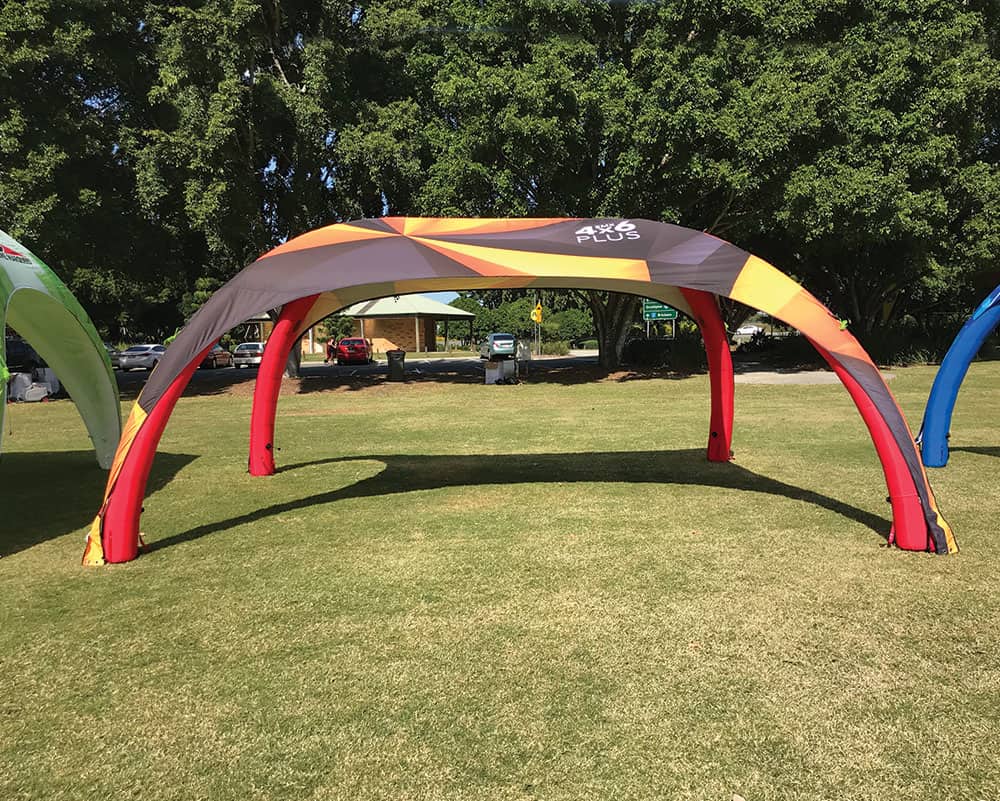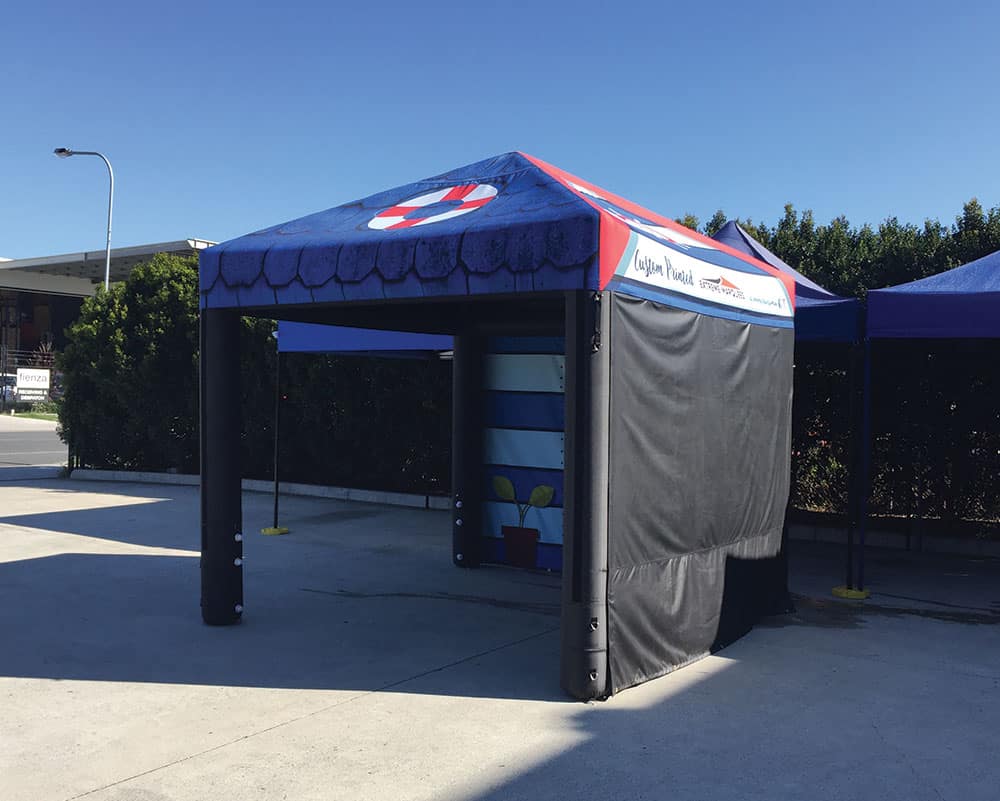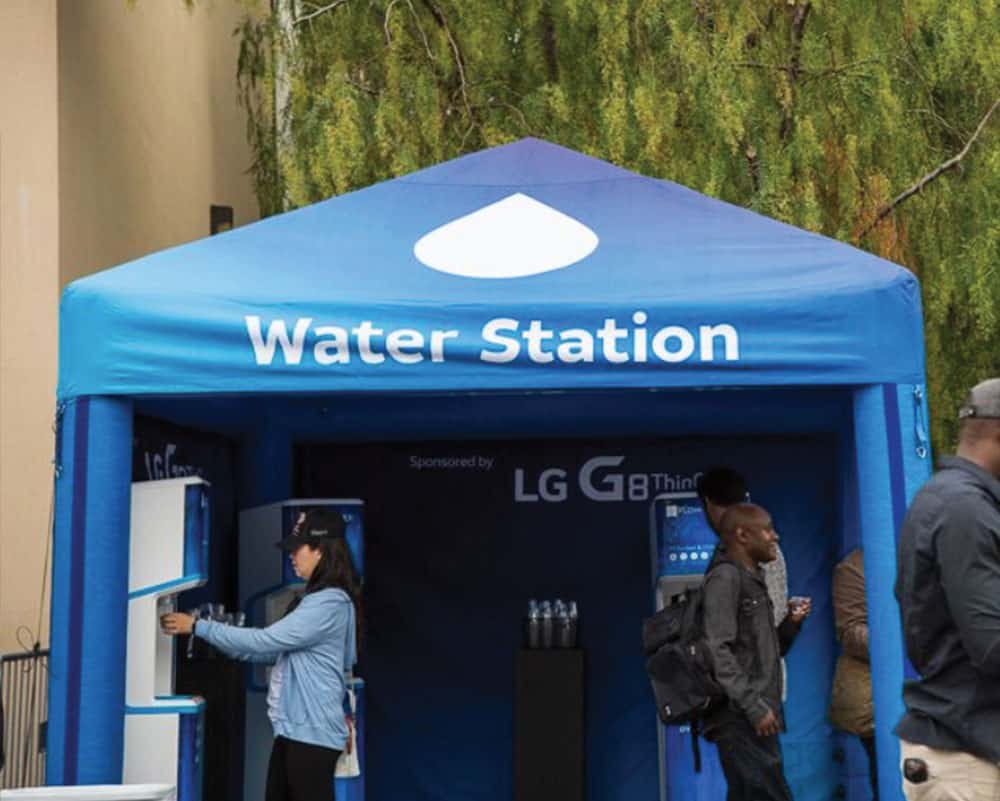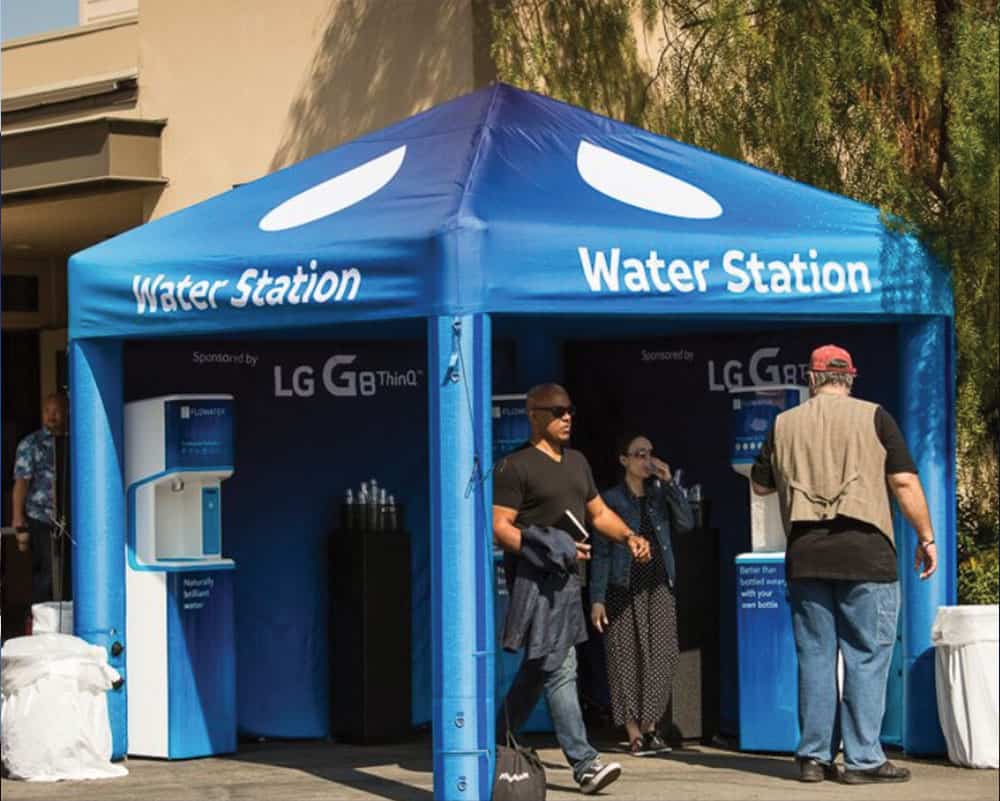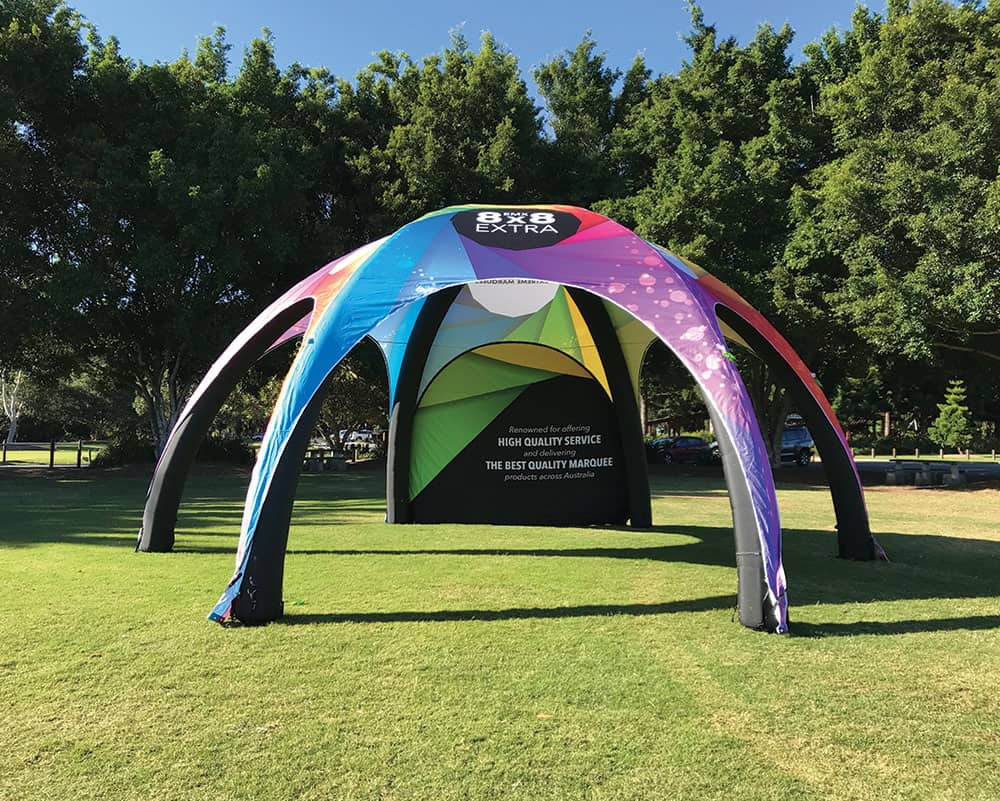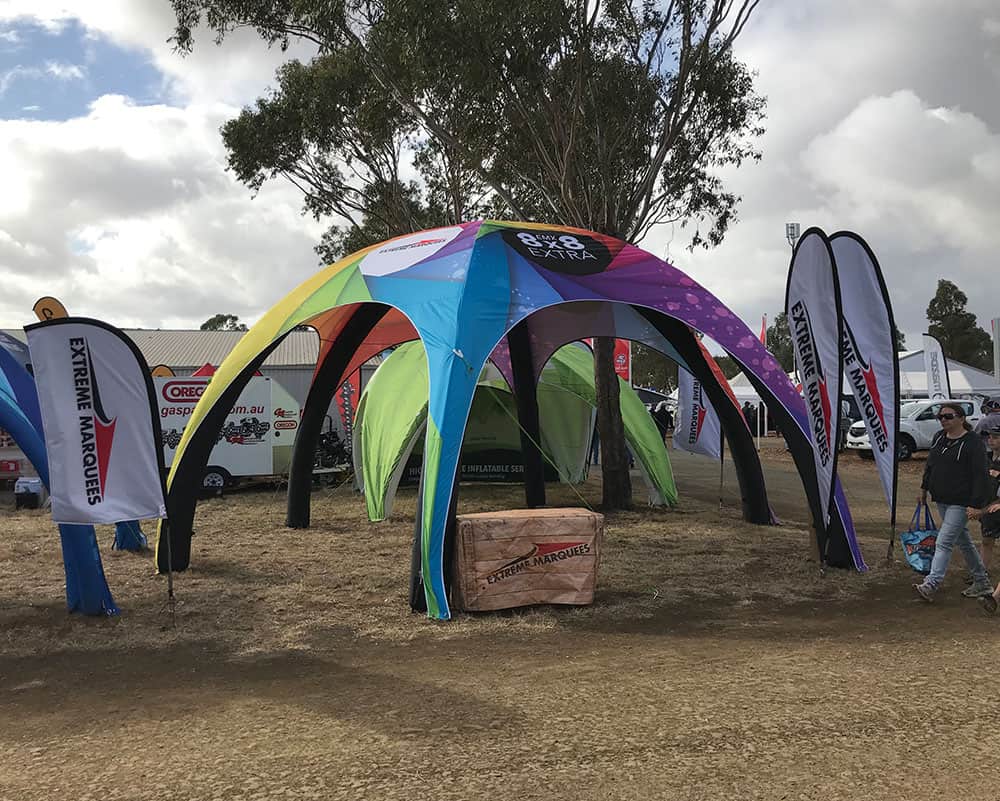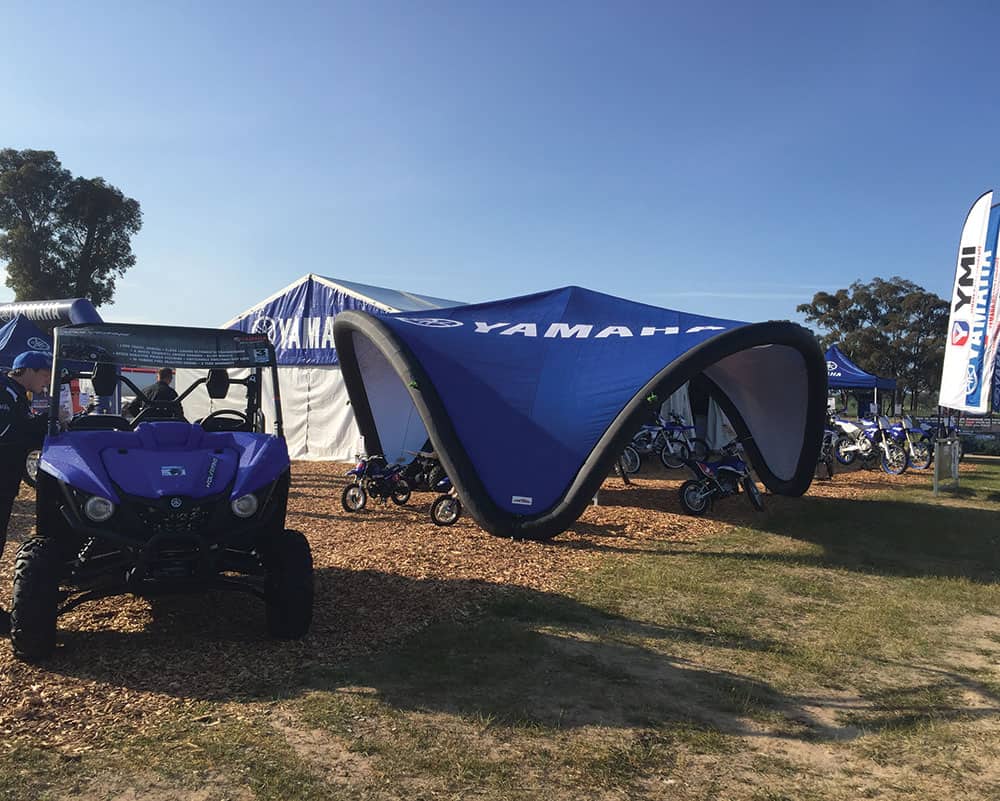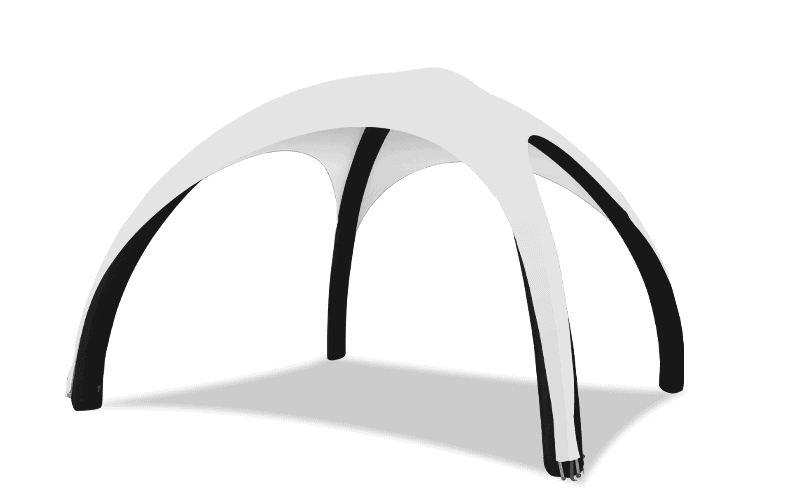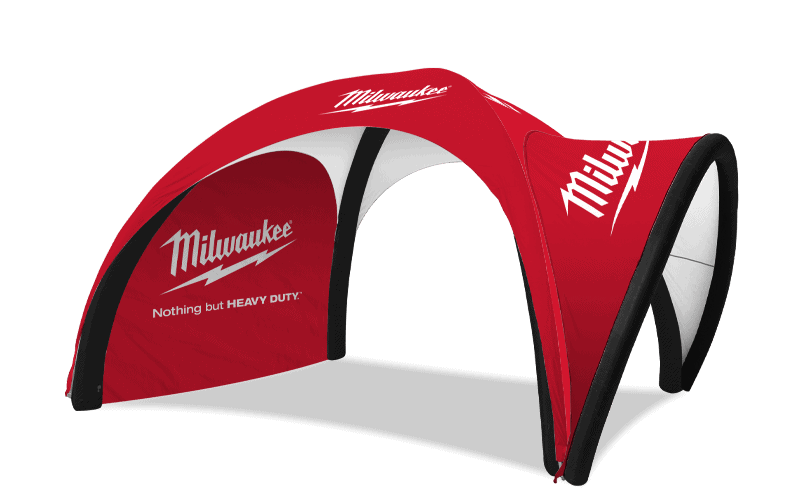 We offer custom printing on a wide range of products. Don't forget to checkout our available print packages!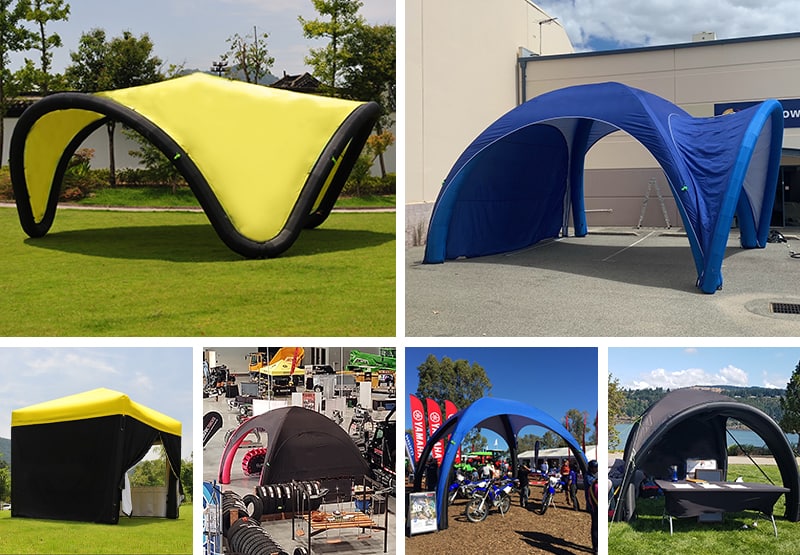 500D PVC Coated Polyester

Available for Plain products
Specifications
100% Polyester with PVC backing
Yarn count: 500D x 500D
Weight: 280 gsm
Colourfastness to light 5-6 En
Features
1 year warranty
Waterproof
Fire, UV & Wind resistant
PVC reinforced Corners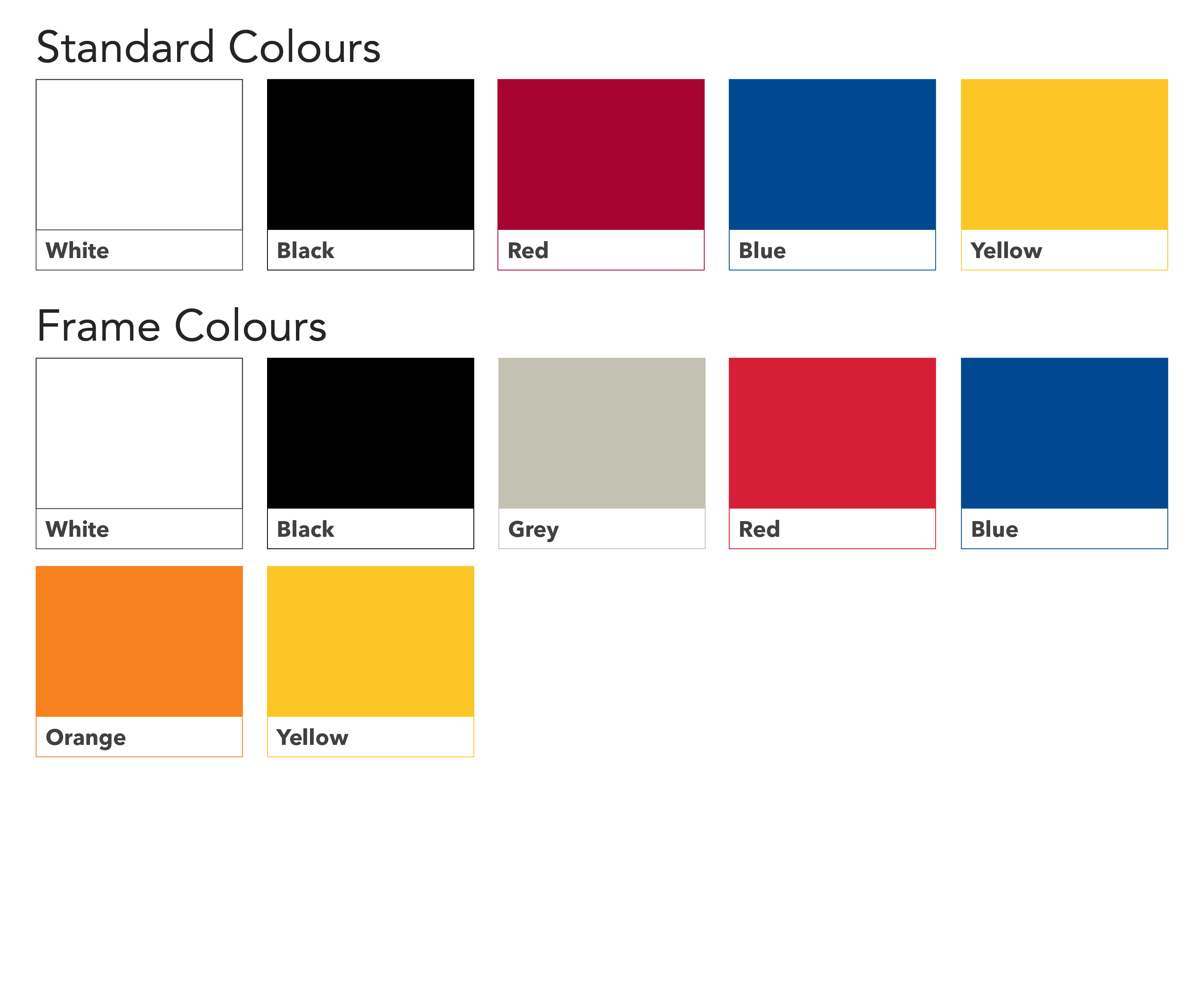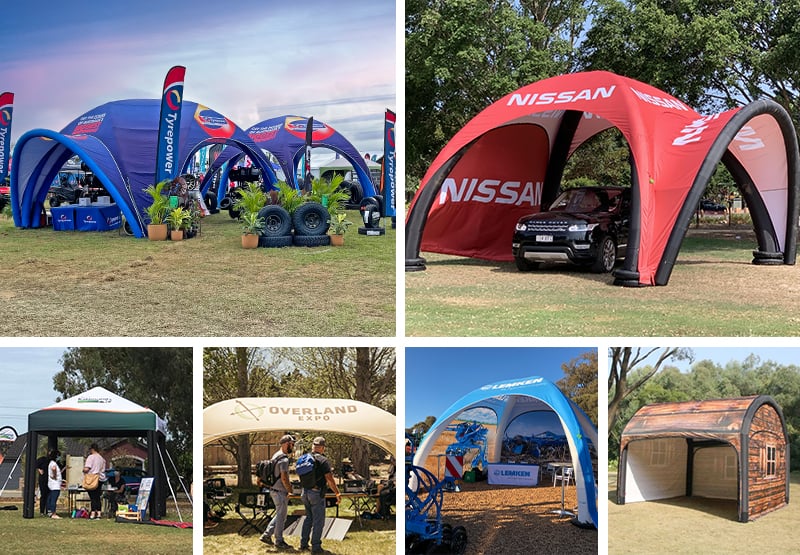 600D PU Coated Polyester
Available for Custom Printed products
Specifications
100% Polyester with PU backing
Yarn count: 600D x 600D
Weight: 245 gsm
Colourfastness to light 5-6 En
Features
1 year warranty
Fire, UV and wind resistant
Waterproof
PVC Reinforced Corners
Black or White reverse fabric
Dye Sublimation Printing
Dye sublimation printing involves the use of a digital printer to produce a print on sublimation transfer paper. The sublimation paper is then placed into a heat press with the fabric and exposed to a temperature of 200 degrees Celsius. The artwork is then transferred from the paper to the fabric. The fabric has the artwork embedded in the material and the design will not scratch from the surface. The fabric has a matte finish, which photographs well and suits indoor and outdoor use.

Bruce Christie
2 weeks ago
Could not be happier with the service and quality from Extreme Marquees. They were very patient with my questions on several occasions and when I finally confirmed my purchase, the marquee arrived two days later. Looks great in our backyard.
Craig Bachmann
a month ago
Hi I'm Craig Bachmann and I sell my rural landscape photography at around 80 outdoor markets each year. 3 years ago after much research, I purchased my first Extreme Marquee and have been very happy with its build and the professional look it gives my business. I am always receiving compliments about it from my customers and being approached by other stall holders wanting to know which business made it so they can order one as well. I recently decided to replace the roof and walls and Extreme Marquees helped me design a bit of a fresh look by adding graphics to the roof as well. I'd like to thank Georgia and Monique from Extreme Marquees for all their help. I look forward to doing more business with you in the future!
Wayne Booth
a month ago
Extreme Marquees excellent marquees.. Strong & Affordable.. Just replaced a 6m x 3m Classic frame.. Very happy with the service.. Regards The Lennox Longboarders Club.
Maria Soukkar
a month ago
Been standing for 4 years and still going Really good service and quality marquees I have purchased a few 8/4 8/8 10/10 And also the banners and teardrop banners Really professional service and competitive prices This one has been 4 years now and still perfect it's the 4/8 Easily seats up to 30 people Wouldn't go anywhere else
lisa bluhm
2 weeks ago
Friendly and helpful staff. Coordination between the different departments was great. Very fast delivery. Cannot fault them for their service. Delivery staff were helpful as well, even though they are a delivery company separate to Extreme Marquees. All steps of the customer service process has been handled really well by Extreme Marquees!!
ABOUT HIGH PRESSURE INFLATABLES
The EMX Range is an advanced inflatable structure designed to be light weight, fast set up, portable and great looking. The EMX range can be inflated in 30 seconds and is exceptionally robust in strong wind conditions (must be suitably anchored). This is due to the technology in design. EMX inflatables have an inner inflatable tube encased in a high-tech light weight outer cover. This allows the inflatable to be pumped up to high pressure which results in greater rigidity and strength. Full digital printing is available on roof and walls.
Scroll To Top