Extreme Marquees Report Card: How Did 2019 Go?
Exciting. Thrilling. Challenging. Fun. These four words describe this year for the Extreme Marquees!
It was exciting because we got to hear how well our marquees could withstand inclement weather. It was challenging because we came up with innovative marquee frames and accessories. Lastly, it was fun because we love doing what we do. Innovation is not just a philosophy for us. It's how we became #1 marquee suppliers in Australia. And this year, we let you assess our progress.
Presenting, 2019's best, Extreme Style:
Extreme Marquees lauded with praise by Alan
Who's Alan? He's the owner of SunSafe Traders, a custom headwear, caps, beanies, and accessories business and his X6 3x6m folding outdoor gazebo saved his team and stock from injury and damage from a severe storm at the Sunshine Coast Home Show & Caravan, Camping & Boating Expo this year. The gusts were at least 100kmph but the marquee held the fort, firmly.
Read Alan's own narrative of the damage caused by the thunderstorm, hail, and torrential downpour on 29th September:
"The storm gave little warning, so we were thankful we had the tent weighted and pegged in properly. We dropped the sides and zipped them up, taking refuge inside. Very scary as the storm hit, the winds were about 140km per hour with hail and heavy rain!!! About 20 minutes later, the storm had passed and as we surveyed the damage, we couldn't believe our tent was completely intact!
Amazing, as the security fence behind us (weighted down with concrete blocks) was blown over, and the marquee next to us had lifted and blown away. As we continued to survey the area, we saw one disaster after another. Marquees that were covering thousands of dollars in stock, were completely mangled or blown away entirely, and the stock was left severely water and wind damaged!"
Here are some pictures for you: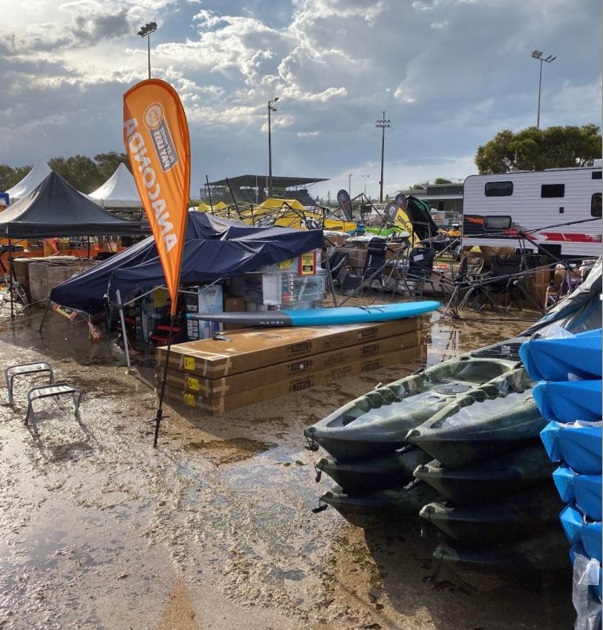 And this is how the Extreme Marquees was standing after the weather, without a scratch!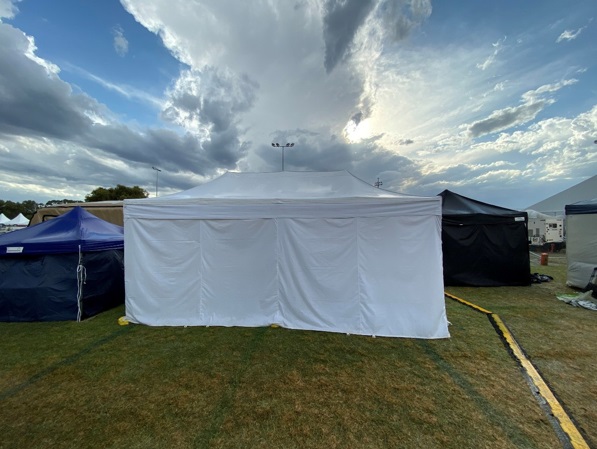 Impressed? Read the entire piece!
Extreme Marquees X6 Velocity got a makeover
The X6 Velocity, our most-loved heavy duty waterproof pop up gazebo, got new frames and push connectors this year. Yay!
The new frame is now 1.4mm thick, built with reinforced aluminium, and sports a lighter structure than the other frames. What's more is that these frames have been equipped with easy push button connectors, so setting up your brand new marquee will be a breeze. Check out the complete range!
The Q8 Quasar remained the undisputed king
We've put in a lot of research and dedication into our Q8 Quasar range and we've been rewarded profusely. The Q8 embodies the expression state of the art. It has a unique geometry that provides superior strength over the traditional frames without increasing the weight and transportability of the marquee. The 4-groove channel ensures that exhibitor collateral such as keder walls, aluminium partitions, and sidewalls are attached in a streamlined fashion and the V-shaped edged truss bars with their moulded cast aluminium connectors that offer incredible strength and functionality.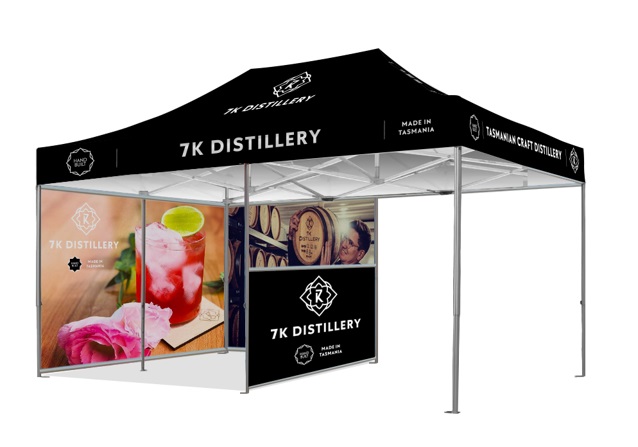 Check out the entire range and place your order!
We also had a couple of other surprises for our customers:
We re-introduced marquee protective covers with a new design, capable of safeguarding the marquees more effectively from sudden tugs and bumps along the road while transporting.
Our flare and wave banner sleeves also got a makeover. Check them out!
2020 Calling!
The New Year is almost upon us and we're planning to make it more eventful than 2019! Our new café umbrellas are almost ready. They sport a contemporary and sturdy look, fully equipped with commercial grade frames on a streamlined European design.
Take a look: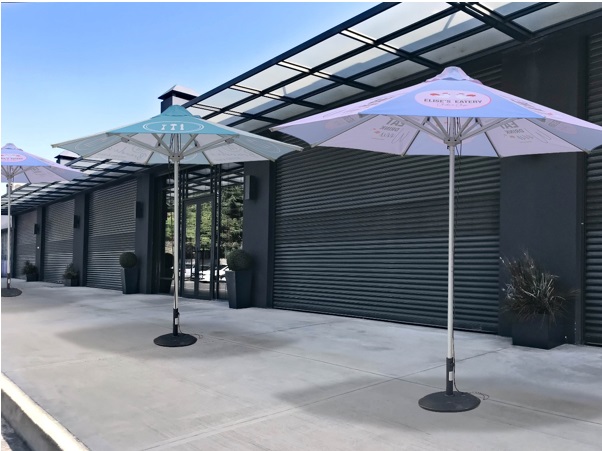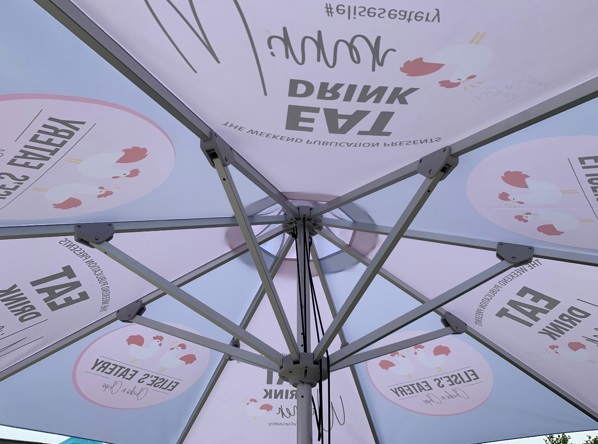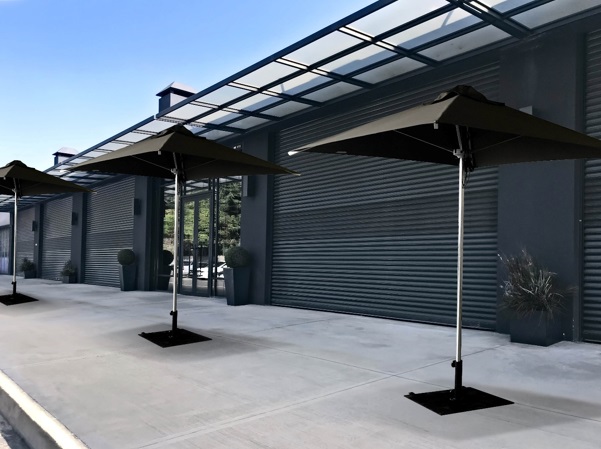 Our wizards are also developing a new custom UV-lightweight product. What is it about? What is the product exactly? Connect with us to stay updated!
Scroll To Top