Increase the Dining Appeal and Capacity of Your Restaurant with a Printed Gazebo
Outdoor seating carries a strong appeal for restaurateurs, especially in the summer months. People love al fresco dining, enjoying the warm weather with delicious food and lovely company. A printed gazebo gives more customisation options to owners. With covered outdoor seating, they can offer a more personalised and private dining experience to their patrons and also expand their seating capacity. But monetary benefits and safety from natural elements are not the only factors that make a restaurant marquee a wise investment. In the wake of the COVID-19 pandemic, custom marquees also facilitate the social distancing and safety of both guests and employees.
Restaurant Marquees – The post-pandemic scenario
The world is reeling under the financial upheaval caused by the coronavirus pandemic, especially the hospitality industry. According to Statista, the year-over-year decline of seated diners in restaurants worldwide, compared to 2019, was 21.67 per cent on April 25, 2021, as the social distancing and general cautionary measures towards public places made consumers dine out less. The restaurant industry's total sale in 2020 was $240 billion less than the pre-pandemic forecast. In fact, as of 1st December 2020, more than 110,000 restaurants and pubs were temporarily closed for business or had shut down altogether.
However, the new normal is seeing many businesses reopen their premises for dining, pick-up and delivery. With social distancing regulations and capping on indoor seating in place, business owners are turning to custom marquees to expand their capacity and serve their patrons better.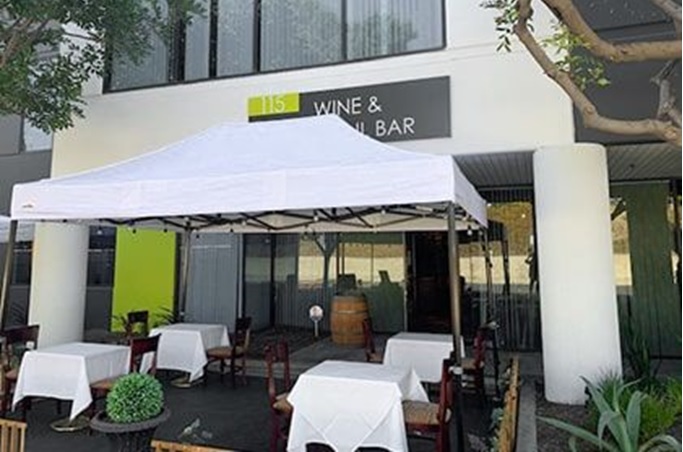 Benefits Of Adding Covered Outdoor Seating To Restaurants
There are several benefits to adding restaurant gazebos to your dining area:
Creation of additional seating
With a restaurant marquee, you have the option of offering patrons to dine outdoors or indoors, allowing you to serve more customers at the same time without breaking social distancing and in-house seating rules. Expanded seating also means that your customers will not have to wait for their turn while tables get sanitised after each meal.
Better ambience for your restaurant
A vibrantly printed gazebo not only adds functionality but also accentuates the overall curb appeal of your establishment. You can add custom designs that complement your branding, complete with artwork and graphics, or get it printed in a particular colour palette to match the theme of your restaurant. You can jazz up this aesthetic further with verdant hanging plants, climbers and exterior lighting…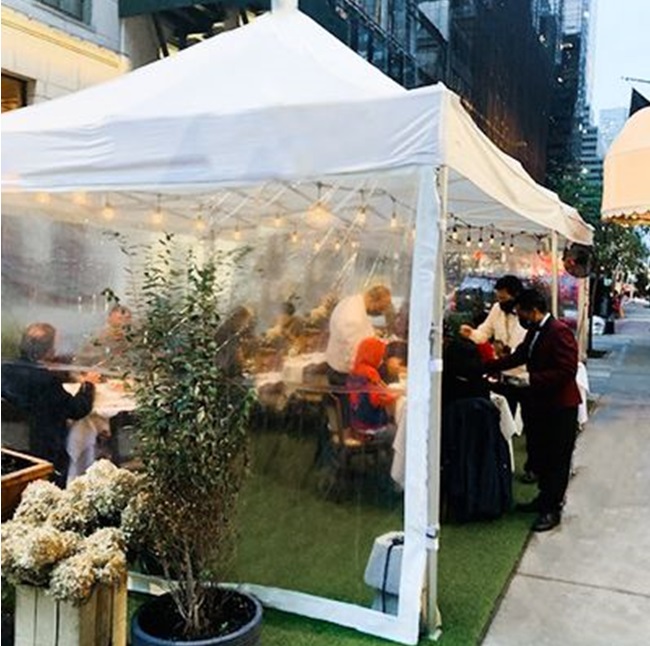 Added safety and social distancing among guests
A June 2020 study by JP Morgan found out that in-person dining leads to an increase in COVID-19 cases. It is obvious for people to be wary of going out to eat in this scenario. However, restaurants can ensure a safer experience with a branded gazebo that gives patrons an open-air dining experience and the space required to ensure social distancing.
Streamlined workflows for the wait staff
The health & safety of your employees is as important as the well-being of your guests. A restaurant marquee is not just the ideal dining space. It can also double up as a sanitisation station, an extended workspace or a storage room. This way, the wait staff do not have to walk inside the kitchen each time they need something from the pantry, exposing the food to continuous contact.
Stronger branding and advertising
Most outdoor gazebos can be printed with customised marketing copy. You can brand your marquee with the name of your restaurant, your logo, your website, social media handles and your contact details as well as add images to make it more appealing. This will turn it into an eye-catching promotional tool that will be visible to customers from afar.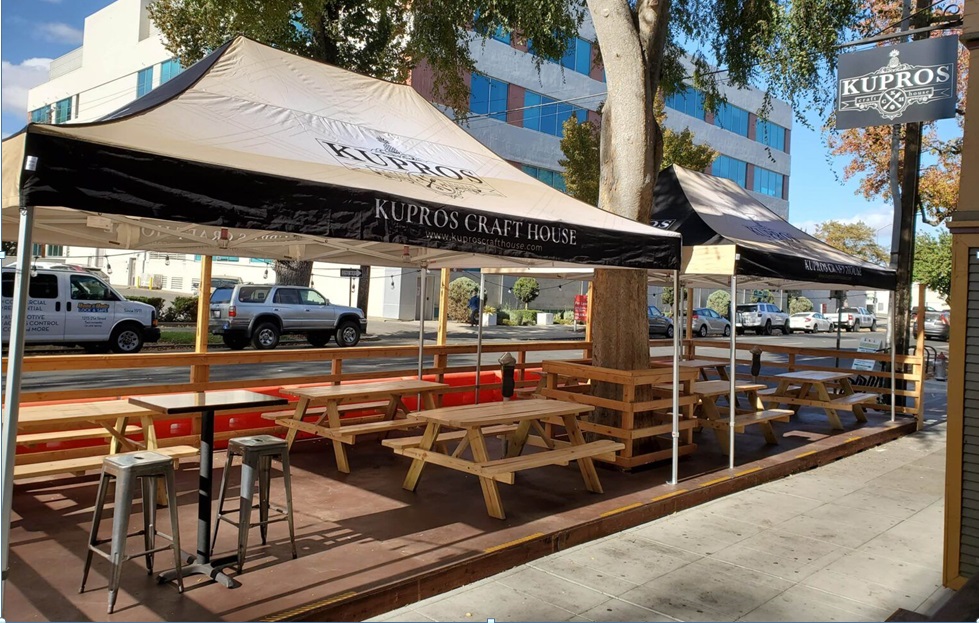 Choosing printed gazebos for your restaurant
The best restaurant gazebos are frame marquees, clear span structures and pergolas. All three are ideal for covered outdoor seating.
Clear-span restaurant gazebos
Highly sought after for their charm and appeal, clear span structures elevate a space while providing protection from inclement weather. Since they encompass a larger area, they provide greater protection and coverage than awnings. You can leave them up for longer periods of time.
Clear-span custom gazebos from Extreme Marquees are manufactured with aluminium that is more durable and flexible with a longer lifespan. Since they do not have interior poles, moving freely underneath a clear span custom marquee is very easy. You can get your gazebo personalised with your business name and logo on the canopy, doors, windows and accessories. Use interior linings and drapes to create a cosy, comfortable ambience inside.
Frame outdoor dining gazebos
A frame marquee is another popular choice to expand seating at a restaurant or a bar with small, protected patio areas. Just like clear span marquees, the frame gazebos also don't have interior poles so they offer maximum flexibility to design your perfect layout.
Frame marquees don't depend on stakes for stability, so you can set them over patios, decks, concrete and asphalt, and even pavement. If you add a clear top and sidewalls, your marquee will really stand out among the rest. Extreme frame gazebos are available as both independent units and modular components, in case you want to set up multiple seating areas.
Have you ever seen pergolas in gardens? These structures have trelliswork on the top and are supported by columns and posts. Pergolas accentuate your outdoor dining space with their unique appearance. You can add more style to your seating with furnishing, string lights, and attractive green climbers.
On the downside, pergola canopies might require some initial foundational work to be erected properly. A hole needs to be dug for every post to set up the frame for attaching the overhead beams. But if you want to add a rustic appeal to your restaurant, all the hard work will be worth it.
Ordering a branded gazebo from Extreme Marquees
Want premium quality outdoor printed gazebos at affordable prices? Look no further than Extreme Marquees. Our professional and experienced staff are the best in the business and will take care of everything so that you can focus on what's important – keeping your business running and giving patrons an amazing dining experience.
Here's how to order your covered outdoor seating from Extreme Marquees in three easy steps:
Step 1: Select a custom gazebo
Give us a call at 1300 850 832 or visit us at www.devone.serveropsghq.com. We've got hundreds of options in sizes and colours for you to choose from. Additionally, our experienced customer success team will help you pick the best marquee based on your restaurant's outdoor dining needs.
Step 2: Share the artwork with us.
We would love to know your expectations from your gazebo. Do you want a clear top or a printed one? Do you want full-blown graphics or just your social media handles? Whatever your requirements are, you share them with us at this stage. If you want, our graphic designers can also create a fresh design for you at a nominal rate. Don't worry. We won't print anything on your marquee fabric before you give us the green light.
Step 3: Delivery and post-purchase support.
After you give us the thumbs-up on the final design, sit back, relax and look forward to your marquee getting printed, shipped and delivered to you. However, this is just the beginning of our relationship. We will guide you through the installation, upkeep, cleaning and storage of your printed gazebo. Want to know how to store the marquee in its carry bag? We're just a phone call away. Need a spare part? We got you. Every component of your marquee – from the truss bars to the nuts and bolts – are kept in stock for your replacement needs. We can express ship them to you.
Your Extreme printed gazebo comes with a Manufacturer's Warranty on the frame and fabric of up to 5 years. Should your marquee require replacement, we'd be happy to offer you another one at a great price. Just let us know and our experts will be happy to help!
Contact us right away!
These are unprecedented times. We understand that you're doing everything you can to keep your business successful and your employees and customers safe. Let Extreme Marquees help you with a unique and perfect solution to your seating and branding needs. Give your patrons the best dining experience with an Extreme branded gazebo!
Scroll To Top