Making Australia Corona-ready with Portable Medical Tent Range from Extreme Marquees
Fortunately, Australia hasn't been hit hard from the coronavirus pandemic. So far, there have only been about 3050 confirmed cases with 13 deaths. The good news is, nearly 200 people have made full recovery. However, unless the virus is contained completely, or an antidote is prepared, we should not rest easy – and this is why, our portable medical tent range is ready for those who want to have proactive measures in place should the outbreak become severe in Australia too.
EM-C Portable Medical Tent Series – Rapid Deployment Quarantine Tent Range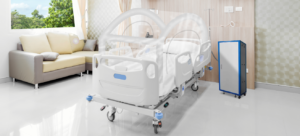 The first course of action for individuals infected with the novel coronavirus is isolation, followed by quarantine. The question now is, is our existing healthcare infrastructure ready for the coronavirus pandemic?
Here's some food for thought. In a recent Guardian post on February 28th, the Australian doctors have warned that the hospitals in Australia are already working at full capacity, and there's no room for the coronavirus surge.
Prof Raina MacIntyre, Head of the Biosecurity program at the Kirby Institute at the University of New South Wales, said sustained transmission may result in anywhere from a quarter to 70% of the Australian population being infected.
"If 50% of Australians – 13 million people – became infected, that is up to 400,000 people dying; almost 2 million people needing a hospital bed, and 650,000 people needing an ICU bed." Raina said in Sydney, there were an estimated 16,000 public hospital beds, and 6,000 private beds.
"We have previously modelled the number of daily beds required in an epidemic scenario for a different infection, which shows that capacity for beds could be rapidly exhausted in a severe epidemic."
On the pandemic plan activated by the government, past president of the Australasian College for Emergency Medicine, Dr Simon Judkins said, "Part of the pandemic plan is 'hospitals opening their surge capacity'. Now, I don't want to alarm anyone, but there is no surge capacity. It's all open … we are full every day. We've been saying this for years". 
"That capacity will be created through other means [cancelled surgery/outpatients] But, there are no excess beds or staff. If there were, our EDs wouldn't be bursting, our ambulances ramping, and our staff burning out."
"Australia's health system will manage this well, due to the hard work of healthcare workers. My point is that we operate our system at or over capacity and to pretend there is 'surge capacity' is wrong."
Simply put, the existing healthcare facilities can only take in so many people. This is why, a whole different level of preparedness is required – one that includes portable medical tents such as the EM-C series to house less severe cases and individuals under quarantine.
Introducing the EM-C tent series rapid deployment isolation modules for coping up with the coronavirus pandemic.
The EM-C Emergency Medical Tent Series – Dual Compartment Portable Medical Tents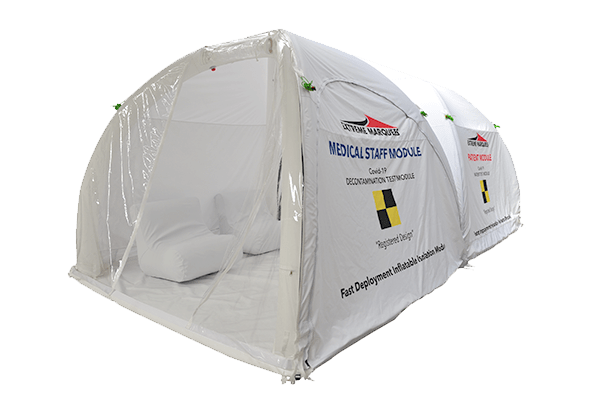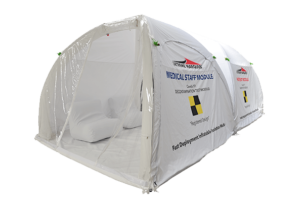 The EM-C series tents are easily inflatable, and the 10×10 sizes can be set up in as little as 10 minutes. Different modules can be interjoined with two separately sealed doors to create interlocked decontamination zones for both patients as well as medical staff.
The basic structure that every individual tent of the series comprises of, are two independent compartments interlinked via tunnel.
To create a lock-in for separating the two modules, both compartments have their own individual doors. This reduces the risk of infection transmitting from one module to another. It also prevents the virus from being carried outside. Both the floor and walls join together to create a completely sealed chamber.
The compartment for the medical staff is essentially a decontamination zone, where protective clothing and gear can be removed to be sanitised or discarded. This includes medical masks, gloves, aprons, gowns, and goggles.
Similar to our other product lines, the EM-C emergency medical tent series comes in several sizes, starting from the humble 10×0 and up to 40 feet. Should the need for bigger enclosed spaces arise, these tents can also be joined together.
Features of our EM-C Portable Medical Tents Series
The EM-C isolation tents are manufactured in Australia, and purpose built. Weighing just 40 pounds, these units are compact, lightweight, rapid deployment, and sealed to prevent the infection from spreading.
Two external outlets have been provided for uninterrupted air supply. Determining the air supply and extent of ventilation is advisable before the module is populated.
Storing these tents isn't a problem either. They pack down neatly into 45x45x60cms, so that you can keep them near other medical equipment or stack them up neatly for use until next time.
Our new range of quarantine tents are available at our Queensland facility to assist healthcare facilities in housing individuals who present the infection symptoms. Browse online or place an order with our experts on our helpline at 1300 850 832.
Why the EM-C Portable Medical Tent Series?
Two words – pragmatism and convenient.
Ordinary medical tents can't double up as coronavirus containment modules because they're not sealed, and regular tents are not suitable at all because they're designed to provide protection only against natural elements such as wind, water, and heat. They cannot be sealed completely, are bulky, and take up time to pitch.
Our EM-C series quarantine tents for COVID-19, on the other hand, can be set up quickly and conveniently. They pack down into a compact size, and are completely sealed. They're a practical investment, since you can use them as full-fledged isolation units, complete with apparatus, decontamination zones, and furnishing.
The first prototypes for the EM-C series are ready to be used, and we request partnership from all stakeholders from the Government, research departments from Universities, and private sector organisations to assist us in continuing to improve the design of these portable medical tents further.
*EM-C series has not been tested for containment of the COVID-19 infection and offers no guarantees. The modules have been designed after consultation with stakeholders to provide practical solutions in the form of temporary emergency shelters for minimizing the spread of infecting virus. The normal infectious disease precautions should be taken into account.
Scroll To Top