4 Technical Details about a Heavy Duty Marquee that your Seller Probably didn't Tell You!
Buying a heavy duty marquee is a big step. Whether it's a printed marquee or a plain marquee, every customer searches for a warranty, accessories, convenience in pitching and dismantling, and the price.
But, there is more to a marquee than meets the eye. The technical nuances that distinguish one marquee from another, are often not divulged by sellers. And a layman has no idea because of the complexity they entail.
We've compiled a list of 4 such aspects of buying a heavy duty marquee.
1. Heavy Duty Marquee Frame Strength
The structural integrity of your marquee frame is crucial in standing up to the rigours of the infamous Australian outdoors.
While at the event site, a marquee is subject to several environmental variables, ranging from wind, rain, and sunlight to mounting lights, wear and tear, and constant footfall – which is why cutting corners on the strength can lead to disappointment and put your safety in jeopardy. Before you buy a heavy duty marquee for your next event, make sure that it adheres to the Australian Standards for temporary structures set down by Australian Building Codes Board (ABCB).
Your marquee should include larger footplates to keep it anchored to the ground.
The roof must fit the frame; retaining tension with the right attachments in place to secure its position.
The marquee canopy must have additional eyelets for attaching guy ropes to withstand strong gusts of wind.
2. Heavy Duty Marquee Weight and Compactness
Some companies market their heavy duty marquees by including the weight of the roof and carry bag along with the frame as well. Inaccurate information can not only misguide you into buying the wrong heavy duty marquee, but it can also foil the plan of why you wanted to buy a stronger marquee in the first place.
Our suggestion? Spend some time doing your homework.
A gazebo weight is an important consideration and overlaps with how strong the frame should be. Manufacturers often focus on the overall weight of the gazebo, compromising the frame strength. The folding scissor-frame is extremely mobile, and packs a massive structural strength in a compact size.
The ideal lightweight heavy duty marquee sports a high volume, lightweight frame complete with robust joints, and a high-quality, all-weather canopy roof that can fit snugly inside a portable carry bag.
3. All Weather Marquee
The Australian weather is highly unpredictable. You might be enjoying a glorious sunny day outdoors one moment and running to find shelter from the pouring rain in the next. Even the summers are severely extreme; the sweltering heat accompanied by harmful UV-exposure.
To combat such weather conditions, your marquee should have a PVC-coated roof not less than 230GSM. This is the bare minimum for assuring protection from inclement weather here in Australia. This grade of fabric is moderately weighted and pliant, so you can fold and pack it up easily. Plus, it is 100% waterproof, has a 50+ UV-resistance; and is fire-retardant. It also withstands everyday wear and tear, is fade-resistant, and shows longer resilience to degradation from UV exposure. Ensure that your guests are safe underneath the roof by selecting a marquee that meets these criteria.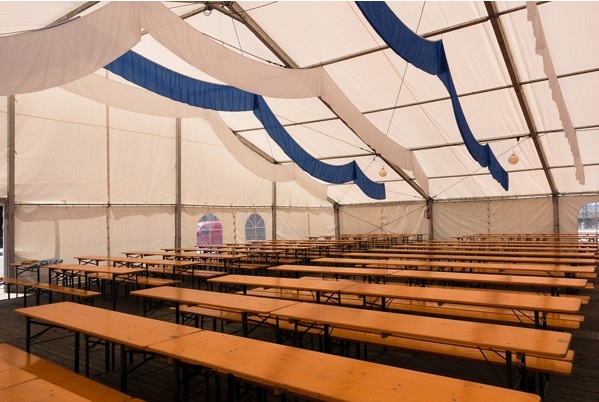 4. Ease of Repair and Longevity
Do you want to buy a marquee that lasts several years of successful events or one that has to be replaced every two years? The build quality of your gazebo determines how long it will last in the Australian outdoors.
A key indicator of the quality of a marquee is the manufacturer's warranty offered on the frame and fabric. Marquees come with a 5-year, 7-year, 10-year, or even a lifetime warranty; a reassurance that a manufacturer stands behind their product, its build quality, and long-life. Because of their very nature, marquees are susceptible to exposure, wear and tear, and degradation – and this is where post-purchase service support comes into play.
Premium suppliers are well-aware of the environmental abuse tents and marquees undergo, and they are happy to offer replacement spares or repair damaged frames and components. As a customer, this is your right, and you must discuss this beforehand to avoid any hassle in the future.
The ideal gazebo should be made of components that can be easily replaced such as Allen-key bolts, Phillips head screws, rather than niche, hard to find spares. This way, even if your marquee happens far away from the purchase location or the spares cannot be shipped on time, you can visit the local hardware store to buy a replacement.
At Extreme Marquees, we always stock spares for all parts of our products and make sure that they are express-delivered anywhere in Australia. A marquee is a long term investment and the greatest value is delivered by feature-packed, lightweight frames that are heavy duty and can withstand the rough Australian outdoors. Extreme Marquees offers state-of-the-art products that are suitable for all events and seasons.
Discover our products today!
Scroll To Top