Tent Weights for Your Heavy Duty Gazebo
At Extreme Marquees, we're often asked if gazebo weight plates are really important, and we have a simple answer – no. As long as your heavy duty gazebo is fixed or anchored with something that increases the overall weight of your temporary structure, you're good.
These anchors could be anything from slide-on weights, bolt-in mechanisms for deck and patio areas, or simple water or sand weights. However, owners of pop up tents should be a little more careful. These tents are lightweight, and can be carried off easily along with high winds – this is why most marquee and gazebo suppliers recommend weights, just to be on the safer side.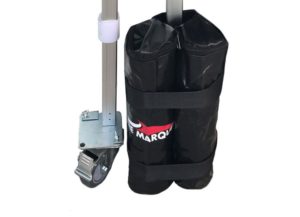 So, what kind of weights do I need?
Always remember the rule of thumb – if you can lift your gazebo, so can the wind. Even the heavy duty ones need to be anchored steadfast into the ground. Our frames are strong and resilient, but that doesn't mean they can be uprooted from the ground. A gazebo is only capable of withstanding harsh movements by strong winds when its feet are weighted and secured properly.
That being said, god forbid you're using one of the cheap, plastic jointed gazebos in a windy weather!
How many gazebo weight plates do I need?
With all gazebos, it is imperative to take care of weight distribution. You have to secure each leg by dividing the total weight amongst all. The more weight you can add, or the more tie points you create, the more stable your heavy duty gazebo would be. With every commercial marquee for sale from Extreme Marquees, a protective cover and set of 4 stainless steel pins are provided. These pegs ensure that your gazebo can be pitched safely in soft ground or near a wall, vehicle, or railing. However, it is advisable to buy a set of gazebo weight plates, since the pins only act as supplement to the primary weight.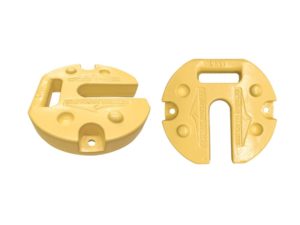 Choosing the right tent weights for your gazebo
Let's take a look at some of the common options available. These are tent weights, tent anchors, suspended weights, and weights secured to canopy legs. We'll also analyse the merits and demerits of store bought and DIY weights.
Tent anchors vs. tent weights
Weights and anchors are two primary ways to secure your tent against strong winds.
Tent anchors are stakes that you can drive into the ground and then attach to your tent to keep it secured in position, similar to a camping tent. This is a common way to pitch tents for recreational events, but they are not particularly useful in case of commercial events that are organised over cemented ground or where you can't drive stakes into the grass. That's where weights come into place.
Tent weights are practical and more versatile than tent anchors. You can use them anywhere – at commercial or recreational events, on cemented or grassy surfaces, or with or without anchors. On the downside, they are heavy to transport, take up more space than stakes, and require some amount of strength to setup.
But you can manage a little weight to keep your canopy safe and secure, can't you?
Now that you've made up your mind to buy tent weights, let's look at the different options that are available – suspended or leg secured weights.
As their name suggests, suspended weights are left hanging to stabilise the structure, however, should the wind speeds increase, there is a chance that these suspended weights start moving and become pendulums that can injure people near them. The best weights are weights located on the ground.
Best canopy weights should be placed away from the direction of walkers, using materials that are less likely to injure, such as sandbags and steel plates.
Store-bought vs DIY weights
There are several options to create makeshift weights that could hold down your marquee. For instance, you can fill large buckets with sand or water and your weights are ready or fill PVC pipes with sand or concrete. However, these don't look standard. It's always preferable to buy store bought weights. They're convenient and are not as costly as DIY weights.
For example, our heavy duty gazebo weight plates can weigh down your heavy duty gazebo on non-pinnable surfaces. These are made with commercial grade steel and have a yellow coating for your safety.
Want to buy gazebo weight plates or searching for a marquee for sale? Contact Extreme Marquees, Australia's premier gazebo, gazebo and accessories manufacturer.
Scroll To Top