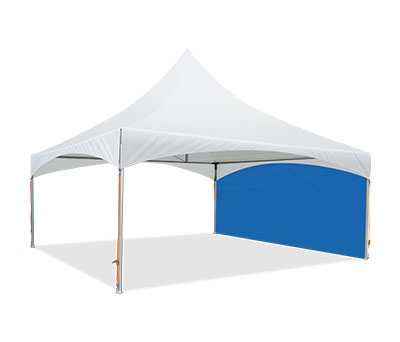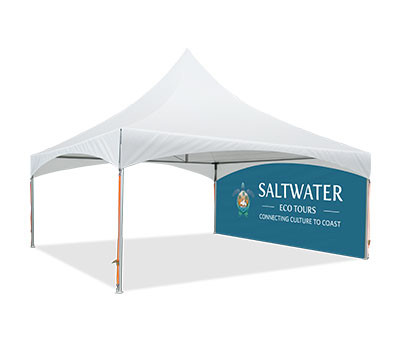 5m x 5m Pavilion Aluminium Frame, PVC Roof Fabric*, Steel Connectors, Steel Feet, Steel Cross Wires, Steel Pins, Ratchets, PVC Sandbags and Roof Protective Cover *Custom Printing incurs an additional cost. Walls are sold separately. 
5.0×5.0 Specifications:
Height: 4.6m
Clearance: 2.25m
Roof Tension: Turn buckle system
Main Profile: Dia. 63mm x 2.5mm Thickness
Feet: Aluminium
Connectors: Steel
Framework Material:
Aluminium 6063 T5
Cover Material: 580GSM PVC
Fabric:
580GSM PVC
Warranty:
Frame 5 Years
Plain PVC 5 Years
Printed PVC 2 Year
Clear PVC 2 Year
Weight:
Frame: 295x35x25cm 75kg
PVC Roof: 60x40x40cm 30kg
Extreme Marquees Pavilion Marquees are exceptional structures that epitomize the pinnacle of quality, elegance, and functionality. These remarkable marquees, meticulously crafted by Extreme Marquees, are a testament to their commitment to providing unparalleled outdoor shelter solutions. With an unwavering focus on precision engineering, Extreme Marquees constructs the Pavilion Marquees with a robust 63mm circular 6063 T5 aluminium extrusion frame, renowned for its exceptional strength and resistance to corrosion. This superlative frame forms the backbone of the structure, ensuring unwavering stability and durability in the face of adverse weather conditions. To further fortify the Pavilion Marquees, a highly innovative tension wire system is ingeniously employed. This system not only lends vital support to the roof but also reinforces the gazebo frame, imbuing it with unparalleled strength. It harmoniously combines practicality with structural integrity, offering peace of mind to users in the knowledge that their shelter can withstand the rigors of any environment.
The roof of these resplendent marquees is meticulously crafted from imported Belgium Sioen PVC, an esteemed material renowned for its exceptional longevity and imperviousness to the ravages of time. This opulent canopy ensures prolonged protection from the elements and guarantees that the Pavilion Marquees will grace countless events for many years to come. Furthermore, the Pavilion Marquees, belonging to the distinguished lineage of Extreme Marquees, bear the esteemed distinction of possessing a full structural engineer's certificate. This prestigious certification serves as a testament to the marquees' unwavering adherence to stringent safety standards, allowing them to be utilized with utmost confidence at all public events that necessitate certification. In conclusion, Extreme Marquees Pavilion Marquees stand as the epitome of affordability, strength, and style. Their meticulously engineered aluminium frames, fortified by the ingenious tension wire system, ensure unwavering stability, while the imported Belgium Sioen PVC roof guarantees longevity. With their coveted structural engineer's certificate, these marquees represent the pinnacle of safety and can grace any event with resplendent elegance.
Plain – Approximately 5 business days
Printed – Approximately 10 business days
Production and delivery time frames are approximations only. If you have an urgent due date, please give our team a call on 1300 850 832.