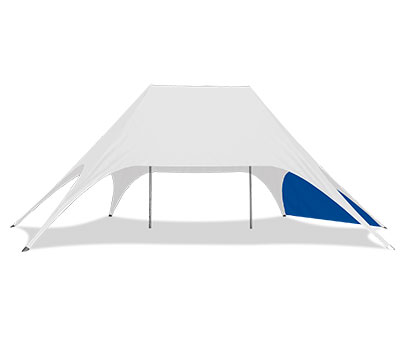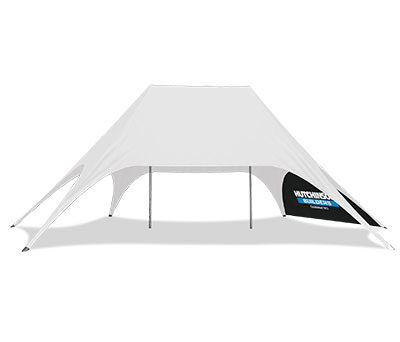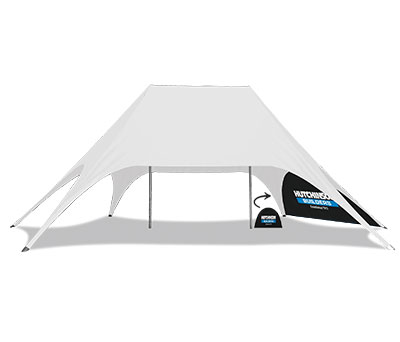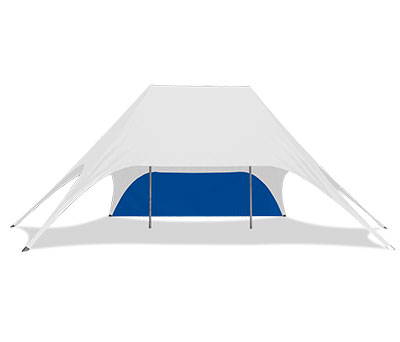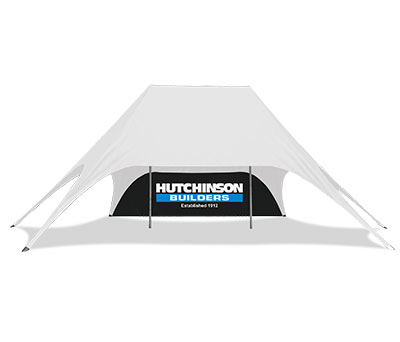 2x Centre Poles, Roof Fabric, Steel Pins, Foot Plates, Pole Protective Cover & Roof Fabric Bag. *Custom Printing incurs additional costs. Walls are sold separately. 
Specifications:
Height: 6m
Clearance: 2.1m
Center Pole: Aluminium
Center Pole Diameter: 63mm
Center Pole Thickness: 2.5mm
Feet: Steel
Fabric:
500D PVC Coated Polyester
600D PU Coated Polyester
Warranty:
Frame: 5 Year
Fabric: Polyester
Plain & Printed 5 Year
Weight:
Pole Weight: 70kg
Poly Roof Weight: 142kg
Extreme Marquees Star Shades are a remarkable range of outdoor shade structures that combine functionality, aesthetics, and practicality. These exquisitely designed shades are crafted to provide shelter from the elements while adding a touch of elegance to any event or outdoor space. Renowned for their distinctive star-shaped appearance, Extreme Marquees Star Shades ensure they capture attention and admiration wherever they are installed. These shades are especially engineered to offer paramount protection against the harsh Australian sun. With scorching temperatures and intense UV rays, it is essential to provide a cool and shaded environment for individuals seeking respite from the heat. Extreme Marquees Star Shades cater to this need splendidly, ensuring a comfortable and enjoyable experience for patrons. As a leading manufacturer, Extreme Marquees offers Star Shades in a variety of sizes, accommodating diverse event requirements. Ranging from the modest 13.5m x 8.5m to the mammoth 22m x 14m, these shades are designed to cover large areas and provide shade for sizable crowds. The mammoth Star Shade, in particular, is perfect for grand-scale events where a substantial gathering requires ample coverage.
Extreme Marquees takes pride in its ability to customize Star Shades according to client specifications. By personally designing and manufacturing all their products, they offer a unique level of flexibility and bespoke solutions. Furthermore, the large, flat panels on the Star Shades serve as a canvas for custom digital printing. This feature enables businesses and organizations to showcase their branding, logos, and designs, turning the shades into remarkable promotional tools. For those seeking comprehensive event solutions, Extreme Marquees also offers a range of complementary products such as banners and promotional items. These additions perfectly complement the Double Pole Star Tent or Shade cover, enhancing the overall branding and visual impact of the event. In summary, Extreme Marquees Star Shades are innovative, eye-catching shade structures that provide superior protection from the Australian sun. Their star-shaped design adds a touch of sophistication to any setting, making them highly sought-after in the event industry. With various sizes available and the option for customization, Extreme Marquees offers unparalleled flexibility in meeting client needs. By combining functionality, stylish aesthetics, and promotional opportunities, the Star Shades have earned their reputation as exceptional outdoor shade solutions.
Custom – Approximately 10 business days
Production and delivery time frames are approximations only. If you have an urgent due date, please give our team a call on 1300 850 832.