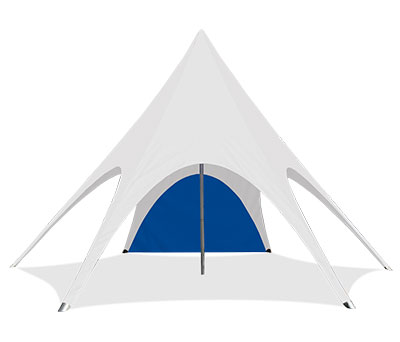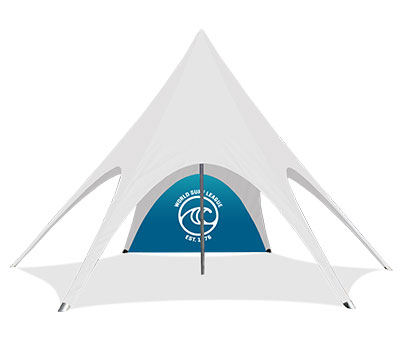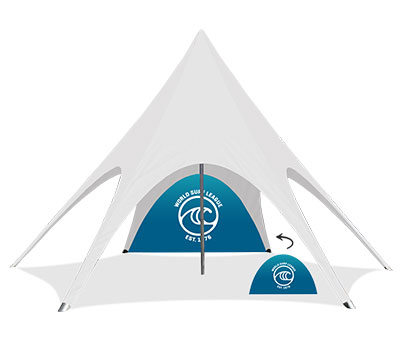 Centre Pole, Roof Fabric, Steel Pins, Foot Plates, Pole Protective Cover & Roof Fabric Bag. *Custom Printing incurs additional costs. Walls are sold separately. 
Specifications:
Height: 5m
Clearance: 2.1m
Center Pole: Aluminium
Center Pole Diameter: 63mm
Center Pole Thickness: 2.5mm
Feet: Steel
Fabric:
500D PVC Coated Polyester or
600D PU Coated Polyester

Warranty:
Frame: 5 Year
Fabric: Polyester
Plain & Printed 5 Year
Weight:
Pole Weight: 30kg
POLY Roof Weight: 18kg
The Extreme Marquees Single Pole Star Shade is a remarkable outdoor canopy structure designed to create captivating event spaces. This extraordinary shade solution boasts an innovative single central pole design, setting it apart from conventional shelters and marquees. The Single Pole Star Shade exemplifies the perfect combination of functionality and aesthetics, making it a delightful choice for those seeking to create unique and offbeat event environments. This splendid canopy structure is meticulously crafted by Extreme Marquees, a renowned company specializing in event marquees and outdoor shelters. The Single Pole Star Shade, available in various sizes ranging from 6m to 16m span, offers a spacious covered area to accommodate diverse event requirements. With its high peak in the centre and a tensioned fabric canopy gracefully extending outward, resembling a resplendent star, this shade structure captures attention and ignites wonder.
The Single Pole Star Shade ensures utmost portability, as it is designed to be lightweight and compact. This enables event organizers to effortlessly transport and assemble the structure in different locations, maximizing flexibility and convenience. Furthermore, the canopy's fabric, available in a spectrum of colours and fabric types, allows for customization options that align with specific event themes or branding initiatives. For enhanced visual impact, the fabric can be custom printed with graphics or colours, augmenting brand exposure and creating visually captivating displays. Practicality is not compromised with the Single Pole Star Shade, as it is designed for swift setup and dismantling. This feature proves invaluable for time-sensitive events, such as club meetings, school fairs, and sporting events, where efficiency is paramount. In essence, the Extreme Marquees Single Pole Star Shade stands as a testament to the harmonious blend of ingenuity and functionality. Its distinctive design, transportability, and customizable options make it a stellar choice for those who aspire to craft exceptional event spaces that leave a lasting impression on attendees.
Custom – Approximately 10 business days
Production and delivery time frames are approximations only. If you have an urgent due date, please give our team a call on 1300 850 832.