Create a Custom Dining Room for Thanksgiving with an Outdoor Marquee
Don't stay cooped up inside your house this Thanksgiving – celebrate it underneath a starry sky, nestled in the bounties of nature, surrounded by your loved ones!
Doing this, is as simple as it sounds. Just gather your friends and family, take the turkey outside, and place it inside a large outdoor gazebo!
It doesn't matter where you live, or how chilly it's going to be, you can host Thanksgiving 2019 outside, while still staying warm and toasty.
How?
We'll tell you how to throw a blockbuster Thanksgiving party outside in 5 quick steps.
Step One: Keep it Natural
Thanksgiving is a festival of thankfulness. It is the time to count your blessings, rejoice your relationships, and cherish all that you've been given – and nothing is better than doing it in the presence of Mother Nature. Make your Thanksgiving come alive with an all-natural, outdoor setting, fragrant with the aroma of delicious dishes lingering in the air and seasoned with your love and joy.
Whatever theme you decide to decorate your garden or backyard in, consider doing it in earthy tones with a minimalistic touch. The beginning of winter is, as such, a site to behold and the salubrious weather will give you a leeway while planning your festivities.
Step Two: Get an Outdoor Marquee
Dining alfresco is charming, but you'd still need a backup plan, in case the weather turns moody. Pitch an outdoor marquee tent next to your barbecue and fire pit, and arrange for your guests to dine inside.
Not only will a gazebo protect you from sudden rain, insects, and wind, it will create an ethereal ambiance, giving your guests a lifetime of treasured memories.
Make sure to invest in an outdoor gazebo that:
Is big enough to accommodate all your guests;
Is waterproof, flame-retardant, and wind-resistant;
Can fit in your backyard, patio, or lawn; and,
Can be erected and dismantled quickly and easily.
Step Three: Make Your Outdoor Marquee Warm!
This time in November, the temperature dips towards the evening and it will probably be cold by the time you sit down for dinner. Ensure that your outdoor marquee is well-endowed with heating units, to keep the temperature inside the gazebo normal.
You can pep it up further with blankets, floor rugs, and warmers in a bright colour palette. Auburns and red would do justice to your décor and accentuate the overall theme while dull bluish hues will just create an appearance of cold, melancholic interiors.
Step Four: Light it Right
This time of the year, the days are shorter with evenings approaching fairly quickly and this is your chance to show off your party planning prowess.
Light up the insides of your outdoor marquee tent with fairy lights, add a chandelier for a regal effect, and make the centrepieces more inviting with candles. Consider adding flooring and draping the ceiling to keep your marquee insulated.
You can jazz up the outdoor marquee as well. Hang lanterns and string bistro lights around the trees or light up a fire-pit near your gazebo tent for the guests to stand around when they smoke.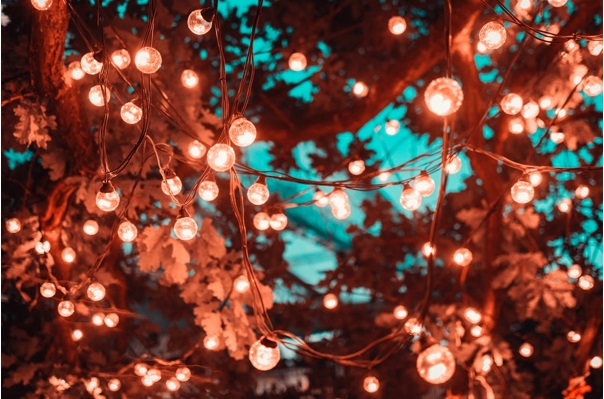 Step Five: Warm Menu Choices
The turkey will be warm, straight out of the oven. But what else?
Keep a choice of hot beverages in your menu such as hot toddy, soup, or cocoa and serve them with grilled spiced potatoes, apple pies, caramel apples, donuts, candied pecans, and so on. The options are endless. If you want to go overboard, consider calling it a night by gifting warm take-away drinks to your friends.
Well, there you go. 2019 Thanksgiving sorted, planned, and ready to be executed in 5 easy steps. Thoughts? Questions? Or any other ideas? Share how you plan to celebrate your Thanksgiving in comments with us!
Scroll To Top